2015 PDGA Elections Have Begun!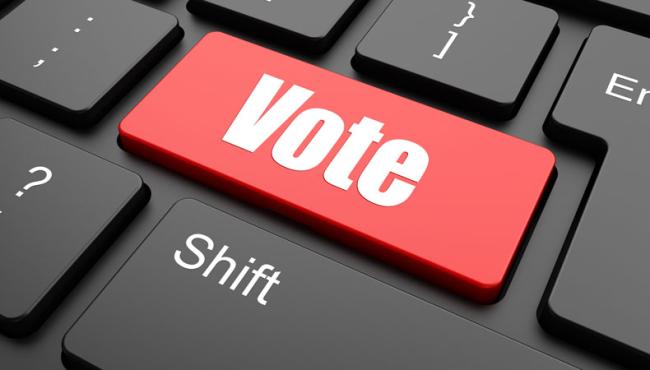 The 2015 PDGA Elections have begun and will run the entire month of July. During the first week of July, all current members for whom the PDGA has an email address on file will receive an email from Intelliscan, Inc. with voting instructions and a link to their individual ballot. If we do not have an email address on file for the member, or the first email bounces back, the member will be mailed a postcard with online voting instructions. On or about July 20, all members with valid emails who have not yet voted will be sent an email reminding them to vote. Those members who do not have access to the Internet will also be able to contact the PDGA office and request a paper ballot. Provided this request is received by the PDGA no later than July 20th, a ballot will be mailed to the member.
PDGA Board of Directors Election
In accordance with the PDGA by-laws, there will be three at-large board members elected this year for the positions. The three candidates who obtain the most votes in our annual elections will secure the open positions and serve 3-year terms from September 1, 2015 through August 31, 2018.
Some of the Board's main responsibilities include setting the policies of the PDGA; hiring and supervision of the PDGA Executive Director; financial management including setting the annual budget; identification of future potential Board members; and representing the membership's visions for the future of the sport and the Association.
Ideally, prospective Board members should have some of the following mix of skills and qualifications: professional experience involving management, marketing, financial, strategic planning, entrepreneurship, and/or the non-profit sector; communication skills in representing the PDGA and in corresponding with members, including access to e-mail; a passion for disc golf; and familiarity with and commitment to the PDGA. Honesty, integrity, openness, and having the time and desire to work hard are key personal attributes.
2015 Board Candidates
Location: West Lafayette, IN
Born: 1980
Gender: Male
Introduction Video: http://youtu.be/U9b66uyF3iE
Education:
Purdue University: BS & MS Organizational Leadership
PhD in progress, focus on Quality Control and Process Improvement
Occupation: Student / Seeking Employment in Higher Education
Location: Cullowhee, NC
Born: 1968
Gender: Male
Introduction Video: https://www.youtube.com/watch?v=rDFEqJslCNo
Education:
Ph.D. in Kinesiology, Louisiana State University, 2003
MA.Ed. in Physical Education, Western Carolina University, 1995
B.S. in Exercise Science, S.U.N.Y. Cortland, 1991
Occupation: College Professor
Hans Nagtegaal, #44969 - Utrecht, Netherlands
Location: Utrecht, Netherlands
Born: 1975
Gender: Male
Education:
Psychology,–Universiteit Utrecht – Utrecht, The Netherlands (1996 – 1998)
Computer Science – Universiteit Twente – Enschede, The Netherlands (1995 – 1996)
Atheneum – Revius Lyceum – Doorn, The Netherlands (1987 – 1995)
Equivalent of High school plus College in USA
Occupation: Successfully self-employed since 2000, as a tour manager, stage manager, and guitar technician for international touring artists and bands. Performing all managerial and accounting duties for my own company. 
Dave West, #752 - Missouri, USA
Location: St. Peters, MO
Born: 1957
Gender:  Male
Introduction Video: http://www.youtube.com/watch?v=kekHgb9Gdw4
Education: MBA, Southern Illinois University at Edwardsville (SIUE), 1984; BS, Management Information Systems (MIS) and Accounting, SIUE, 1980
Occupation: Retired, August 2013; formerly Director of Enterprise Development (Computer Programming); 150 person team.  Currently, I am a PDGA Board member.
Click here for a Full Biography and Platform Statement for each candidate.
PDGA State/Provincial Coordinator Elections
Also on the ballot will be the coordinators for these states and provinces:
Alabama
Alberta
Arkansas
Armed Forces Overseas
California (North)
Colorado
Delaware
Georgia
Idaho
Indiana
Kansas
Louisiana
Manitoba
Minnesota
Missouri
Nebraska
New Hampshire
New Mexico
North Carolina
Ohio
Ontario
Pennsylvania
Quebec
Rhode Island
Saskatchewan
South Dakota
Texas (South)
Vermont
Washington
Wisconsin
The candidate who obtains the most votes in their state in our annual elections will secure office and serve a 2-year term from September 1, 2015 through August 31, 2017.
Some of the state coordinators' responsibilities include: representing the PDGA in a positive light to members, clubs, agencies, and communities; working with TDs and clubs within their state or province and in adjoining areas to schedule PDGA Tour and other disc golf events; serving as state/provincial liaison to the PDGA Tour Manager in setting the Tour schedule and in addressing and resolving Tour event issues, and voting for and recommending candidates for annual PDGA awards.
Your Vote Matters
When you receive your email ballot in early July, please take a few minutes of your time to complete and submit it. In doing so not only are you fulfilling one of your basic rights and responsibilities as a PDGA member, but you are also demonstrating that the work performed by these core volunteers is important and worthwhile, both for you personally, and for the PDGA and disc golf as a whole.
If you have any questions or concerns at all, please contact the PDGA office.
Comments
The link to the State Coordinator Bio's takes you to the 2014 list.
Please update with the 2015 list.