Moving Day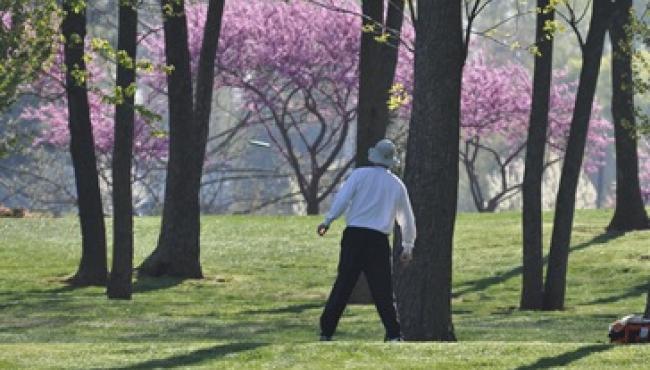 It was Moving Day today in Bowling Green and today's action lived up to expectations.
In the Advanced field North Carolina's David Wiggins was behind by two throws and now leads Bowling Green's Jon Millay by a throw. Friday's leader Matt Travis is currently tied for third only four throws back. Trey Williams of Greensboro, North Carolina is also making a run for one the the coveted spots in the finals. He is technically tied for second according to par but has to play Phil Moore park which is listed as par 59 compared to the A pools round at Hobson Grove which is listed at par 55.
In the Intermediate division Monroe, Ohio's Tim Bretland now has a one throw lead which is a three throw swing from yesterday. His lead would probably be even larger considering he had a 875 rated round today at Preston Miller.
One of the most impressive moves of the day belongs to Kevin Peterson of Huntsville, Alabama. After the first round Kevin was tied for 19th place but his stellar play at Franklin and Phil Moore have given him a four throw margin going into tomorrow's final round.
Other division leaders include...
Advanced Women: Jamie Sternke (Menonomie, Wisconsin)
Advanced Grandmasters: Jimmy Finfrock(Dayton, Ohio)
Advanced Senior Grandmasters: Bill Ball (Piedmont, SC)
Intermediate Women: Lauren Yurt (Louisville, KY)
Recreational: Charles Alford (Morgantown, KY)
Recreational Women: Celeste Shearer (Cub Run, KY)
Juniors: Will Wright (Jackson, TN)
Tonight was the Fly Mart and all who attended had a great time and hopefully found an abundance of disc golf related merchandise. The entertainment for the evening was the Ernie Small Blues Band lead by none other than Bowling Green's Ernie Small. Ernie had the blues about his 63 at Ephram White today but that definitely didn't stop him for putting on a great show tonight.
Tomorrow is the last preliminary round at 8:00am Central time followed by the finals which will be held at Hobson Grove and the adjoining Riverview Golf Course. Keep checking PDGA.com for coverage of tomorrow's action.
Also included in tonight's article is a list of the stellar play so far this week. Through the first three rounds of play there have been 29 rounds unofficially rated at 990 or higher. A complete list is below.
Name
PDGA#
Pool
Round
Division
Course
Score
Rating
Matt Travis
29292
A
1
MA1
Kereiakes (long)
45
1051
Sammy Shaheen
27014
E
2
MA2
Preston Miller
41
1044
Jason Anderson
41236
A
2
MA1
Phil Moore
48
1043
Jordan Rauch
27574
A
1
MA1
Kereiakes (long)
46
1040
David Wiggins
Jr
24437
A
1
MA1
Kereiakes (long)
47
1030
Jon Millay
23899
A
1
MA1
Kereiakes (long)
47
1030
Dylan Horst
32599
A
3
MA1
Franklin (short)
48
1018
Eddie Garmon
28009
A
3
MA1
Franklin (short)
48
1018
David Wiggins
Jr
24437
A
2
MA1
Phil Moore
51
1014
Brandon Bueter
35733
A
1
MA1
Kereiakes (long)
49
1010
Trey Williams
38082
B
1
MA1
Franklin (short)
49
1010
Jeremy Johns
27358
A
3
MA1
Franklin (short)
49
1007
Brandon Bueter
35733
A
2
MA1
Phil Moore
52
1005
HB Clark
553
A
2
MA1
Phil Moore
52
1005
Anthony Hudson
40692
E
2
MA2
Preston Miller
44
1005
Trey Williams
38082
B
3
MA1
Hobson Grove
48
1001
Brandon
Wootten
40113
A
1
MA1
Kereiakes (long)
50
1000
Aaron Walther
39316
A
1
MA1
Kereiakes (long)
50
1000
Kevin Peterson
36747
D
3
MM1
Phil Moore
53
998
Michael
Newhouse
10659
A
3
MA1
Franklin (short)
50
997
Shawn Aaron
24030
A
3
MA1
Franklin (short)
50
997
Jon Millay
23899
A
2
MA1
Phil Moore
53
995
Martin Young
27853
A
2
MA1
Phil Moore
53
995
Dylan Horst
32599
A
2
MA1
Phil Moore
53
995
Wade Sullivan
39671
A
2
MA1
Phil Moore
53
995
Matthew Radtke
36116
E
1
MA2
Ephram White
53
991
Trey Williams
38082
B
2
MA1
Kereiakes (long)
50
991
Kevin Peterson
36747
D
2
MA1
Franklin (short)
52
991
Chris Hall
41569
B
2
MA1
Kereiakes (long)
50
991
Links
Amateur Championship at Bowling Green Leaderboard
Photo Galleries
Official Event Website
DiscGolf365's On the Road Coverage from the Amateur Championship at Bowling Green