190k and Counting in Donations as St. Jude Disc Golf Charity Invitational Comes to an Exciting End
190k and Counting in Donations as St. Jude Disc Golf Charity Invitational Comes to an Exciting End
Tuesday, May 31, 2016 - 13:41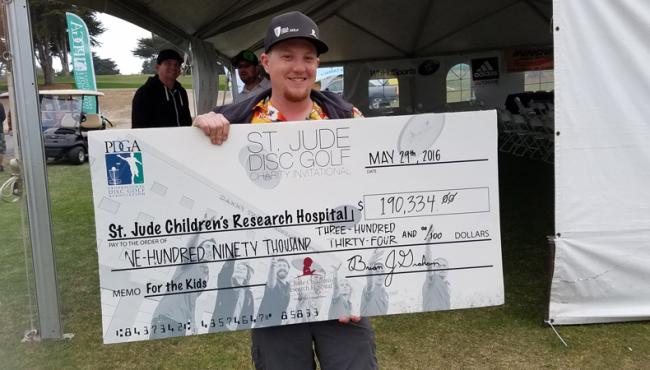 The 2nd Annual St. Jude Disc Golf Charity Invitational came to an end on Sunday afternoon with winners both on and off the course. Ricky Wysocki #38008 edged out the competition to take home the victory on the 18th green, but the real winners and the reason there was even a competition to watch at all were the kids of St. Jude Children's Research Hospital.
Any Tournament Director will tell you that running a disc golf event requires an enormous amount of work. The competition aspect alone means putting together a crew of volunteers. Running an event on a multi-million dollar golf course while also managing the fundraising aspects for an internationally acclaimed charitable organization, well, that's a whole different level of exhaustion.
Most of the staff and volunteers involved for this year's event at Bayonet & Blackhorse have been involved since the day after last year's event ended. It's a year-round effort, but the end result makes it worth our time.
"It was the most surreal work experience I've ever had and both times I've walked away from it feeling like Dorothy waking up from a dream," said Annabelle Udo-O'Malley, the St. Jude Senior Regional Event Specialist that helped bring the partnership with the PDGA and the annual event to fruition.
Coming into the weekend of the event, the fundraising total was sitting just above $145k. That number grew immensely as the weekend progressed thanks to last-minute donations, the dozens of items sold during the silent auction, and a $10,000 matching gift from the PDGA amongst other things. When the Awards Ceremony rolled around on Sunday evening, we were able to write a check to St. Jude for $190,344!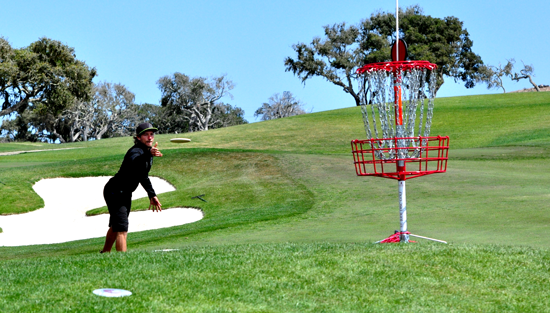 This Is For The Kids
On the competition side, the unofficial motto of the weekend was, "This is for the kids." Despite fiercely contested battles in many of the divisions, players were able to swallow their pride and set some of their competitive emotions aside. For some, that aspect may have actually improved their performance. This was explained quite well by Jared Roan #49210 during his acceptance speech for his second place finish (tied with Nate Doss #11794), seen below. Special thanks to Central Coast Disc Golf for helping transcribe the speech. Look for footage from this weekend's event on the Central Coast Disc Golf YouTube channel. 
"…The biggest thing, obviously, is the cause. We're all here to represent St. Jude and to try to raise enough money for them to keep doing what they're doing. I think that is truly amazing. There were a lot of times during my round that, you know…it's hard when you're a competitor. You always want to play your best. And once things started maybe not going my way, I just reminded myself that this is for St. Jude. These kids are going through something that you could never even imagine and it's so unbelievable that St. Jude is able to do this for these kids. To give them, you know, give them a life that is unimaginable without their help. And every time I thought of that, it really helped my game. Honestly. It made me feel really good and I think that's the most important thing to take away from this thing. How I finished or whatever…I'm really happy with my finish in second place. But the number one thing here is St. Jude, and I just want everyone to acknowledge that."
An explosion of applause followed, perhaps because that seemed to hit home for a lot of the players in the audience. As someone who has watched most of the biggest events in disc golf up close and in person for the last few years, I saw a lot more smiles this weekend than usual. Bad throws and unfortunate breaks were quickly dismissed, replaced by the mental reminder that they are here to help the kids of St. Jude. The competition comes second.
Wysocki Gets Second Straight 18th Hole Win
Close battles were fought in many divisions this weekend, with the Open division being the most intense. The sun was shining down on the monstrous 10,000' layout, but the wind coming in from Monterey Bay was steady and strong.
Ricky's second throw left him OB in the sand. Hits a big putt to save par. #stjudediscgolf pic.twitter.com/ioW4zN12rq

— PDGA Live Scoring (@pdgalive) May 29, 2016
As we headed into the last few holes, an extremely close match between had developed between the four men on the lead card, and Nikko Locastro #11534 on the chase card. So close in fact, that when Nikko teed off on Hole 17, he was tied for the lead with Ricky Wysocki, Jared Roan, and Nate Doss!
Thanks to live scoring, most of the gallery knew as the lead card teed off on Hole 18 that Nikko had just tapped in to take a double bogey. "I should have just played safe," said Locastro after the round. "But I saw a big hyzer route that played over the OB and thought 'I can just play safe, or try to win it right now.' Despite a strong left-to-right wind, he went for it. Had it faded left another two feet it would have hit the cart path and skipped inbounds to right under the basket. Falling just short left him OB and virtually out of contention for the title.
On the uphill par 4 beast that is Hole 18, the second shots were going to make or break the men on the lead card. Ricky played deep and way out to the left, avoiding the bunkers on the right side of the fairway but leaving himself with a dangerous approach to the green. Roan followed with a safe shot as well and another safe shot to leave himself putting for par from 25 feet. Doss and Sexton both went for the long, direct route to the green, and both fell victim to the OB sandtrap in front of it. 
Ricky's approach was perfect. It had just enough speed to clear the bunkers while still falling short of the OB cart path behind the basket and left him with what was esssentially a gimme, for him anyway. Roan stepped up to putt from 25' to potentially force a playoff but missed on the right side. Wysocki quickly stepped up and nailed his par putt from 20 feet for his second straight win and another dramatic finish on the PDGA Tour.   
Keep the Donations Coming
We're not finished raising money for St. Jude yet! We have until June 30th to get that number even higher. Donate can be made on behalf of your favorite fundraising team or individual at stjude.org/discgolf, or simply donate to the event in general at pdga.com/give.  
Comments
Have new respect for Nikko, he avoided walking through the sand trap(normal golf etiquette)