09 Presidents Cup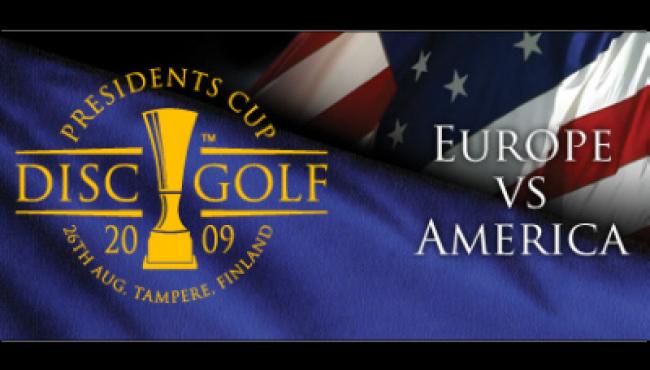 Team USA Retains the 2009 Presidents Cup
The Presidents Cup was held for the 3rd time today, with 2 time Champions Team USA facing off against Europe's best disc golfers on the par 60 Epila Park Course in Tampere, Finland. While Europe were both the sentimental favorites and the team of choice for the estimated 250 spectators on hand, their task of beating a Team USA made up of 5 World Champions (Feldberg, Climo, Nate Doss, Avery & Val Jenkins) and the defending European Open Women's Champion (Burl) was a most daunting one.
After introducing the teams, TD Jussi Meresmaa requested a minute of silence in memory of Innova Champion's Tim Selinske, who very sadly passed away recently, and who he described as one of the nicest persons he had ever met. Jussi also had Tim's name embroidered on all the Team player shirts in recognition of this Hall of Famer's contributions to the sport we all love.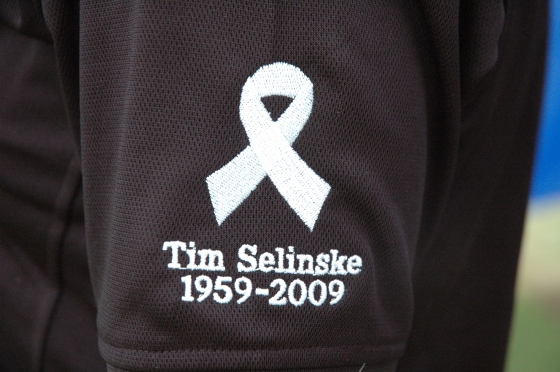 The tournament format was total score on the front 9, with 7 points available to the 3 men and 3 women (4, 2, 1) with the lowest scores. The back 9 was match play wherein 3 points would be awarded to the winners of each of 6 matches, with 1½ points to both players for a tied match. All told 32 points were available, with Europe needing 16½ points to take the Cup, and USA 16 points to retain it. 
The importance of this competition to the players was apparent from the get go, with plenty of nerves showing on hole 1, a fairly simple 259' shot across OB and onto an Island green, which half the players on each team managed to miss, carding bogeys and in the case of Feldberg, a double, instead of the expected birdies. When Europe led by a stroke after Hole 1, it looked like game on, however it was not long before Team USA seized control. By the time the front 9 had been completed it was evident that Europe was going to need some uncanny shot making and a large miracle. With a lead of 12½ pts to 1½, Team USA only required 1 win and 1 draw from the 6 remaining matches to retain the Cup.
Front 9 Scores

 

 

 

 

 

Women
Score
Points

Burl Berlogar, USA

-1

4

Birgitta Lagerholm, Europe

+3

1.5

Val Jenkins, USA

+3

1.5

Angelica Frantz, Europe

+5

0

Men

 

 

Nate Doss, USA

-6

4

Dave Feldberg, USA

-3

1.5

Ken Climo, USA

-3

1.5

Jesper Lundmark, Europe

-2

0

Karl Johan Nybo, Europe

-2

0

Avery Jenkins, USA

-1

0

Markus K

ä

llstr

ö

m, Europe

Even

0

Timo Pursio, Europe

+3

0
While most of the head to head matches were close, it was once again Team USA who made the shots when they needed to. Trailing Jesper by a hole, Avery left his drive on #13, a tough, slightly uphill, 371' hole across 300' of water and up a 30' wide slot, a mere 3 feet from the pin. 2 holes later, AJ threw in a 25' forehand putt around a tree to seize the match lead. On hole 16 Markus' key but seemingly routine 23' putt to cut Nate's lead from 2 to 1 was low. And on hole 17 when they needed to force the issue, all 4 European men drove OB. Only Birgitta was able to take the match play points for Europe.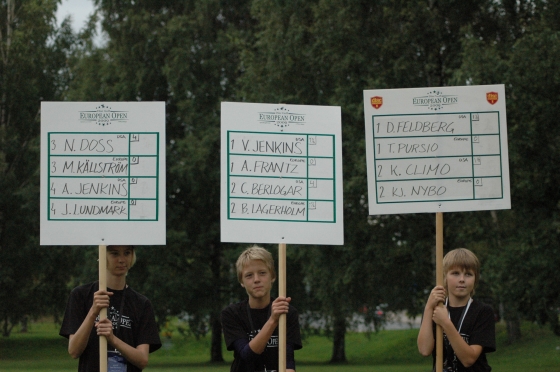 Back 9 Match Results

 

Points

 

 

V. Jenkins defeated Frantz 2 up

3-0

Lagerholm defeated Berlogar 2 & 1

0-3

Doss defeated Källström 3 & 1

3-0

A. Jenkins defeated Lundmark 2 & 1

3-0

Feldberg defated Pursio 2 & 1

3-0

Climo defeated Nybo 2 up

3-0
In the end, Team USA proved virtually untouchable, winning by a stunning 27½ points to 4½ to take the Cup back across the ocean for a 3rd time. Camaraderie and good spirit were the order of the day however, with all the players sharing in the winners' champagne. Perhaps next year, when the Presidents Cup will be held in USA for the 1st time as part of the USDGC festivities, the trend of the visitors winning will continue, and Team Europe will have their day in the sun.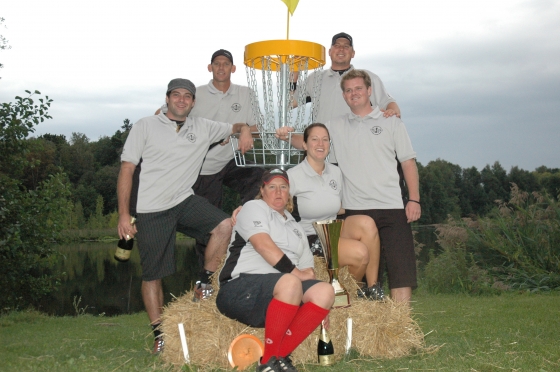 Team USA celebrate retaining the Presidents Cup
With the trans-Atlantic bragging rights having been decided, tomorrow marks the beginning of the European Open, a 1 round per day, 4 day PDGA Major Event. Stay tuned to pdga.com as we bring you more stories, photos, and results from Finland, all by early afternoon North America time.
---
LINKS: