Euro Open Preview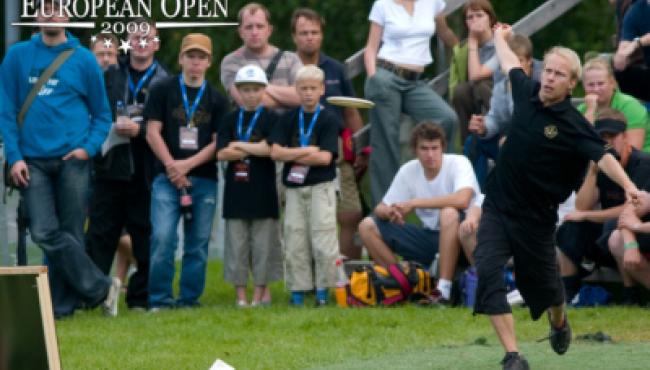 Since its inception in 2006, the European Open - a PDGA Major event - has become a highlight of the tour season for the leading Europeans and the world's top players.
Hosted by Jussi Meresmaa and Discmania in the beautiful Finnish city of Tampere, this event offers it all - terrific hospitality, top level competition in Epila park, and the camaraderie and thrills that reflect international disc golf at its finest.
The 2009 European Open will be contested on August 27-30 and will crown champions in two professional divisions, Open (MPO) and Women (FPO). The field is limited to 150 players. The tournament entry fee is 100 Euros and a minimum purse of 15,000 EUR is guaranteed. Tournament information can be found at http://www.opendiscgolf.com/.
The European Open is preceeded by the President's Cup on August 26th, a team stroke and match play competition between Europe's and USA's top players for the purse, the champagne, and trans-Atlantic bragging rights. This year Team Europe will be seeking to dethrone Team USA for the first time and to keep the Cup in European hands.
Team USA
Captain: David Feldberg
MPO Ken Climo
MPO Nathan Doss
MPO Avery Jenkins
MPO David Feldberg
FPO Valarie Jenkins
FPO Carrie Berlogar
Team Europe
Captain: Hans Tegebäck, SWE
MPO Jesper Lundmark, SWE
MPO Markus Källström, SWE
MPO Timo Pursio, FIN
MPO Karl Johan Nybo, DEN
FPO Birgitta Lagerholm, SWE
FPO Angelica Frantz, SWE 
The 2009 European Open will be telecast by Finnish National TV Channel YLE, who will broadcast a 28-minute show of the event three weeks after the tournament.
Do not miss the chance to follow this world-class tournament either on-site at the beautiful Epilä Disc Golf Park, Tampere, or online at both www.opendiscgolf.com and www.pdga.com. In addition to everything you need to know about the course and competition facts, the competition website will feature stories, photos, and videos all through the competition week. Stay tuned!
For more information, contact Tournament Director Jussi Meresmaa at [email protected], tel. +358-40-5781474, or Press Manager Annariikka Marttinen at [email protected], tel. +358-44-3300449.
The European Open is organized in cooperation with the PDGA, Discmania, Innova Champion Discs, Disc Golf Club Tampere, and the City of Tampere.
Additional information:
Tournament Director
Jussi Meresmaa
Phone +358 40 578 1474
Email: [email protected]
Assistant TD
Janne Kotka
Tel: +358 40 50 3844113
Email: [email protected]
European Open website:
http://www.opendiscgolf.com/