What Happens at the GCC, Stays at the GCC
What Happens at the GCC, Stays at the GCC
Thursday, February 13, 2014 - 13:06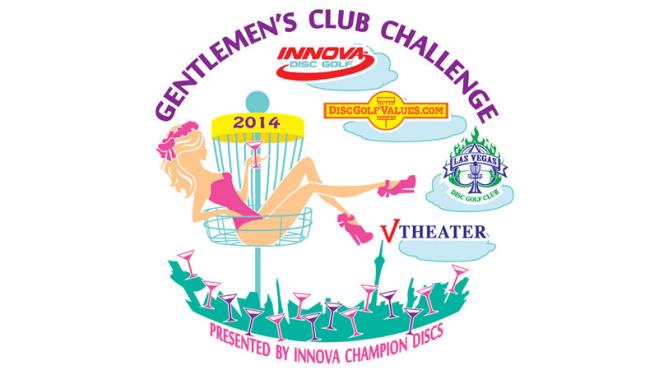 The 15th annual Gentlemen's Club Challenge presented by Innova Champion Discs, is finally here! This PDGA sanctioned A-tier event is split into two consecutive weekends, with the amateur divisions kicking off this Saturday and Sunday. For the first time in its history, this tournament is completely sold out in all divisions for both weekends, combining for a total of over 375 competitors hitting the course in sunny Las Vegas.
Although the GCC is an A-tier, it has the look, feel, and meets many of the same requirements as a National Tour event. Each player will receive a professional caddy book that includes detailed pictures and descriptions of each hole and any specific rules or issues of interest. Both the ams and pros alike are expected to abide by the National Tour dress code, as outlined in section 3.4.D of the Competition Manual for Disc Golf Events. The GCC will also have plenty of the most important factor of any well-run large event: volunteers! Dozens of them will be working to assure the event goes smoothly. Oh yeah…and don't forget, its in Vegas, baby! 
Sunset Park is the course for competition once again, and the layout is a great warm-up for the Memorial Championships. Many of the top pros you'll see at that event, now only two weeks away, will be here duking it out all weekend before they head down to Scottsdale, AZ. The course is flat and dry and usually accompanied by a strong breeze. The dry grass alone is enough to cause a disc to skip much farther than what most players are used to. Add to that an abundance of out-of-bound lines and the already difficult holes become that much harder to deal with. 
A new 27 hole layout has been designed for the amateur divisions with an average distance per hole of just under 350 feet. It will include two island holes, a hangman hole, and the infamous 865' finishing hole. The professional divisions will play an 18 hole layout with one island hole and one hangman hole. With 470 feet being the average distance per hole for this layout, you can expect to see lots of bombed drives and gigantic skips.
The amateurs will be playing for trophies only. Win or lose, they'll be taking home a ridiculous players pack, now valued at $240. There are plenty of other ways to take home some goodies as well. CTPs are available for all divisions on the first island hole, the player with the longest ace of the day will receive $100 cash, and a raffle is held with over $1000 of donated items as prizes already in the works. With amateur players coming in from 15 different states, the competition will be aplenty.
Competitors from 29 states, Canada, Germany, and Finland will be represented during the professional division weekend, all chasing after a piece of the $9000 of added cash. A large chunk of the added cash comes from the silent auction held by the Las Vegas Disc Golf Club. You can find out more information about the auction on the club's website, or simply download the silent auction PDF. 
Innova Champion Discs, the title sponsor, came through with an amazing $15,500 in sponsorships. Thanks to Innova, the GCC is the only tournament to get the test run Champion Tern Xs (two of which are for sale in the silent auction), the first tournament to get hot-stamped Champion Atlases, Star Foxbats, GStar Destroyers, GStar Teebirds, Star Mako 3s, and Star Lite Roadrunners. The GCC is also the second tournament to ever receive Pro Novas and GStar Terns. And if that wasn't enough, every player of every division will also receive an Innova Air Force shirt, with the GCC logo on it. 
V and Saxe Theaters stepped up big time and donated 700 tickets (2 tickets per player) to see either "Recycled Percussion" or "B – A Tribute to the Beatles". Do the math on that one folks. Based on face value, that's a $50,000 donation! Because of this awesome gift from V and Saxe Theaters, part of the players pack will be a Blizzard Katana stamped with the V Theater logo. Disc Golf Values, NOMAD Targets, Caesars Palace, Prodiscus, the Senior Foundation Grand Program, Sunset Stations, Legacy Discs, and dozens of individual donations have combined for just over $75,000 in sponsorships!
The Las Vegas Disc Golf Club has been growing the Gentlemen's Club Challenge since the inaugural event 15 years ago. "To help put last year's $23,000 purse in perspective, the GCC was one of the top 10 richest PDGA events in 2013, and beat out 3 Major event payouts", says Jeff Jacquart (#10749) and Scott Merritt (#27053), GCC co-tournament directors. "The GCC also has some of the largest Masters and Grandmasters division turnouts, on both the Am and Pro sides!"
The GCC and the LVDGC would like to thank major sponsors Innova Champion Discs, V and Saxe Theaters, DiscGolfValues.com, NOMAD Targets, and Prodiscus for their support. For more information about the GCC, please check out the LVDGC website.