Tournament Directors
There are several factors that contribute to the growth and success of disc golf but there is no doubt that the primary reason is the hard working and often underappreciated tournament directors.
We are also very pleased to offer you the ability to submit your sanctioning agreement online. This form will speed up the processing of your event and hopefully be a convenience as well.
Thank you for your patience, interest and volunteering your time by hosting a PDGA sanctioned event. The members, players and spectators appreciate your dedication and what you do for the sport of disc golf. On behalf of the PDGA Board of Directors, PDGA Staff, members, players and spectators, Thank you!
Please do not hesitate to call the office at (706) 261-6342 or send an email to tourmgr@pdga.com if you have any questions.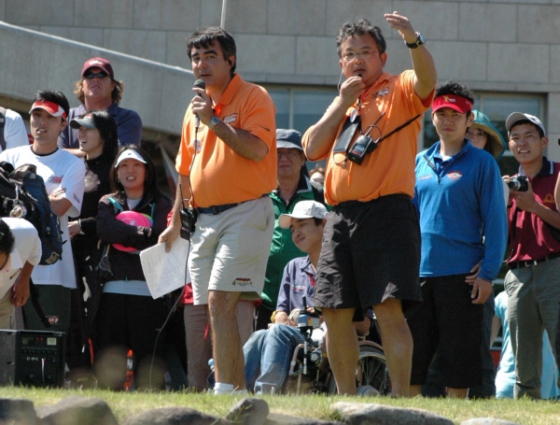 John Ahart and hall of famer Kozo Shimbo direct spotters and spectators at the 2008 Japan Open