Straddle Up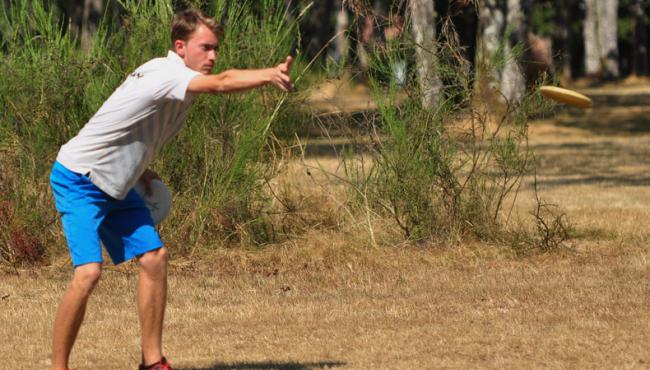 If the weather is as good for the rest of the weekend as it was today here at the Fort Steilacoom Open, we'll be more than satisfied. The 2014 PDGA National Tour has been plagued by horrendous conditions all year outside of the "Steady" Ed Memorial Masters Cup in Santa Cruz, and we're always happy to see sunshine and calm conditions even at the cost of an occasional and short-lived light drizzle or two. After all, we're only a few miles south of Seattle, one of the rainiest cities in the country. Today was the only day of the event where two full rounds were to be played, and we're glad we got through it without any major issues. 
The women played their first round this morning on the moderately open and easy to navigate Southeast course followed by a second round on the tight and treacherous Northwest course. The holes on the Southeast course can be a bit deceiving, especially the longer ones. Placement off the tee is often crucial, meaning those that miss their lines will suffer the consequences on a seemingly open fairway.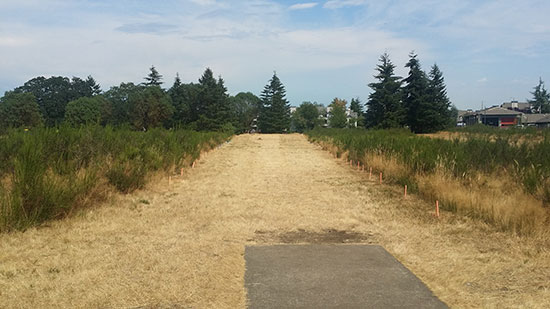 By the end of the first round, Val Jenkins #17495 had moved into the lead by three or more strokes over Paige Pierce #29190, Catrina Allen #44184, and Liz Dorries #31162 after shooting four under par, unofficially rated at 1000. The second round would bring more of the same story as Val not only held her lead, but increased it to six overall. She'll be joined by Allen, Pierce, and Jessie Westbell #36076 on the lead card tomorrow.
In the Open division, Will Schusterick #29064 sits alone in the lead by three after two rounds of intense competition. After the first round, Will was tied for the lead with Dana Vicich #26228 at 10 under par, the hot round on the Northwest course. Right behind them was David Wiggins Jr. #24437 and Nate Sexton #18824, both of which were tied for second place just a stroke off the lead. Will has apparently in the last week or so decided to switch to the straddle putt stance, and it seems to be paying off.
Schusterick will be playing with Vicich and Sexton once again tomorrow and joining them will be Ricky Wysocki #38008. Wysocki was on the chase card after round one and gained enough momentum during round two to take the lead card position away from David Wiggins Jr. He's now tied for second with Sexton and Vicich going into tomorrow, where they will play just one round on the Northwest course.
Live scores and commentary will be available once again tomorrow on PDGALive.com with hole-by-hole scores, pictures, videos, and more for the Open and Open Women's lead cards. All the pro divisions will tee off at 12:00pm PDT. Can anyone catch Will and his new birdie-machine straddle putting form? Only time will tell…