Help Arrives for Tour Season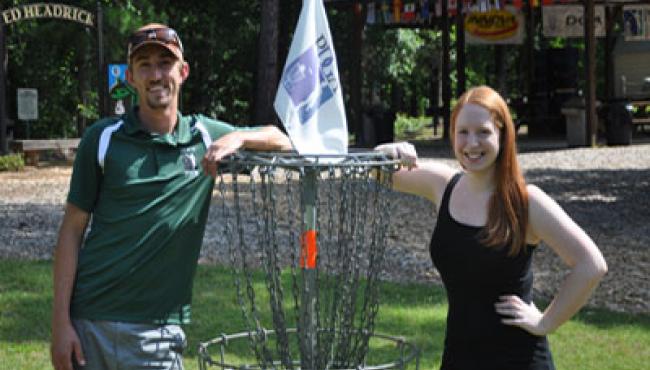 Summer is upon us and with it comes two new members to the PDGA team at the International Disc Golf Center in Appling, GA. The tour season is in full swing and with it team members are swamped by the daily duties of event and player management; help is here to lighten the load.
The PDGA is happy to announce the addition of the Historical Data Entry Clerk, Amber Sweeton, and summer intern, Warren Hollinshead, for seasonal help.
Amber is responsible for entering all back cataloged data from previous events throughout the history of the PDGA. She is going through all hand written tournament result data and entering it into the PDGA database.
When asked about the historic data project PDGA Tour Manager Andrew Sweeton stated, "Our current online tournament data is only complete back to 2001 when we started using digital TD Reports.  Prior to that time, all tournament data was sent to the office on paper where the data was compiled by hand for publication in the official PDGA magazine.  We currently have two people working part-time to convert those paper TD Reports into digital TD reports so we can import that historic data into our database which will allow us to display the data online.  Our hope is that we might also be able to produce some historic player rating data from those old events as well."
Amber is a history major at Nyack College in Nyack, NY and is the daughter of Tour Manager Andrew "Big Dog" Sweeton. This is her second summer break spent entering archived data for the PDGA.
"It is interesting to see the old data, and compare it to my knowledge of current players and tournaments. It's cool to see the growth of players over the years," Amber spoke of her duties so far.
Warren, the intern, comes all the way from Eugene, OR with a background in disc golf ranging back to 2002. His resume in, and around, the sport is well rounded and thorough. His organized activity dates back to high school when he started his high school club. Later he transitioned this experience to help jumpstart an organized club at the University of Arizona in 2007 followed by the creation of a new club at Lane Community College in 2011. He was eventually elected President of all three clubs. He is currently a student at LCC working on a transfer degree to University of Oregon in Journalism. He has been a PDGA member since 2011, has played in numerous events, and has planned and run a C-tier fundraiser tournament.
"The PDGA is pleased to have Warren Hollinshead onboard throughout the summer. He brings with him an energetic demeanor and a passion for the sport which enables him to be extremely valuable to the PDGA team. His knowledge in the field of journalism will be a major asset to the PDGA, as well as allow him to further his educational and professional goals," said Events Manager Michael Downes.
Warren is here to assist wherever needed throughout office operations, course maintenance at the IDGC, and event planning and operation. He will be at both Professional and Amateur Worlds to assist on any details or duties required. This internship is providing Warren with both educational and professional experience, college credit, and a summer of hard work on the tour.
"I couldn't be happier to be working with the PDGA throughout this summer. This has been a dream come true to be able to assist the PDGA in any area required of me," Warren said.
-Written by Warren Hollinshead