Meet the New PDGA Intern: Zach Shafer #63004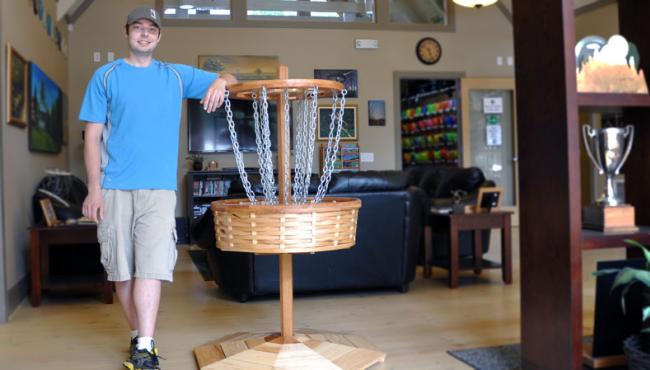 With the sport of disc golf growing in popularity every single year, it's a necessity for the PDGA to bring in extra help if and when we can. Like many other companies and organizations, one way we do this is through a summer internship program at the International Disc Golf Center. Whether it's promoting the sport, assuring excellence in the operation of our events, or working on projects to make the sport of disc golf bigger and better for our members, there's always something to do. In the heart of the disc golf season, we warmly welcome any extra helping hands.
With that being said, the PDGA is extremely excited to welcome Zach Shafer #63004 as the newest addition to the team. Zach will be serving as the Events Intern for the duration of the 2014 season. Hailing from DeWitt, MI, and an active member of the Mt. Pleasant Disc Golf Club, Zach Shafer could not be any more excited to join the PDGA team. He brings with him copious amounts of experience from a wide array of previous jobs, certifications, and University courses that cater to many of the specific needs we have.
For starters, he spent five years working at Connxtions Comedy Club in Lansing, MI helping implement over 1,000 comedy shows as part of their events team. On top of his vast knowledge of planning and running events, he's helped in the building and/or maintaining of the Wildwood Disc Golf Course, Deerfield Disc Golf Course, and the University Course at Central Michigan University. Additionally, Zach is graduating from Central Michigan University with Recreation and Event Management as his major and Business Administration as a minor.
Since the intern position requires a lot of face time with staff, board members, and visitors to the IDGC in general, a good personality and attitude is a must. Zach's duties will include assiting staff and customers at the IDGC pro shop, helping to maintain the three championship courses on site, and aiding in the operation of the PDGA Professional World Championships in Portland, OR and the PDGA Amateur Disc Golf World Championships in St. Paul, MN, just to name a few.
After finding out that he hand-crafted a disc golf basket out of wood and brought it to the International Disc Golf Center, we simply had to ask him some more questions.
When did you first start playing disc golf?
"I first started playing disc golf when I was 15, my sophomore year in high school. I am now 24, and will be 25 in August, so I've been playing for over 9 years now. I had played once or twice when I was even younger, around 13, but I didn't start playing regularly until I was 15."
What led you to disc golf? Did you play other disc sports, like Ultimate, first?
"Yes, I did play a little bit of Ultimate, and I spent a lot of time throwing the disc on the beach. I also have an older brother who got into disc golf before me. Wanting to be cool like the older kids, I started playing, and haven't stopped since. I am now cool like the older kids."
Lots of people play disc golf. But not everyone plays, and keeps coming back. What is it about the sport that made you keep returning to it?
"The number one thing I love about disc golf is the culture. I have been playing sports my whole life (soccer, snowboarding, lacrosse, basketball, baseball, wrestling, track, and tournament paintball), and there is no other sport I've found where your competitor is just as psyched about you having a good round as you are. Everyone is friendly, and by the end of each round you typically have found a new friend. Another feature I love about disc golf is how financially feasible it is. To be able to have fun for up to 3 hours on no more than a 5 dollar parking/greens fee is huge. It also helps that I am a very 'outdoorsy' individual. What beats walking around in the woods and throwing things at other things? Nothing."
What are you looking forward to most with the internship? Is it meeting certain people, learning something specific about the sport, seeing what it's like behind the scenes?
"I am looking forward to everything about this internship. I realize that answer probably isn't a big help so I will try to clarify. I chose my degree of Recreation and Event Management with a minor in Business Administration with the hopes of finding a career in the disc golf industry. However, I am not quite sure what part of the industry I want to end up in. This is why I sought after this particular internship. This internship will allow me to gain experience in retail, events, course management, public relations, branding, design, and the dozen other things that I am sure will pop up as the internship progresses. I hope to narrow down which aspect of the industry I enjoy most and that I meet other individuals that could help me launch my career as a professional. I believe that to start off my career, it would be great to learn from those at the heart of the industry, and I am ecstatic that they selected me to be the intern. The experience is something I will brag about to future employers, and the discount at the pro shop is something I can brag about to my friends."
When did you get into woodworking and why? Is Ron Swanson one of your personal heroes?
"Being the son of a carpenter, my father put me to work as soon as I could swing a hammer. I remember helping put vinyl siding on my house back when I was at an age that I thought being an X-man was a viable profession. Having spent my childhood up until now doing everything from commercial to residential rebuilds to new construction, it sparked an interest that will never fade. There is nothing more rewarding in life than taking "nothing" and turning it in to something beautiful. I have used this skill to build bridges, entertainment centers, bookshelves, kitchens, and even disc golf baskets. As far as Ron Swanson goes, he is my idol. I watch Parks & Recreation like it's my job, and you could essentially sum up my personality as Ron Swanson. "
Did you ever try any stand-up while working at the comedy club? Who is your favorite comedian?
"No, I never tried doing stand-up. I am much funnier during conversational speaking compared to talking at people. To be a comedian is a much more difficult profession that most would believe, and I'm glad I worked in comedy for five years to watch comedians grow and become better at their profession. Asking who my favorite comedian is, is like asking what my favorite disc golf course is. It really all depends on how I am feeling, what the conditions are, and who I am enjoying it with. It's also heavily dependent on whether it's live or pre-recorded. Live comedy is always better, unless you're Mike Epps, who was not in the least bit pleasant to watch live compared to seeing him in films. If I had to pick a favorite comedian, it would be Louis CK. He is simply amazing at everything he does. Other notable comedians on my list of favorites are Kevin Nealon, Dave Landau, Mike Merryfield, Nick Swardson, and at a close second place, John Mulaney. Comedy is something I will enjoy for the rest of my life, and something I try to make a part of any profession I pursue."