Global Qualifiers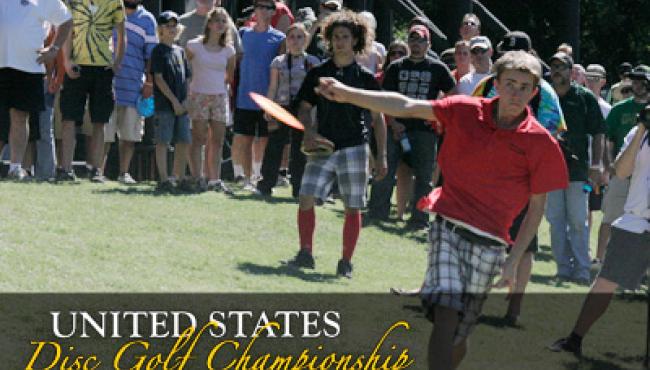 Thirty disc golfers battling across the country and from around the globe closed out USDGC Performance Edition qualifying August 20-21, during the PDGA's first Global Tournament.

The Last Chance Qualifier, Oct. 3rd at Winthrop, is all that remains for disc golfers still hoping to get in.

The Global, which relied heavily on the PDGA ratings system, bypassed hundreds even thousands of miles so that nearly 600 disc golfers playing in 15 different tournaments could play three rounds together. Global Tournament sites included  Kitakami, Japan; Colchester, England; Perth, Australia; and twelve other venues in the U.S.

Of those who qualified for this year's USDGC, the greatest number (7) actually came from the Blazer at Boyd Hill tournament in Rock Hill, S.C. including the Global's top USDGC qualifier, Scott "Skeet" Scienski of Charlotte. The Endicott Open in St. Louis was next with four qualifiers followed by the Mt. Airy Forest Centennial Open in Cincinnati and the Michinoku Open in Japan with three qualifiers apiece.

Go to www.pdga.com/pdga-global-disc-golf-tournament for a full rundown on the tournaments featured in the Global Tournament.

Scienski, who is more known for his remarkable USDGC disc art than his play on the course, beat his 851 player rating by an average of 80 points during the three rounds at the Boyd Hill Course. Not far behind were Christopher Gore of St. Charles, Missouri, playing in St Louis; and Daniel Allgeir of Louisville, playing in the Charlie Vettiner tournament in Louisville. Gore beat his player rating by an average of 70.3 while Allgeir exceeded his by 67.7.

For a full listing of the Global Tournament's USDGC qualifiers go to: usdgc.com/competitors/qualified-competitors

All Global competitors played three rounds on one course, which had to have a Scratch Scoring Average (SSA) between 48-54.

USDGC qualifying for the Global Tournament was conducted a bit differently then the previous qualifiers this year. Instead of relying on a projected score as the basis for player scoring, the Global Tournament compared each competitor's player rating with their average rating for the three-round tournament. The top 30 with the biggest improvement earned USDGC invites.

Scoring will return to the original format for the USDGC Performance Edition October 5-8.

Six months ago, Skeet had no plans of playing in the Championship. He had no PDGA membership and therefore no official player rating. That changed after attending the challenging High Country Throwdown in West Jefferson, N.C. in July, when he received an 851-rating that turned out to be just barely enough for Performance Edition eligibility.

A dental technician by trade, Scienski spends just as much time on his disc design business, Beyond the Disc. Many of the unique Roc designs he's come up with the last four years have become synonymous with the Championship. Scienski said for a disc artist, designing disc artwork for the USDGC is as good as it gets.

But playing in the Championship is something else entirely.

So going into the Blazer tournament, Scienski, who plays regularly at Boyd Hill, had some hope brewing inside. In the end he not only qualified, but he won his advanced master's division as well. Scienski, generally an emotional player, said that keeping his mental game in check was key to a good tournament.

"I was trying to focus on my attitude. Honestly, I think a lot of players struggle with this," said Scienski, who added that by keeping a cool head and enjoying the moment, he was able to slow things down and just play his game.

While Skeet was keeping his cool on the course, Global Tournament creator Chuck Kennedy could be seen on several live broadcasts of Discgolf Planet.TV's Global Tournament coverage as he kept tabs on all of the disc golfers and the round ratings they were producing.

He noted that something like the Global Tournament has never been done before in any other sport. The player ratings, which Kennedy co-founded with Roger Smith, make it all possible.

"The whole idea behind the ratings is taking different courses and comparing the scores," said Kennedy, who chairs the PDGA ratings and course committees.

In the overall Global competition each player's three-round ratings were added together according to division. Coming in atop the Open division was Nikko Locastro, scoring 3,180 points which averaged out to a 1060-round rating. Locastro enjoys a lifetime exemption from USDGC qualifying after winning the event in 2009.

Kennedy said there was a strong contingent of competitors, especially amateurs interested in the tournament specifically for USDGC qualifying.

If anyone missed out on the Global Tournament, chances are good there will be more down the road with a lot more disc golfers. It's already pretty impressive. With its combined attendance, the Global became the largest event this year – even beating out the massive Amateur Championships at Bowling Green, which had 544 disc golfers.

Kennedy is confident the Global can handle more tournaments especially if more tournament directors master loading scores to PDGA.com.

Still, with 15 tournaments worth of round ratings to keep track of, Kennedy, the PDGA's Dave Gentry, and others were quite busy over that weekend.

The technical side of the experiment was pretty straight forward, said Kennedy. The only real obstacle was trying to explain the new concept.

"People really like the ratings but they are sort of mystical still," said Kennedy, adding that with all of the territory that the ratings figure into, it's not always the easiest thing to explain.