Doubles Champions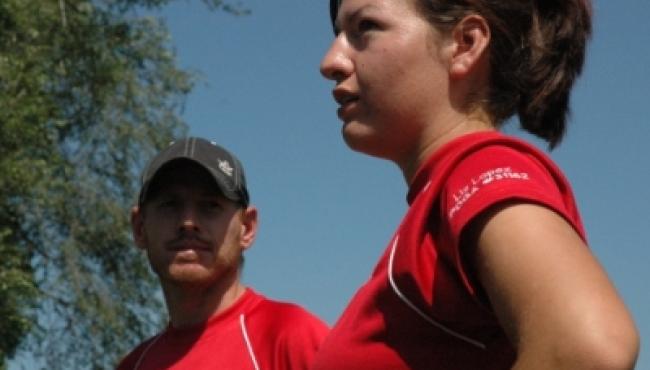 The first world champions of the 2009 PDGA Disc Golf World Championships were crowned today as the Mixed Doubles and Junior Divisional Doubles competitions were contested.
Mixed Doubles kicked off this morning at 9:00am at Swope Park with 18 holes of best shot followed by 18 holes of alternating shot. David Feldberg and Melody King jumped out to an early one throw lead following the best shot format in round one over Eric McCabe and Liz Lopez. The two groups played hard all round and it came down to the final hole with Feldberg/King leading by one. Feldberg drove first on the hole but caught an early tree which left the pair with a sizable second shot not far from the tee pad. Melody King followed up with a great second shot which would give Feldberg the opportunity to attempt a 45 footer for the win. The putt missed just left and it looked like Melody King would hit the easy 10 foot come back to put them into a playoff with McCabe/Lopez who made a fairly routine three on the hole. Melody King stepped up and hit chains nearly dead center with her putt but it kicked out in front of an astonished crowd of onlookers who could not believe what they had just witnessed. Feldberg/King take a five on the hole and Eric McCabe and Liz Lopez come from the second card to win the mixed doubles world championships. For a post round video interview with Liz and Eric, visit:
http://www.pdga.com/videos/kansas-city-worlds-video-coverage-episode-1
McCabe and Lopez have both made their presence felt on the pro tour over the past two years with excellent play so look for them on the leader board when the singles competition begins later this week.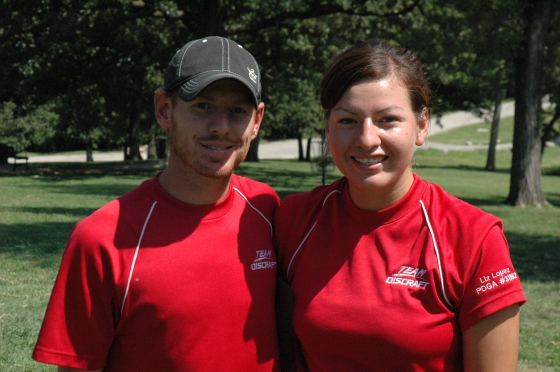 Eric McCabe and Liz Lopez are your 2009 Mixed Doubles World Champions
In the Pro Grandmasters mixed doubles competition, Crazy John Brooks and Lynne Warren came out of retirement to win world titles with a three throw victory over Merle Witvoet and Terri Duncan. The victory was extra sweet for the pair of hometown heroes who will both be inducted into the Disc Golf Hall of Fame later this week.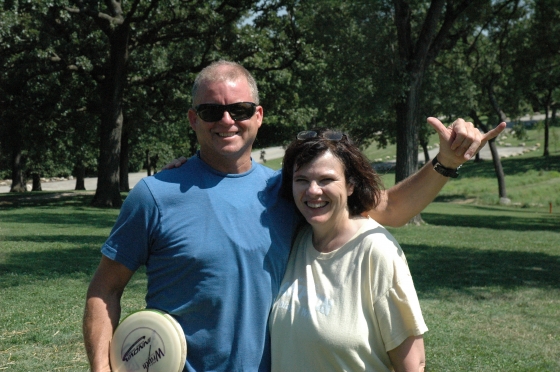 Hall of Fame inductees, "Crazy" John Brooks and Lynne Warren are Grandmasters Mixed Doubles World Champions
In the Advanced Amateur division, Tony Ferro and Iris Beyeler of Switzerland claimed their first ever world titles with a two throw victory over the teams of Ben Boylan, Jr. and Becky Terrill and Terry Gallups and Maureen Higgins who tied for second.
Tony Ferro and Iris Beyeler of Switzerland are Advanced Mixed Doubles World Champions
In addition to the mixed doubles competitions, the Junior World Divisional Doubles competition was contested at Waterworks Park where two teams claimed world doubles titles. In the Junior <19 Boys division, Andrew Coggin and David Wiggins, Jr. were crowned world champions after a hard fought two throw victory over Oscar Stenfelt and Victor Grundstrom of Sweden. Brock Dowell and Nicholas Duran are world doubles champions in the Junior <13 Boys division with an eight throw victory over Austin and Parker Welck.
Complete doubles results can be found at http://www.pdga.com/announcements/worlds-doubles-results-7252009.