Worlds Wrap-up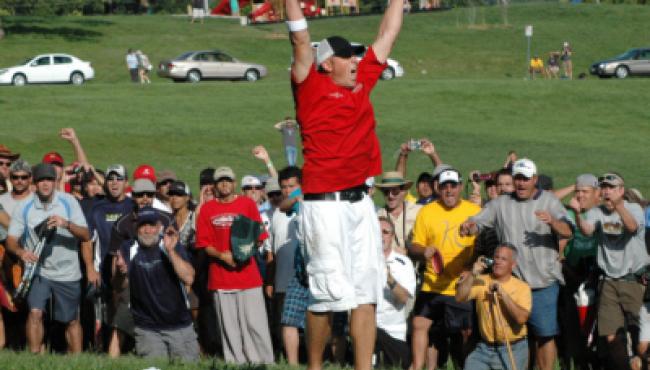 Avery Jenkins Wins World Championship
Completes Family Sweep in Open Division
by Dr. John G. Duesler, Jr.
It took one week, 140 holes, and a swarm of butterflies in the gut, but Avery Jenkins overcame some late putting problems and a strong closing surge by Josh Anthon to capture his first Professional World Championship title in Kansas City at the 2009 PDGA World Championships.  
Avery Jenkins brought a two throw lead with him into the final nine holes, played at the scenic Blue Valley course in Kansas City. But a drive that came up short on hole five, and a missed putt on six left the door open for Anthon to capitalize and move himself into a first place tie.  
The estimated gallery of 1500 fans that surrounded the Men's Open group throughout the afternoon were delighted at the intense drama that unfolded near the end.  On the 476 feet long, hole nine of the finals, both Jenkins and Anthon had solid drives onto the island green, leaving them with relatively easy upshots and drop-ins to force the sudden death.  And while Jenkins neatly hit the bottom the basket to rest easily with his drop-in, Anthon shorted his second throw, leaving himself with mind-numbing 27-feet putt that he needed to force the extra holes.  
Anthon eyed the basket carefully, as the electrified gallery held their breath to see if Josh could make what, at that point, was the biggest putt of his career.  He backed off his lie once, as if to punctuate the importance of that single throw, but stepped back up quickly and confidently and proceeded to hit the heart of the chains to make the shot and set the immense crowd roaring and sprinting into position to watch the epic battle continue in sudden death.  
Both players seemed very tight on the first two holes, as each misthrew crucial upshots on hole one, and laid up on hole two to keep things tied up.  But, if there were any butterflies on the first two holes, Jenkins and Anthon showed no signs of them on hole three, where they each unleashed booming uphill drives that were all of 400 feet into the fairway.  
After the sudden death moved past the third and fourth holes, the fateful, and shorter hole five is where the tournament would be decided.  Jenkins lead off with a low-liner up the sloping 287-feet hole, leaving himself with an 18-feet putt.  Anthon's drive looked similar to Jenkins's, but the disc never faded towards the basket and landed some 35 feet away.  
Again the crowd was hushed as Josh slowly climbed the hill towards what he knew was a must-make putt.  And while his excellent throw was definitely chain high, Anthon's toss was off-center enough for the disc to fly-by without going in the basket.  
This left the crowd bellowing chants of, "Come on Avery" and "Finish this now," as Jenkins stepped over his historic last putt.  With the confidence that a World Champion must have, Jenkins smashed the chains in the middle of the post and won his first professional world championship, clearly the biggest win in his outstanding career.  
Only one other Men's Open World Championship required a playoff, as Gregg Hosfeld defeated Mike Sullivan in Toronto in 1987.  
For Avery Jenkins, his World Championship win was especially poignant, as his sister, Valarie Jenkins had earlier captured her third consecutive women's World Championship by defeating Des Reading.  
The Professional Disc Golf Association would like to express our most sincere gratitude and thanks to the Kansas City Flying Disc Club for a most excellent 2009 PDGA Disc Golf World Championships.
922 players from 13 countries and 44 states attended the event making it the largest world championships in history. It was also stated by many of the competitors that this was also one of, if not the best, world championships in history. Tournament Directors Jack Lowe and John Chapman, along with Rick Rothstein and a bevvy of volunteers put on a show that will be tough to match for years to come and they should all be very proud of their accomplishments.
Log on to PDGA.com over the next couple of days as we will be publishing additional feature wrap up stories on the 2009 PDGA Disc Golf World Championships.   
The PDGA would like to congratulate the following members for claiming world championship titles in the respective divisions:
Open - Avery Jenkins
Open Women - Valarie Jenkins
Pro Master - Phil Arthur
Pro Women Master - Elaine King
Pro Grandmaster - David Greenwell
Pro Women Grandmaster - Kathy Hardyman
Pro Senior Grandmaster - Dr. Rick Voakes
Legends - Jerry Robbins, Sr.
Advanced Men - Matt Keatts
Advanced Women - Maureen Higgins
Advanced Masters - Joe Rotan
Advanced Masters Women - Marie Fry
Advanced Grandmmasters - Paul Wright
Advanced Grandmasters Women - Sue B. Lande
Advanced Senior Grandmasters - Gary Camp
Junior <19 Boys - Nageeb Laborde
Junior <19 Girls - Audrey Quirk
Junior <16 Boys - Oscar Stenfelt
Junior <16 Girls - Nicole Cazares
Junior <13 Boys - Andrew Coggin
Junior <13 Girls - Gabriella Gray
Junior <10 Boys - Nicholas Duran
Junior <10 Girls - Lydia Dillen
---
LINKS:
Complete Amater World Championship Results
Complete Pro World Championship Results