Atlanta Open Preview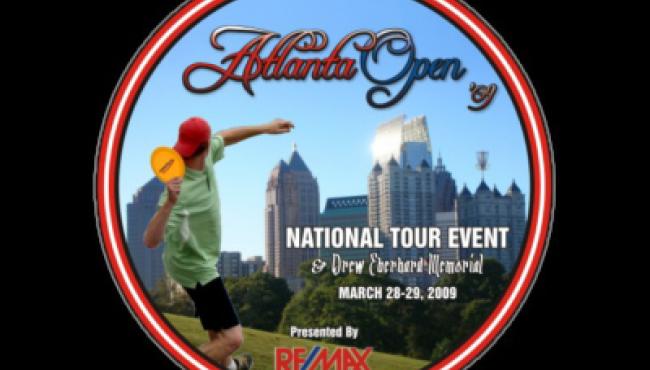 PDGA National Tour Turns Southeast with The Atlanta Open This Weekend
First time NT Tournament Director Feeling Peachy About Hosting Disc Golf's Best 
by Dr. John G. Duesler, Jr.
---
The second leg of the PDGA's ten-stop 2009 National Tour is in the Atlanta suburbs of Cumming and Roswell this weekend, as The Atlanta Open gets set for a great weekend of fun and flying discs. 
Event tournament director, Rand Eberhard has been instrumental in growing the Atlanta Disc Golf Organization over the last decade and has had his sites set on hosting an NT event from the beginning.  Eberhard, and his very talented team of volunteers, will get their chance this weekend, as most of the top touring pros will be in the 90-player field. 
"Hosting a PDGA National Tour event is such a great opportunity.  Joining a list of only ten NTs during the 2009 season is quite an honor," Eberhard said.  "We have had so much support from our sponsors and local disc golf clubs.  Without their support, as well as the PDGA's, disc golfers around the country would not have such a great Tour to be a part of.  The National Tour has given us the ability to grow with the sport of disc golf as marketing and promotion become a central point for each event," Eberhard observed.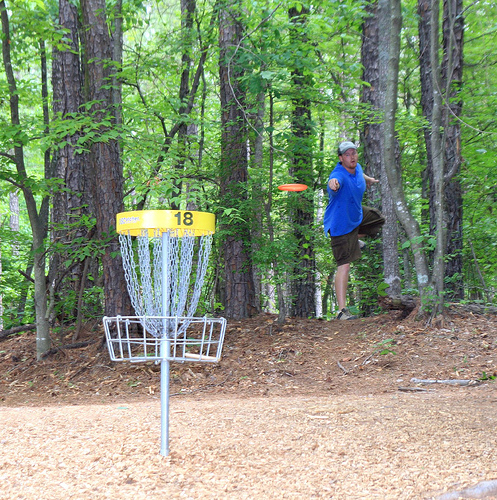 Josh Childs putts during the 2007 Atlanta Open
Included in this very talented field will many of the well-known PDGA touring pros, David Feldberg (Springfield, Oregon), Ken Climo (Clearwater, Florida), and Barry Schultz (Menomonee Falls, Wisconsin), as well as regional talents Brad Hammock (Decatur, Georgia) and Kevin McCoy (Senoia, Georgia).  The Atlanta Open will also create great intrigue, since the Open division will feature 13-year old and reigning PDGA Junior World Champion, David Wiggins, Jr. from High Point, North Carolina. Though Wiggins has certainly thrown with this caliber of talent at the USDGC, he has not yet competed against them on as big as a stage as the PDGA National Tour. The disc golf community will all be watching to see how he fares. 
On the women's side, two-time, and reigning PDGA World Champion, Valarie Jenkins (Hinckley, Ohio) will be tested by the emerging talent of touring pro Liz Lopez (Corpus Christi, Texas), 2007 PDGA Rookie of the Year Sarah Stanhope (Easley, South Carolina), and local favorite Courtney Peavy (Senoia, Georgia).  
You can follow all the action on pdga.com with daily coverage from PDGA Media, as well as live scoring from the leadgroups and video highlights during the weekend. 
---
PDGA Scoreboard - Atlanta Open