Vibram Presents the 2014 Maple Hill Open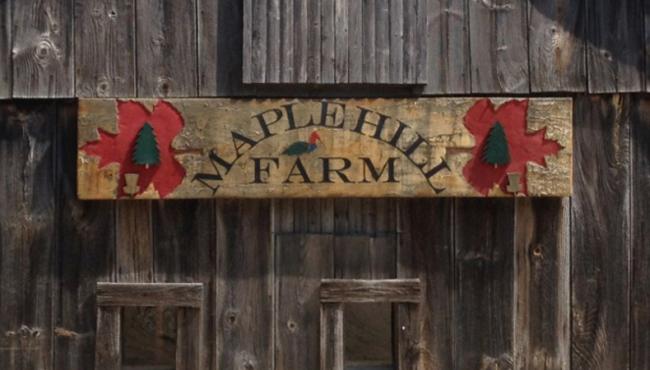 In the world of disc golf, there are some events that don't need much of an introduction. Formerly known as the Vibram Open, the Maple Hill Open presented by Vibram (MHO) is certainly one of the elite few tournaments that fall into this category. It's referred to by many pros as the best event on tour, and with good reasons. It takes place on one of the most beautiful and difficult private courses in the country, the payout is massive, and the competition is fierce to say the least. It's also stop number five of eight on the 2014 PDGA National Tour Elite Series.
Qualified Competition
Unlike a majority of other tournaments where players can simply register to compete, the MHO requires qualification. There are several ways that one can qualify, so let's take a look at how that works.
Criteria
Tournament Directors can register their event as an MHO Qualifier and registered players for said event then have the option, via a $10 fee, to list themselves as someone trying to qualify. The top three finishers of those that opted in for their chance qualify make the cut. There were 23 events this year that were listed as qualifiers, as seen on the MHO Qualifier page.

Anyone that placed well enough to take home some cash in the 2013 Vibram Open is automatically qualified for the 2014 Maple Hill Open.

Be an MPO or FPO Vibram Open Champion

This one is pretty simple. If you're a previous Vibram Open champion you're in, even if you didn't compete and/or cash in 2013.

The PDGA labels certain players as "PDGA Touring Pros". Becoming a PDGA Touring Pro has it's own set of qualification criteria, as seen on the Touring Pros PDF.

Buy a Sponsor Spot

Every big event requires a lot of capital. Those with the means and generousity to donate $290 or more to the MHO are automatically qualified.

Register for the Five-Spots Wait List

The "How To Qualify" page on the MHO website explains this one best:

"We are overbooking the event by 40 spots, under the assumption that some of the earned/reserved spots will not be claimed. This will cause less people to get in from the wait list and will increase the percentage of players playing in the event that have qualified to play in the event."
Maple Hill Gold Course
Maple Hill is a private disc golf course built on what was once a Christmas tree farm. The 1500 square foot Maple Hill Sap House boasts a fully stocked disc golf pro shop downstairs and a relaxing area upstairs with food, darts, cards, and a scenic view of the 18th hole. The 18-hole course has four different layouts: Red, White, Blue, and Gold, listed from least difficult to most difficult, respectively. Not surprisingly, the MHO competitors will be playing the Gold layout for all four rounds that will take place over the next four days.
The Maple Hill Gold course is a par 60 8215' beast. Just how difficult is this course? If you take a look at the results from the 2013 Vibram Open, you'll see that shooting a 59, the course par in 2013, was officially rated at 1013! Last year's Open Women's division champion, Val Jenkins #17495, managed to shoot par for one of her three rounds, and was the only woman to do so all weekend.
The course puts people to the test, forcing them to play some of the best golf of their lives if they want to stand a chance to cash. If you were following along with the action last year on DiscGolfPlanet.TV, you would have witnessed what many people, ams and pros alike, consider the greatest round of disc golf ever played. During the final round, Paul McBeth #27523 took home the gold by setting the course record after finishing 14 under par. It was rated at an incredible 1121 and blew the minds of pretty much everyone that witnessed it. No other player in the entire event shot a round below 50, to help put that in perspective.
For detailed information about the Maple Hill Gold course layout, head over to the MHO website.
Watch It Live
This year the MHO will be streamed live by Terry Miller and the SmashBoxxTV crew! The first round broadcast will begin at 1pm and follows 2013 Champion, Paul McBeth, as he returns to the Maple Hill Gold Course to defend his title. Last year's final round of 45 was one for the record books and ranks as one of the highest rated rounds of all time. Joining him on the card is Jay Nourse (2014 VibrAM Champion), Joey Lutz, and Scotty "Too Hotty" Burtard. 
If you can't stream it for whatever reason, don't worry, you have other options! We'll have live hole-by-hole scoring (for EVERY competitor) and throw-by-throw commentary from the lead cards all weekend on pdgalive.com. Want more coverage options? You got it! McFlySoHigh Video will be producing and uploading round coverage videos from each day on his YouTube channel as well.
This is an event you don't want to miss. We wish all the competitors the best of luck as they take on the Maple Hill Gold course for what should be a very exciting weekend of disc golf at the 2014 Maple Hill Open presented by Vibram!