Trans-Atlantic Battle Royale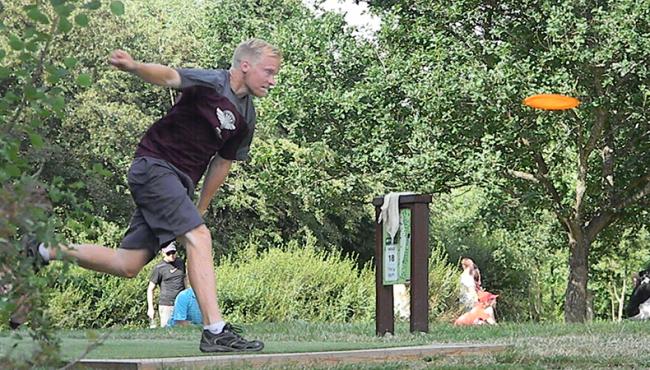 A Trans-Atlantic battle royale is taking shape at the halfway point of the 2014 European Masters presented by Innova Europe.
Among the ladies, Catrina Allen #44184 has edged into a one throw lead over home crowd favourite Ragna Bygde #8559 on the strength of her one under par today, 63, unofficially rated 998. 2X Women's World Champion Paige Pierce #29190 is a mere three shots off the pace. One of these three hot-round-shooting ladies should be crowned champion on Sunday as the two women tied for 4th place, Val Jenkins #17495 and Sarah Hokom #34563, are a whopping 10 throws back of Pierce.
In the 134 strong MPO field, 2X defending World Champion Paul McBeth #27523 and Rounds 1 and 2 leader KJ Nybo #28903 from Denmark, are tied at -18, with McBeth having the box tomorrow morning on the basis of shooting a pair of 55s for Rounds 1 and 2, both being nine under par. Right on their tails is Flying Finn Pasi Koivu #41251 who had the day's hot round shooting a 10 under par 54, unofficially rated at 1063.
In fact, Koivu and McBeth shared the lead at -17 thru hole 16 today before Koivu bogeyed hole 17, a 190 meter (625') par four that McBeth eagled with a 15 meter putt (50') a few minutes later. Koivu and Nybo then birdied hole 18 which McBeth uncharacteristically bogeyed to slip back into the tie for 1st place. Completing the Round 3 leader group is 2X USDGC Champion Will Schusterick #29064, who sits alone at -16, two throws off the pace. The chase card has more work to do, as the two players tied for 5th, Richard Wysocki #38008 and Juho Parviainen #30858, are three throws back from Schusterick and 5 off the leaders.
The tightness of the battles is testimony to the design of the Järva DiscGolf Park. With the bulk of the holes being tough par 3s and long challenging par 4s and 5s, birdies are at a premium and bogeys, or worse, are always only a heartbeat away. As for aces...well they are practically unheard of. Unless your name is KJ Nybo. 
One of the unique features of this event is the profound cooperation between Finns and Swedes, traditional arch rivals in sport. Perhaps Suomi Head Organizer Jussi Meresmaa #14600 had visions of a new era in trans-Baltic Sea diplomacy, when he proposed a partnership with the Sverige course managers Jonas Lof #3416 and Mats Lof #4589 and TD Tommy Bessner #51055.
With 36 holes and a smorgåsbord of shots still to be thrown, be sure to join us tomorrow for Round 3 coverage. Tee times once again start at 8:00AM, AKA 2:00AM Eastern Daylight Time in the USA. Live hole-by-hole scoring will be available for every player in the event, updated every 6 holes, on PDGALive.com. Follow the action on our Instagram, Twitter, and Facebook accounts or by searching and using the hashtag #MastersDiscGolf.