Sunshine Preview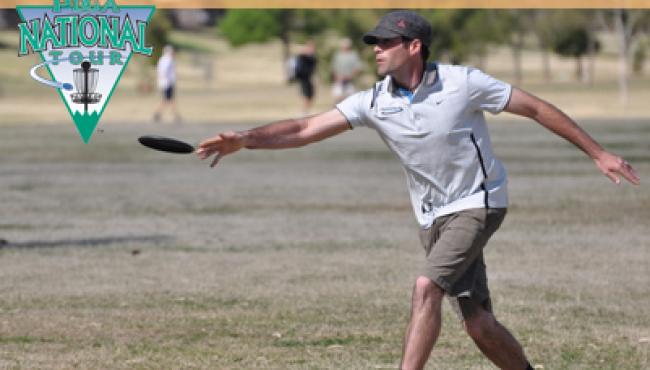 PDGA National Tour Already Showing Signs of Early Drama, Intrigue
by Dr. John G. Duesler, Jr.
If The Memorial Championship presented by Discraft is any indication of how this year's PDGA National Tour is going to unfold, then disc golf fans are in for a highly entertaining and dramatic season.
During the first NT stop, just a few weeks ago in Arizona, there was a dramatic shuffling of names atop the men's leaderboard after each of the four rounds.  Of course, it's who's on top after the last round that ultimately matters and that honor goes to David Feldberg, who regained some of his 2008 Player of the Year form on his way to a solid three throw win over Josh Anthon.  Anthon was the leader after the third round on the strength of a 1106-rated performance at Fountain Hills.  Devan Owens, Barry Schultz and Paul McBeth shared the lead after the first round at The Memorial Championship, but, unfortunately, Schultz was forced to withdraw after an injury, and Owens struggled during his second round at Vista del Camino, leaving McBeth alone as the leader after round two.
But this weekend's Sunshine State Shootout in Ocala, Florida provides a sharp contrast to the familiarity of the National Tour's kickoff courses.  Tournament Director Mike Barnett is bringing the planet's top tossers to the newly developed Pine Oaks course, as well as the Ocala Greenway disc golf course, so patience and risk-taking will need to be balanced during the three-round affair.  Patience will be measured by how long players will wait for their opportunities, and risk will be measured in how players will manage the unknown consequences of their miscues on this first-time National Tour venue.
David Feldberg's win in Arizona showed that he can balance the benefits of each, since he did not lead the tournament until the 62nd hole (patience), though he rode a string of seven birdies in a row to capture that lead (risk).  And while the field may be smaller in Florida, the high level of competition will provide plenty of intrigue again on this second stop of 2010's nine scheduled NTs.  The Memorial Super Group, Nikko Locastro, Avery Jenkins, Ken Climo, and Paul Ulibarri, will be in the Florida field, though not in the same group to start.  And Nathan Doss seems ready to bust out at any moment to again reassert himself as the sport's top disc golfer.  But with the PDGA National Tour making its return to the Sunshine State after a four-year hiatus, it could very well be the Florida natives who stake their claim on their home turf.  John E. McCray and Garrett Gurthie will join Climo as the Floridians to follow.  And while each are not able to travel as much as "The Champ," McCray and Gurthie will relish this chance to go head-to-head with the sport's best and show that Florida remains a state steeped in disc golf talent.
The women's open division will foster similar intrigue with Liz Carr (The Memorial Championship winner) facing off against Valarie Jenkins for the first time this year, as well as Carrie Berlogar, who bested Jenkins by ten-throws last week at the St. Patrick's Classic in Orangeville, California.
You can follow all the action on pdga.com, including Live Scoring throughout the event.  For more information, you can also visit www.sunshinestateshootout.com.