Shootout Day One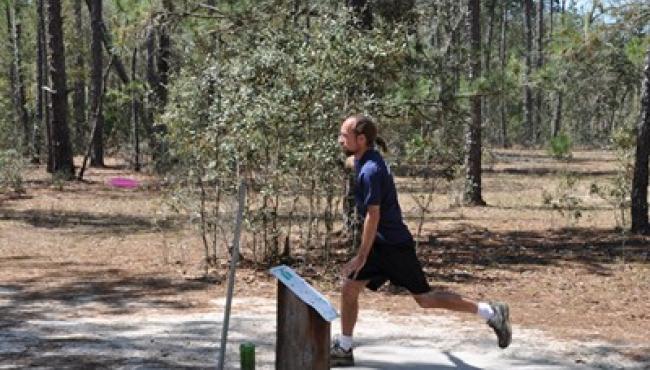 The Sunshine State Shootout lived up to its name today with beautiful sunny skies and a pleasant temperature of 75 degrees. The locals informed the visiting players that winter this year in Florida has been cold and that this one of the warmest days seen so far in 2010.
In the Open division a pair of nine unders by former World Champion Nate Doss and Tampa Bay's David Eilers lead early until Michael Johansen's hot 12 under (unofficially rated 1057) came in on the last card.
"I didn't do anything out of the ordinary," Johansen said after his round. "I just had no bogies.  This course was a fun course with a variety of shots, and I only got into a trouble on a couple of holes.  I was able to find my lines today and that's what made the difference," Johansen explained.
And while his mates in tomorrow's lead group, Climo, Doss, and Gurthie, are no strangers on the top of NT leader boards, Michael Johansen is a fresh new name in front.  Michael said he has not played in many National Tour events and that his goals are actually modest.
"I just love to play at a high level, and if I finish in the top 10, that's okay with me," Johansen said.  "I'm not always looking to win," Johansen admitted, though he also said he is "definitely competitive."
But now that he's winning after the first round of the Sunshine State Shootout, Johansen said that he would definitely like to win an NT.  If he keeps hitting his lines, making his putts and staying solid mentally, which he believes is the strength of his game, Johansen could well accomplish that goal this weekend.  And that would be a nice way to make his Florida tour more memorable, as he heads to the Keys next week to enjoy some rest and relaxation.
In the Women's division Carrie Berlogar and Valarie Jenkins share the lead with a solid one under par performance and in the Masters division reigning World Champion Phil Arthur is in third place behind Florida's Chris Lenkiewicz and Michael Paulette.
The pros will head to beautiful Pine Oaks Disc Golf Course. The Pine Oaks course has both an 18 hole golf course and 24 hole disc golf course. The disc golf course has been well received and is due largely in part to the efforts of the City of Ocala and Tournament Director Mike Barnett.
There will be live scoring tomorrow at 1:30pm Eastern Time so please be sure to check back and enjoy the coverage.
---
Links

Sunshine State Shootout Leader Board
Sunshine State Shootout Day One Photo Gallery
Sunshine State Shootout Official Website