Selection Sunday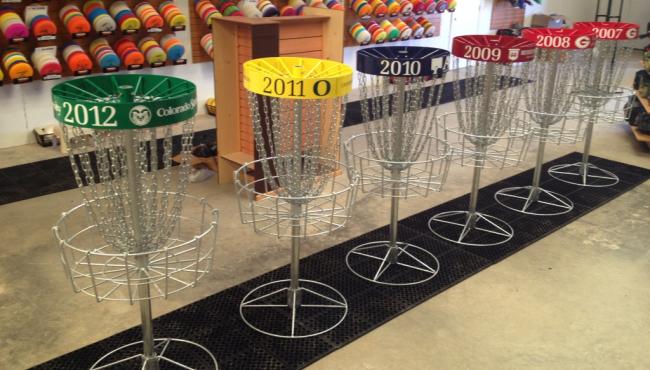 The end of the 2013-2014 collegiate disc golf season came to end Saturday with the conclusion of the California Clash and Gateway Collegiate Classic qualifier events. Five schools earned their spots into the National Collegiate Disc Golf Championships at those tournaments.
Now it's time calculate the end-of-season Innova Collegiate Team Rankings and award the last few spots into the Championship. There are six 1st Round Seeds to be handed out. The first two go to the top two schools with the highest total rankings points at the end of the season. Then, three spots are awarded to the three highest ranked teams that participated in the regular season. Finally, Pete May, founder of the National Collegiate Disc Golf Championships, announces his pick for the Pete May Honorable Invitation.
Highest Total Points Seeds
Indian Hills Community College ran away with the top point total with over 500 more points than the rest of the field. Georgia Southern edged out Penn State for the second spot by only 25 points thanks in part to their performance at the Innova SouthEast Collegiate Open where they finished ahead of seven other teams.
Total Points Standings - Top 5

| Total Points Rank | School | Point Total |
| --- | --- | --- |
| 1 | Indian Hills CC | 1719.44 |
| 2 | Georgia Southern | 1200.00 |
| 3 | Penn State | 1175.00 |
| 4 | South Florida | 983.33 |
| 5 | North Texas | 922.22 |
Highest Ranked Seeds
Indian Hills actually finished first in this category also, but since they have already qualified, the next three teams will be selected. North Texas, a new team this year, boosted their ranking on the second to last week of the season with a third place finish at the Mid-South Collegiate Open. With that performance, they jumped to 40th in the rankings. Following them is 41st ranked South Florida, who just missed winning a bid at the Alabama Slammer. With 42-Illinois earning their berth at the Gateway Collegiate Classic, Penn State squeaks their way into the field with 59th selection.
5 Highest Ranked Previously Non-Qualified Teams

| Ranking | School |
| --- | --- |
| 38 | Indian Hills CC |
| 40 | North Texas |
| 41 | South Florida |
| 43 | Penn State |
| 44 | South Carolina-Aiken |
Pete May Honorable Invitation
Finally, the last team in is personally chosen by Pete May after all 59 other teams have been determined. Traditionally, Pete has chosen his team based on the school's popularity and notoriety. Mr. May has chosen the Buckeyes of Ohio State. Ohio State is the last team into the 60 school field at the National Collegiate Disc Golf Championships.
Be sure to stay up to date with collegiate disc golf at www.NCDGC.com and in social media at facebook.com/NCDGC and twitter.com/CollegeDiscGolf.