PW2010-Thursday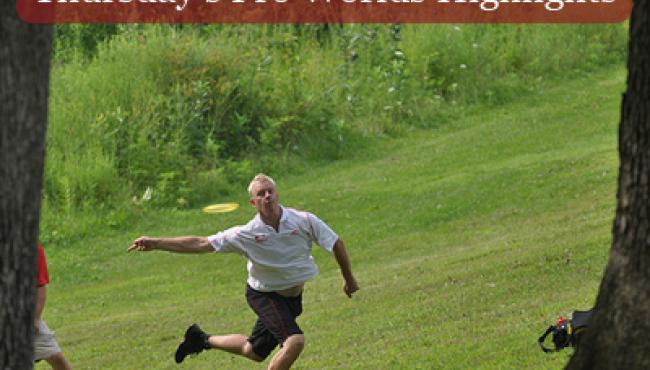 The temperatures dropped at Lemon Lake, but the play heated up, as the 2010 PDGA Pro World Championships complete Thursday's rounds.
Mens Open Division
Play in the Mens Open division moved back to Lemon Lake's Gold course, where these most talented players had the best chance at separating themselves from the pack (or being separated). Our leader going into the round, Paul Ulibarri, found himself locked into a battle of "whatever you can do I can do better" with Nikko Locastro. These two talented 21-year olds jockeyed back-and-forth all round, which went in fits-and-starts, as the players, realizing the significance of this last chance on the Gold course, played with a most deliberate style.
Ulibarri's seven birdie string in the heart of his round was matched only by Locastro's ten-birdie barrage on the eleven hole stretch from 2 to 12. And though Locastro briefly snatched the lead from the 2006 Advanced World Champion, Ulibarri responded with a deuce and a par-saving putt to swing a one-throw deficit into a one-throw lead. It was a lead he would maintain throughout the remainder of Thursday's round to preserve his standing atop the MPO leader board. Nate Doss kept his spot on the leadcard with a solid 59 to hold onto third place, while a Adam Olsen, Paul McBeth, David Feldberg, and Eric McCabe all joined Josh Anthon in a tie for fourth.
Womens Open Division
Sarah Stanhope conquered the Lemon Lake Silver course with her laser-like side arm flicks, as she sprinted ahead of the rest of the Womens Open division on the strength of a 1010-rated round. Stanhope's total of 8-under par has helped her enjoy a five-throw buffer over Des Reading. Liz Car (1-over par) and Valarie Jenkins (3-over par) complete the lead card.
The women have a big day on Friday, as the next 36-holes will bridge this talented field with the semi-final round.  Stanhope is now the third different competitor to occupy the women's open top spot, as the competition is fierce between these world-class players.  Determining who has the upper-hand here is nearly impossible, so watch closely as this great story at the Pro Worlds continues to unfold.
Mens Masters Division
Perhaps the most competitive division at this year's World Championships, the Mens Masters division has turned into a three-man race, with Brad Hammock, Patrick Brown, and Mike Moser all knotted up at the top of the leader board with 37-under pars.  Hammock's three previous World titles will go a long way today, as this incredibly talented division will move to the most-challenging Gold course at Lemon Lake.  Brown and Moser possess great distance off the tee, which may give them a slight advantage on today's 8100 feet trek.
Other Divisions
Barrett White is enjoying a great week at the PDGA Pro Worlds, as her 6-under par performance has helped her keep Elaine King, the defending Womens Masters World Champion, at arms length with a four-throw advantage.  Sheila Kirkham and Sue Stephens joing White and King on the Womens Masters leader card.  
Gregg Hosfeld found Thursday's move to the more technical Red and Blue courses much to his liking.  "The Miniac" build his lead up to six-throws over a hard-charging Tim Keith.  Jim Myers and Dave Devine complete the Mens Grandmasters lead card. 
The Womens Grandmasters has sparked some intrigue, as perennial World Champion Kathy Hardyman is finding a great challenge in Suzette Simons, who is game with a three-throw lead going into Friday's rounds. 
Rick Voakes seems to be well on his way to another World Championship crown, as he has forged a 15-throw lead over Snapper Pierson in the mens Senior Grandmaster division. 
Jerry Robbins and Don Dillon are in command in the two Legends divisions.