PW2010-Finals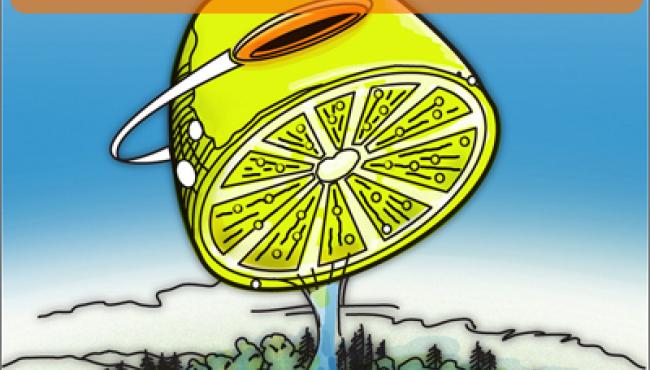 The 2010 PDGA World Championships came to a thrilling conclusion at the Lemon Lake disc golf complex on Saturday, as nine individual titles were awarded after five days of competition.
OPEN MEN

Eric McCabe is the new king of the Men's Open division, riding the wave of an extraordinary putting rhythm to distance himself from the rest of this year's talent-rich field.  McCabe caught fire on Wednesday afternoon, when he began his march up the standings after a slow start.  Thursday's play found McCabe quietly creeping closer to the top, but it was his Friday afternoon 1085-rated round that got him to the summit, albeit with Paul Ulibarri and Josh Anthon in tow.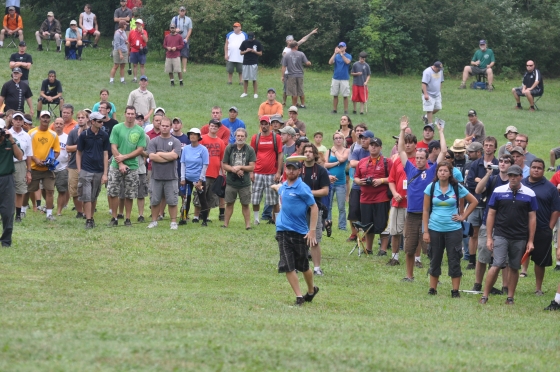 McCabe kept his foot on the accelerator during Saturday's semis and even more so during the Final 9 to surge to a five throw margin of victory.  And while Ulibarri, Anthon, and number-one ranked David Feldberg all had outstanding tournaments, McCabe was able to avoid the little slips that seemed to keep our three second-place finishers from ever catching the Emporia, Kansas native, who earned $5500 for his World Championship effort.  
OPEN WOMEN

After a long run of Women's Open World Championships being swapped between Des Reading and Valarie Jenkins, there is a new name to add to the history books, and it is Sarah Stanhope.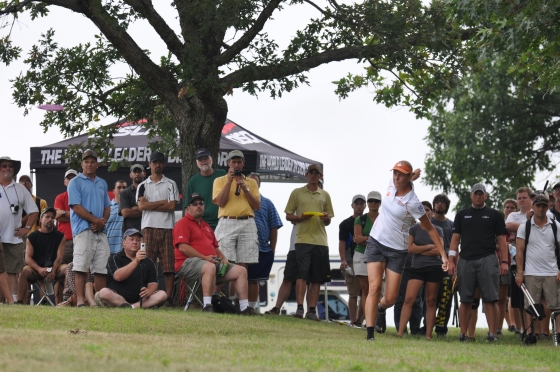 Stanhope rode the strength of a 6-throw cushion into Saturday's semifinals to keep all her challengers at arms length throughout the day.  The Greenville, South Carolina native was especially impressive with her forehand drives, that mocked many of the narrow, tree-lined fairways on their way to great scoring opportunities around the basket for Stanhope. Like her cohort in the Men's Open division, Stanhope is a first-time World Champion, who has a promising future ahead of herself in the disc golf community.

Des Reading continued an incredible run of World Championship performances, closing out the decade with nine consecutive finishes as either winner or runner-up.  Valarie Jenkins captured a third place finish, while Liz Carr took fourth in Crown Point, Indiana at this year's Worlds. 
MASTERS
Brad Hammock regained his World Championship form to claim his fifth title as the planet's best disc golfer in the Men's Masters division.  Pushed hard by Mike Moser and Patrick Brown, Hammock took advantage of his deft approach game to outpace Moser by three throws and Brown by four. Jim Oates finished fourth. 
MASTERS WOMEN
Barrett White enjoyed the familiarity of playing the Lemon Lake disc golf course complex, playing out of nearby Forest Park, Illinois to earn the Women's Masters PDGA World Championship.  White's steady play helped her dethrone defending champion, and disc golf legend, Elaine King, who was three throws behind. 
GRANDMASTERS DIVISION
Gregg "The Miniac" Hosfeld won his second PDGA World Championship in the last three years by holding off a late-charging Tim Keith in the Men's Grandmaster's division.  Hosfeld neutralized Keith's two aces during the week, by canning of number of key putts in the late rounds.  Jim Myers and David Devine completed the leadcard. 
GRANDMASTERS WOMEN
It was a five-peat for Kathy Hardyman, who needed a late surge to play past the great effort of Suzette Simons to win a World Championship at the Lemon Lake courses.  Hardyman's seven-throw margin of victory kept the Women's Grandmaster title in Colorado Springs, and constitutes one of the longest winning streaks in PDGA Worlds history.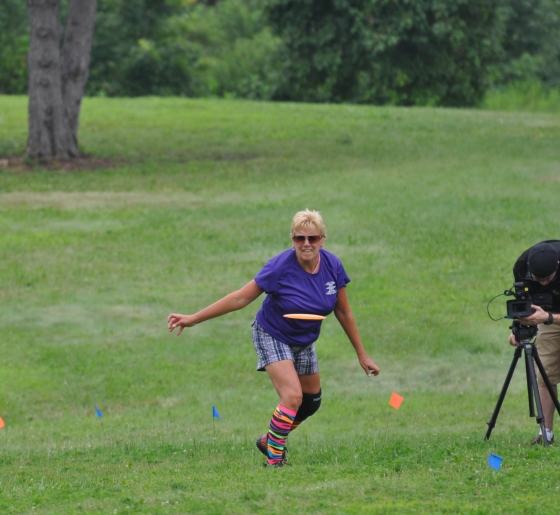 SENIOR GRANDMASTERS DIVISION
Dr. Rick Voakes won his seventh PDGA World Championship in Crown Point, Indiana this weekend by an impressive 21-throw margin over Hall of Famer Snapper Pierson.  Peter Shive finished in third.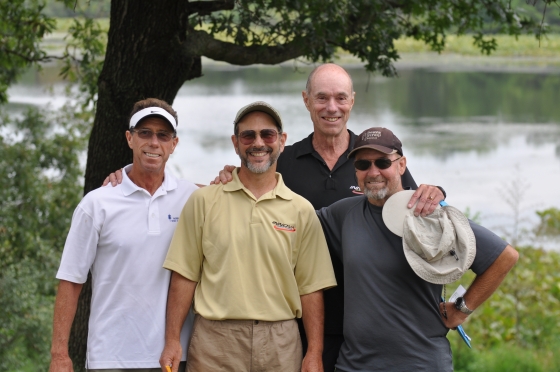 LEGEND'S DIVISION
Jerry Robbins successfully defended his PDGA Legend's World Championship besting Bill Ball, who finished in second. Robbins gave props to the Red Roc Disc Golf Club and also to tournament director Brian Cummings for making this his best Worlds yet. He said the layout and schedule for the Legends this year was favored by the division.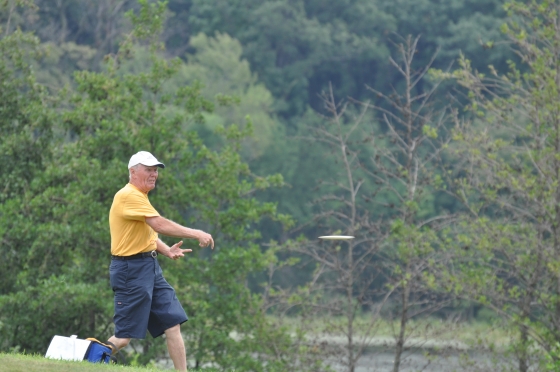 SENIOR LEGEND'S DIVISION
Don Dillon earned the first ever PDGA World Championship in the Senior Legends division by holding off a game Dr. Stancil Johnson, who stayed with six-throws of the champion of the week-long competition.