Pro Worlds-Final Day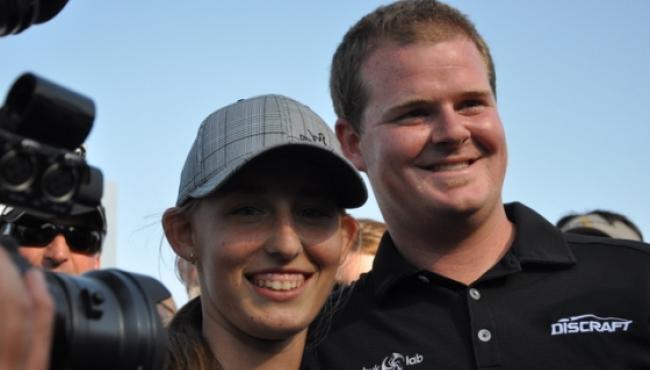 Nine World Champions were crowned Saturday with the conclusion of the weeklong 2011 PDGA World Championships in Santa Cruz, CA.
The semi-finals and final 9 were held at Pinto Lake disc golf course under ideal sunny and warm conditions as large galleries followed several of the lead cards.

After cruising through the first four rounds and establishing a comfortable 6-stroke lead, local hero Nate Doss was challenged in the semi-finals by a hot-shooting Josh Anthon who went on a birdie spree with 8 in a row. Doss was able to hold off Anthon and Will Schusterick in the Finals and cruised to his third World Championship.


Doss gave credit to his friends and family in the Santa Cruz area for helping him throughout the tournament, as well as the other players who pushed him to play his best.

The contest in the Women Open division was much tighter as three-time World Champion Valarie Jenkins and Rookie of the Year Paige Pierce entered the Final 9 tied. Earlier in the semi-finals, Pierce had consistently chipped away at Jenkins' five-stroke lead to force an exciting conclusion to the Final round.

The momentum shifted in Pierce's direction after she parked her drive on the second hole of Finals and picked up an easy deuce. Jenkins' drive kicked out of bounds and she ended up taking a four. This two-stroke swing was all Pierce needed as she continued to play smart, conservative golf for the remaining holes and claim her first World title.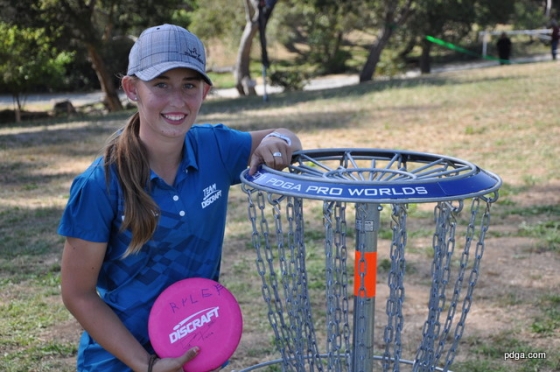 After the semi-finals concluded, the staff worked quickly to tabulate payout and print checks for all who cashed. If you did not receive your check, it will be mailed to you.

Other divisional winners crowned earlier in the day include Jon Baldwin (Masters), Carrie Berlogar (Master Women), Jim Oates (Grandmaster), Anni Kreml (Grandmaster Women), J. Michael Barry (Senior Grandmaster), Peter Shive (Legend), and the newest PDGA member Carlos Rigby (Senior Legend). Congratulations to all and see you next year in Charlotte, NC!