Worlds DVD Presale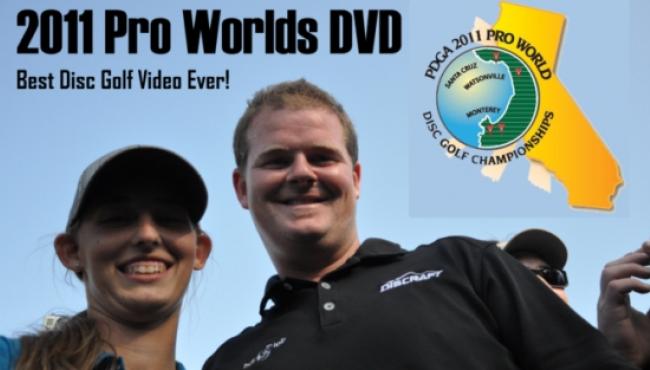 On the 30th Anniversary of the PDGA Professional Disc Golf World Championships, a record 433 players from 36 states and 14 countries converged on the Monterey Bay area of California to discover (and RE-discover) what many call "Frisbee City". The epic setting of Santa Cruz gave way to a week-long extravaganza that many called their "Best Time Ever" at a Major event. The challenging array of courses, both new and old, made for an action-packed week and a thrilling conclusion for the massive gallery. But wait! You can purchase the entire event on DVD! You'll be treated to a front row seat at all four courses; Ryan Ranch, CSUMB The Oaks, the World-famous DeLaveaga and the newest Tom Schot design, Pinto Lake, where this year's Champions were awarded their Crowns. Will the youth movement arise and unseat the Boomer Generation? Or will conventional seasoning and consistency bake the cake? This is the DVD that will tell it all.
The 2011 PDGA Disc Golf World Championships DVD will provide the answers while utilizing the highest quality equipment and personnel, to date. Produced and Directed by Emmy award winning director Derek Hastings (Chains… The Movie), you'll see the week's activities in full HD format! That's right, THE WORLDS in HD! See the shots that made the difference (and some of the ones that didn't), the INCREDIBLE day at Municipal Wharf and Main Beach, the Hall of Fame Dinner at the Coconut Grove, Field Events, the  World–Famous Boardwalk, crashing waves and sunny beaches, epic sunsets and so much more! All that PLUS interviews with the players that make the game SO FUN TO PLAY! And finally, the coveted (and emotional) awards ceremony! ALL in one DVD!
Hosted by 16x World Frisbee© Champion "Crazy" John Brooks, this 30th Anniversary Edition of the PDGA World Championships will be a must-have in your Disc Golf Library.
Order your copy TODAY!
Thank you for supporting the PDGA World Championship DVD…

http://www.pdgastore.com/Qstore/Qstore.cgi