NT Resumes with Brent Hambrick Memorial Open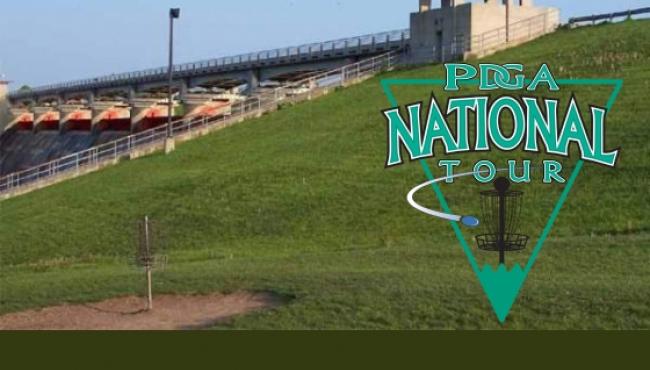 The PDGA National Tour Elite Series presented by Vibram Disc Golf gets back in action this weekend in Columbus, Ohio with the 2012 Brent Hambrick Memorial Open.
The 16th Annual BHMO will once again be held at the scenic Hoover Reservoir in Westerville, Ohio just outside Columbus. Play will be contested on the 27 hole Brent Hambrick Memorial Disc Golf Course and the 18 hole Hoover west course. Columbus has been a stop on the prestigious PDGA tour since the early 90's when Brent Hambrick (PDGA #2797) ran one of the best tournaments in the country - The Columbus Open. Brent set the standard for all tournaments with his professionalism and attention to details. After losing his battle with Leukemia in 1997, the tournament was renamed in his honor and has been a charity fundraiser for The Leukemia and Lymphoma Society. To date, the BHMO has raised over $45,000 for this charity. Finally reaching our goal of $5000 in 2011!
The Columbus Flyers Disc Golf Club takes great pride in hosting the BHMO. We continue to strive to present the most competitive courses and the best player experience possible, all the while "Keeping the Memory Alive". The BHMO features a final 9 with the famous "Dam Shot" and one of the biggest galleries you will see all year. With many player amenities from a players' party at Quaker Steak and Lube to Dairy Queen Treats, we hope your tournament experience is enjoyable and memorable. We look forward to seeing old friends, and making new ones.
After starting the year off with two back-to-back NT wins, Paul McBeth let some of the other disc golfers get some attention for the Kansas City Wide Open and Beaver State Fling. He was just laying in wait for the World Championships. McBeth built a big lead in Charlotte to take into the final nine, where he coasted to his first world title. He'll look to continue his success and build on his NT Points series lead this weekend. Paul holds a slim lead over Will Schusterick and can improve his total by besting his KCWO performance. In the Women's Division, Valarie Jenkins can only add to her point total with a first or second place finish. A win for Catrina Allen would give her at least a share of the lead. Newly crowned World Champion Sarah Hokom needs a big win to get back in the NT race. She needs two strong performances in these last two NT events to have a chance to catch the leaders. 
Make sure to stay tuned to PDGA.com for all coverage of the Hambrick including articles, results, and live scoring!!
For those of you in the Columbus area or who will be in town for the tournament, make sure you get out to the PDGA National Tour Clinic to get some instruction and tips from four of the top touring professionals including World Champion Sarah Hokom and Will Schusterick. It will be hosted at the Hoover Westside lower lot at 6:00 pm on Thursday. This will be the first chance to get your FREE raffle tickets for a drawing to be held at the final nine. You could win a DGA Mach Lite portable basket.