More Hot Dogs!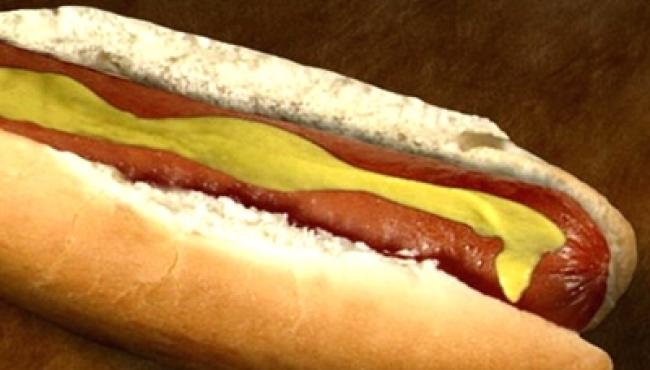 Am Worlds Regulation Competition is completed –
Hello Semi-finals!
At the 2011 PDGA Amateur and Junior World Championships, each division has now completed six rounds of play (except Legends who have completed four rounds – one per day.)  This marks the end of regulation competition and tomorrow will start off with the semi-finals for those Advanced divisions with more than 16 competitors, and then Finals for all divisions.

Semi finals action will range from divisions where the only battles are for runner-up positions, to those divisions where there are some heated battles going on for the lead.

Like today, there will be plenty of live scoring available on-line starting at 8AM EDST so spectators who couldn't make it to Rochester can get in on the action from home.  Be sure to point your browser at www.pdga.com and click on the dark red Live Scoring button on the upper right of the home page.
Big Dog's Hot Dogs! & Top Dogs!

Big Leads:
FG1 – Carol Silverthorn leads by 13 strokes – Hot Dog!

MJ3 – Nicholas Duran leads by 15 strokes – Hot Dog!

MJ1 – Steven Jacobs leads by 15 strokes – Hot Dog!

FM1 – Elfriede Eberly leads by 16 throws – Hot Dog!

FW1 – Melynda Apton leads by 17 throws – Hot Dog!

MM1 – Rick Reichard leads by 17 throws – Hot Dog!

MJ4 – Ian Krajna leads by 19 throws – Hot Dog!

ML1 – Pete May leads by 65 strokes (after only 4 rounds) – Top Dog!
10 Throw Battles happening tomorrow in the semi-finals:

MS1 – 8 players within 10 strokes of the lead – Hot Dog!

MM1 – 12 players within 10 strokes battling for second place – Hot Dog!

MA1 - 9 competitors within 10 throws of the lead – Top Dog!
Best Battle of the day

Dan Hastings and Kenny Glassman battling over first place in the Advanced Amateur Men's division – great disc golf – TOP DOGS!
Big Dog's Bites!
(Snippets heard around the tournament)
"Dude, you left the shower all nasty"

"An Ace on Hole 2 at Chili?  No Way!  Nice Ace!"

"Dinosaur BBQ ROCKS!"

"This whole no-smoking thing is great!  I'm playing so much better I may just need to quit!"

"If you have those two guys in a group together - you might have a murder!"

"Did you see that old guy's scores?  Dang, I'm just hoping to be alive when I'm that old!

"Really, you can ask my wife – I have a very, very low Stink Factor"

"Wow, we just finished our round and the scores are already posted in the lobby!"

"Man, I really need to listen to my Happy Song!"

"I've been to a lot of Worlds competitions and this was by far the best Player's Party EVER!  Free Food AND Free Beer!!!"

"My Game?  Well it better be well rested, cause all I know is that it stayed at the hotel when I went to the course this morning!"
For more 2011 PDGA AM Worlds scores, blogs, stories, and photos, see:
Am Worlds photo galleries at Flickr
Andrew "Big Dog" Sweeton