Maple Hill? Who Cares?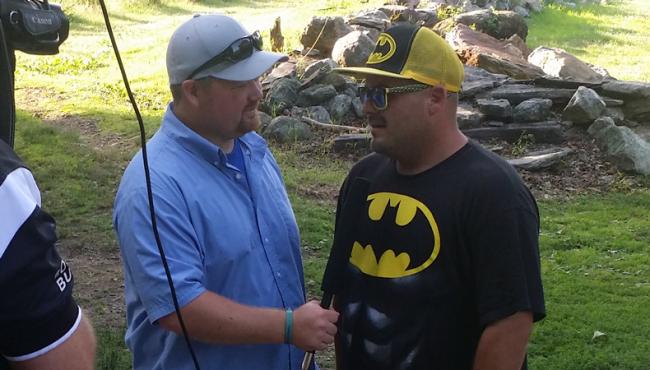 Who cares? Don't answer that. It's not really a question. It's a concept that Tournament Director and head of Vibram Disc Golf, Steve Dodge #22042, came up with for the Maple Hill Open. It's even written on a sign as you drive past all the other signs advertising the event leading up to the Maple Hill entrance. The point of "who cares?" is that disc golf events should be bigger and more important than they are today.
Dodge and his staff do everything they can to make the event something special. Something that people should care about as they drive by. Something that shouldn't be nonchalantly dismissed. The organization and efficiency is top notch and the Maple Hill Gold Course is nothing short of immaculate. This, amongst many other variables, produces a fun and competitive environment unmatched by most, if not all tournaments on the PDGA National Tour. 
The staff has made it a priority over the last few years to have live hole-by-hole scores available for every single competitor on PDGALive.com and they're well on their way to successfully doing so once again this year. As the scores started coming in, stories began to write themselves. 
Catrina Allen #44184 got off to a rough start shooting six over par on the front nine but pulled it together to birdie the last six holes on the course to finish at even par for the round. Val Jenkins #17495 came in a few cards later and took over as the leader in the Open Women's division. She turned in a 58, two under, and finished the day as the only woman under par.
Paige Pierce #29190, Des Reading #15863, and Sarah Cunningham #30397 are all stuck in a three-way tie for third place after today's round. Did we mention that Cunningham is 7 months pregnant? Yeah, well, she is, and she still plays amazing disc golf. They'll tee off tomorrow afternoon four strokes down from Allen and six from Jenkins.
Dutch Napier #31473 sits atop the leaderboard in the Open division at nine under par, unofficially rated at 1079. The only bogey he carded was followed immediately by an ace on hole 8 and he'd never look back from there. Napier teed off early in the day but his lead would remain as the many cards that teed off after him kept coming in throughout the evening.
Former Maple Hill Open champion Cale Leiviska #24341 finished the day just one behind Napier, also having just a single bogey for the day, which was strangely enough on the same hole as Napier. The only significant difference between their final scores was that Napier aced a hole that Leiviska birdied. Dave Feldberg #12626 and Dana Vicich #26228 will join them on the lead card tomorrow tied for third place just two strokes away from Leiviska. The men's field, much like the women's, is still way too close to even consider thinking about who might win this event.  
The 4th of July second round of the Maple Hill Open starts tomorrow morning at 8:00am EDT. The lead Open card tees off at 2:00pm and the Open Women's lead card will be the last group to go out for the day at 3:20pm. Wind and rain is expected for most of the day which could drastically affect the scores on such a difficult course.
Live coverage from SmashboxxTV is scheduled for tomorrow pending acceptable weather conditions. Live scores for the top two Open Women cards competitors and the top seven Open cards will be up and running on PDGALive.com for the rest of the weekend with commentary, pics, and videos of the lead cards via @PDGALive. Check the PDGA Flickr page if you're looking for high-resolution pictures from the day and stop by McFlySoHigh Video on YouTube tomorrow morning for even more video coverage. 
Comments
Who cares? LOL ~~We do ~~