Lincoln Highway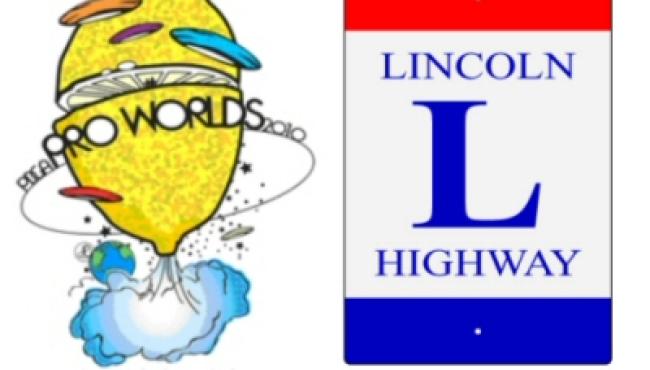 4040 miles in 40 days, much on the Lincoln Highway

Just completed the longest road trip of my life helping out with several PDGA events including two visits to Lemon Lake in the PDGA's ongoing advance efforts to help teams hosting Worlds. Of course, 40 days is nothing compared to what some of our touring pro road warriors do every year. But fortunately, I didn't have to play well on the weekends to pay the bills like they do.

Creating the Lincoln Highway, now US 30 across the Midwest, was a feature article I read in History magazine on my trip. This highway was the first transcontinental roadway conceived almost 100 years ago in 1912. Hard to imagine a time without our superhighways. Those didn't get underway until the late 50s. There were few highways of any length and quality in the 1910s and a very small percentage of households owned cars. Those entrepreneurs and journalists who ventured out to seek and develop a possible Lincoln Highway route were true adventurers. They had to carry several spare parts, spare tires and lots of spare change to pay off the farmers who regularly extracted them from muddy, rutted dirt roads with their plow horses.
There was so much excitement about this new highway being created, they had songs about it: LHRS-Intro-2-2012.mp3
Disc golf back then? I don't think so or it would have been radically different. Poly type plastics weren't even invented until the 1930s! Climo and company might have been champion horseshoe pitchers back then which interestingly was called Barnyard Golf in the 1920s. Their first World Championship was 1909 when the stakes were only 2 inches tall. Some competitors used horseshoes with one leg 4 inches longer than the other (Epic!). The stake gradually "grew" to 14-15 inches by the 1950s where it is today. Looks like they took 40 years or more to get their technical standards sorted out...
1928 Lincoln Highway route                   (map courtesy of Lincoln Highway Association)
It wasn't long 'til I noticed that much of my June-July disc golf trip would either be on or near this historic U.S. roadway. In fact, most courses played in the Am and Pro Worlds this year are located within 30 miles of the Lincoln Highway in Ohio and Indiana. Our defending MPO and FPO Worlds Champs, the Jenkins, grew up not far from Roscoe Ewing Park, just 30 miles north of US 30.

Here's what I discovered near the Lincoln Highway in Iowa and Illinois you might find interesting heading east toward Pro Worlds or just for a disc golf adventure trip. Part two of this story will cover the Lincoln Highway from Pennsylvania thru Ohio and Indiana heading west toward Pro Worlds.

My adventure started in early June, creating a 9-hole course design in a small eastern Iowa town called Clarence where US 30 is the only "main" street. Their big news is the Casey's chain is building one of their super sized convenience stores this year. The planned course site was a former farm field (no trees!) expanding the existing park. It does have a small rise and gully cutting thru the middle to provide some challenge. After utilizing at least some of the existing park plus adding 5 temp holes in the ballfields (only used in June), they now have a 14-hole disc golf course called Field of Greens, surrounded on two sides by corn fields.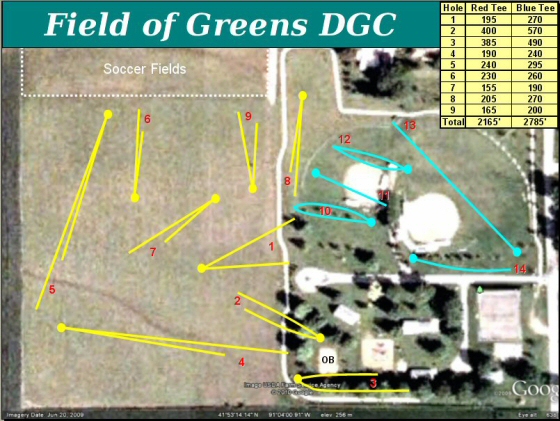 Those coming from Iowa and farther west could make this course a quick and fun "exercise" stop on their way east. There are several other courses in Iowa along US 30 farther west in Ames and Cedar Rapids. The course are links shown below.

I continued east toward Chicago and played three more courses along US 30 before arriving at Lemon Lake for the final test event on the Gold course, June 6th. De Witt, IA has a very challenging, nicely groomed 18-hole course in West Brook Park... perhaps so challenging that no one but me was on any hole of this beautiful, gold level course over a two hour period during nice weather late on a Friday afternoon. Maybe a full set of shorter tees might help get more player traffic this course richly deserves? It's worth the stop to play this layout.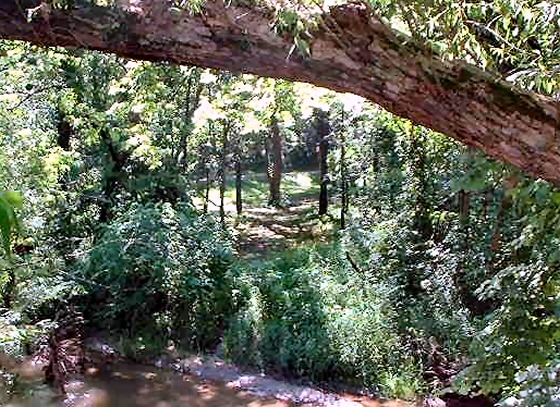 Hole 5 at West Brook in De Witt, IA                 (photo courtesy quadcitydiscgolf.com)

The next two courses on US 30 in western Illinois were odd in different ways. Let's just say the 9-hole course at Kelly Park in Morrison had very peaceful surroundings.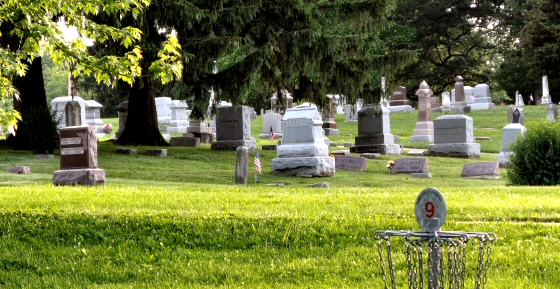 Hole 9, Kelly Park, Morrison, IL                                         (photo by Chuck Kennedy)
I couldn't get thoughts like "end of the road", "6 down" or "final 9" out of my mind as I got to the last hole. The surprisingly small concrete pads were just 3 ft wide and 2 feet long making me first think I had accidentally stepped on an old stone with the engraving worn off...

Nims Park in Rock Falls might be the shortest, fastest 18-hole course you can play. I shot 41 with a Zephyr and was almost embarrassed my score wasn't 5 better. All holes are between 90-170 feet averaging 130 feet. The holes are jammed into an area with nice mature oaks suited for maybe 6 "normal" holes. For added humor... uh, I mean challenge, several holes have arrows on the trees which are presumably "mandos" to control your route. Please take 15 minutes to play this course along the way if you get the chance, just to see the extreme of what's possible in disc golf course design and, of course, practice those approaches.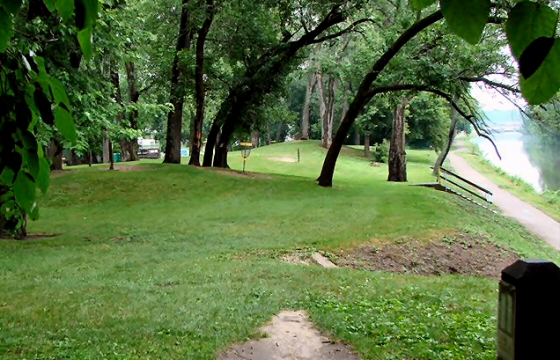 Hole 11, Nims Park, Rock Falls, IL         (photo courtesy of discgolfcoursereview.com)

I've played the following courses near US 30 on previous trips. Sinnissippi in Sterling, with one of the cooler front nines around, has been host to many top tier events over the years. West Park in Joliet is a long time favorite and the early jewel of Hall of Famer, Gary Lewis. His newest effort at Highland Park is getting good reviews and just got concrete pads.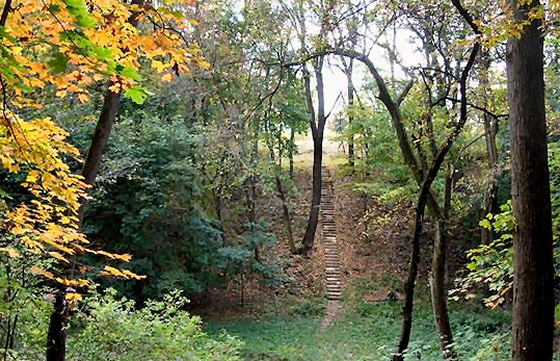 Hole 15, Highland Park, IL                                   (photo courtesy of Chain Smokin')
The Oaks in Mokena is also a popular layout on the south side of Chicago, sandwiched between I-80 and US 30. See links for some other Illinois courses along US 30 below.
This story is continued in Lincoln Part 2, covering the route from Pennsylvania going west to Pro Worlds. Thanks to Lincoln Highway National Museum & Archives for title graphic and radio song
Here are the courses with 18 holes or more near the Lincoln Highway in Iowa and Illinois listed in the PDGA Course Directory
IOWA
Iowa State Ames
Carroll Marty Ames
Jones Cedar Rapids
West Brook DeWitt
Eagle Point Clinton

ILLINOIS
Sinnissippi Sterling
Nims Rock Falls
Jericho Lake Aurora
Eagle Ridge Oswego
Highland Joliet
West Joliet
Haines Joliet
The Oaks Mokena
Sergeant Means Olympia Fields