Jet Lag? What Jet Lag?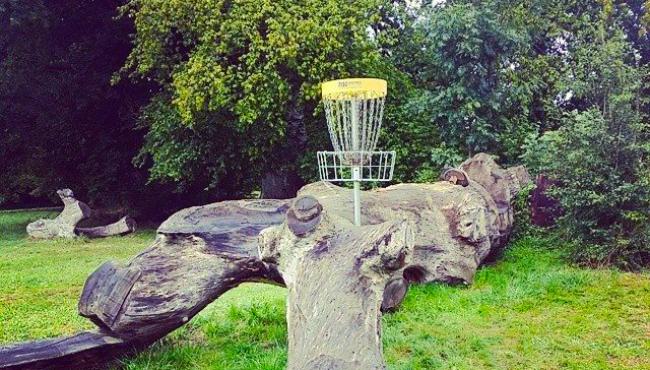 Germany's Simon "Whizkid" Lizotte #8332 shot an opening round of 52, a 13 under par unofficially rated at 1054, to seize the day and a two throw lead after Round 1 of the European Championships at Evaux Park in Geneva, Switzerland. Having flown more than 10,000 kilometers from Portland, OR to defend his 2012 EC title, Simon proved that jet lag is no obstacle to spectacular play.
Simon's bogey-free scorecard featured a series of impressive statistics. For starters, he carded birdies on seven of the nine par 4s and birdied the only par 5 on the course, hole 18 at 246m (805'). He also took a surprising par on arguably the easiest hole on the course, the 68m (224') long par 3, hole 17. Lurking in second place is a quartet of Scandinavia's finest, including 2003 EC Champ Espen Møkkelgjerd #17666 from Norway, Denmark's Jeppe Ask Sørensen #36474, and a pair of Flying Finns, Pasi Koivu #41251 and Leo Piironen #36099.
The other big story emerging from day one was the stellar play of two Junior division competitors, Albin Lindberg #53993 from Latitude 64's home town of Skellefteå, Sweden, and Finland's Niko Rättyä #52488, both of whom finished the day with a nine under par 56. Based on score they will be paired tomorrow with top pros KJ Nybo #28903 and Sylvain Gouge #8431 in what could be the day's most entertaining foursome.
In the other divisions, Finland's Ellinoora Heikkil #55288 is in search of the biggest win of her young career. She leads the 22 strong women's division by 1 over 2010 EC champion Camilla Jernberg #35744 and by 2 over up and coming Austrian Katharina Gusenbauer #64253. Transplanted American, now playing out of Croatia, Mike "Doc" Gordon #11186 shot an unofficially 1037 rated 11 under par 54, a single throw better than Sweden's Peter Bygde #8558, to jump in front of 40 other Masters division competitors. And among the still young at heart, Spain's Carlos Rio #16108, and 2012 ECs Tournament Director Charlie Mead #1980 from the UK are in the pole position after 18 holes in Grandmasters and Senior Grandmasters, respectively.
It's been a day characterized by Swiss precision, as reflected in the remarkable job the event hosts and their deep cadre of volunteers from the Swiss Disc Golf Association have done in organizing and now delivering this unique and top notch event.
Please visit the European Championship event website where you'll find tons of info and photos, and stay tuned to www.pdga.com for more stories and the round-by-round scores and unofficial ratings, as the week unfolds as we draw closer and closer to crowning disc golf's 2014 European Champions.
Photo Credits: 2014 Championnats D'Europe De Disc Golf
Story By: Brian Hoeniger #4022