6 Nations Lead at Euro Championships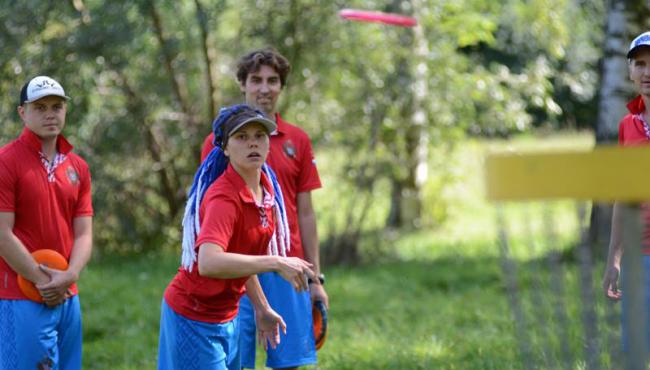 Nowhere is disc golf growing faster than in Europe and nowhere is this more evident than at the 2014 European Championships in Geneva, Switzerland. As of the competition's midway point, six different nationalities are leading the six divisions: Germany's Simon Lizotte #8332 (MPO), Slovakia's Katka Bodova #61990 (FPO), Sweden's Peter Bygde 38558 (MPM), España's Carlos Rio #16108 (MPG), UK's Charlie Mead #1980 (MPS) and Finland's Niko Rättyä #52488 (MJ1). 
Round 2 saw the races in most divisions tighten up, particularly in Open where the lead group slipped a bit, opening the door for others to march into contention. After carding 3 bogeys Lizotte needed an eagle 3 on hole 18 to maintain a one throw lead over Finland's Leo Piironen #36099. France's Sylvain Gouge lies 3rd, tow off of Simon's torrid -23 pace. There are also six ladies within three strokes of first, and we may well be heading for the tightest battle ever fought for a continental championship in FPO division.
Players from other relatively new countries in the sport are also playing sizzling golf, most notably Lithuania's 19 year old and 970 rated Gabrielius Gricius #41934 who sits 6th in Open, four off the lead, after shooting a pair of 1020+ rounds. In fact, the young guns are threatening to steal the show: Piironen is only 20, fellow Finn Seppo Paju in 7th is still only 19, Belgium's Maxime Tanghe #8399 in 8th is 18, and Germany's Jerome Braun #35075, who delivered today's hot round – a 12 down 53 – will turn 21 next month. All we can say is look out USA, the Euros are coming in ever greater force.
Another remarkable aspect of this event is the unprecedented support from the local authorities including the canton and city of Geneva who have contributed a huge amount of sponsorship, in cash, in food and drink, and in the tournament infrastructure, that will enable our hosts, the Swiss Disc Golf Association, to give value back to the players that far exceeds their entry fees. Not to mention the fact that scorekeeping system designer Stefan Schneider #29207 has a PHD in Math …
Stay tuned to see who makes the big moves tomorrow on moving day and be sure to visit the European Championships website where you'll find lots of photos and info about the event, including its institutional and media partners.
Story by Brian Hoeniger #4022
Photos by Urs Handte #3293/Planet Disc Golf