Japan Open Echoes of the Past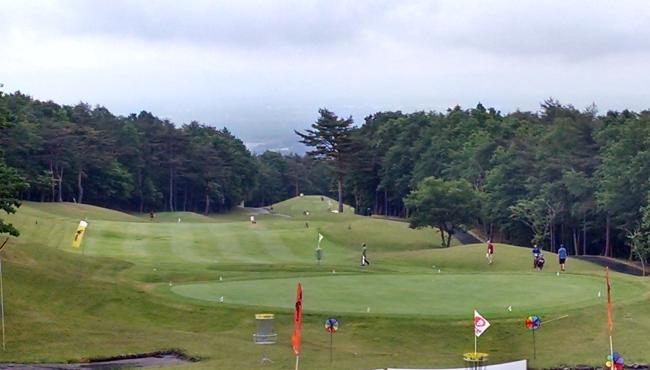 When play started during Friday's second day of competition at the 2014 Japan Open, echoes of 2010 were bellowing throughout the Nasu Highlands Golf Club, where defending champion Nikko Locastro and Dave Feldberg have again picked up where they left off four years ago.  Feldberg's one-throw lead over Locastro had everyone shaking their heads, as if they were thinking, "Here we go again."
It was Locastro's dramatic sprint during the final four holes at the 2010 Japan Open that forced the sudden death playoff he won over Feldberg on the first hole.  Seeming to have recompense on his mind, Feldberg held off the younger Missourian to go into today's 3rd and 4th rounds with a slim one-throw lead. 
But even with this whispers of disc golf past pervading the rainy Tochigi Prefecture air, disc golf's  youngsters were out to make their own history with Ricky Wysocki (-25), Paul McBeth (-23), and Simon Lizotte (-20) marching right up to the lead card to join Locastro after today's two soggy rounds.  Feldberg (-20) is still only five throws off the pace, but will have to leapfrog four of our sports top hucksters to regain that top spot he opened the day with. 
On the women's side, Valarie Jenkins was pretty much on cruise control after today's early round.  Her eight throw lead gave her comfortable cushion, but it quickly evaporated with Paige Pierce (+24) barreling down the pike to eliminate Jenkins's lead and pull up right next to Valarie (+24) with a tie.  Japanese sensation Mayu Iwasaki's (+36) perfect throwing technique is providing great dividends this week, as she is holding onto third place in the women's division, while Jesse WestBell (+38) rounds out the lead card. 
Both the A and B pools have now been shuffled and all the players will enjoy one more full round on the scenic but challenging Japan Open courses.  The men's and the women's top four will then be featured in final nine to conclude this year's edition of the Japan Open disc golf tournament. 
Check out the full results right here on PDGA.com and catch additional tournament coverage at JapanOpen.info.