It's Raining Birdies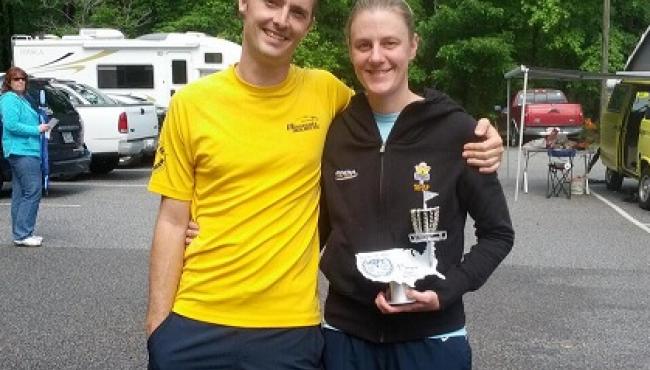 The 4th stop on the National Tour Elite Series came to an end today as the final putts hit the chains at the Hall of Fame Classic in Appling, GA. Rain, rain, and more rain pummeled the 3 courses at the International Disc Golf Center, not to mention the hundreds of competitors, for most of round 1, all of rounds 2 and 3, and the first half of the final round. If it wasn't sprinkling, it was pouring. There really was no in between.

Rarely is the weather ever this big of a factor this time of year in Georgia. By the final round the courses were consumed by water. Streams of water and deep puddles spanned entire fairways and often surrounded what would normally be the desired landing zone off the tee. Umbrellas and extra towels ended up being just as important to a player's bag as the discs themselves.

Bad weather is when some of the best players in the world shine. Anyone can throw a great round off dry tee pads when it's sunny and 65. To come out to championship level courses and shoot well in conditions like these is a feat all its own. In the Open and Open Women's divisions, no one came close to playing as well as winners Ricky Wysocki and Sarah Cunningham. They started the final round with a comfortable lead, and after yet another day of great golf in sloppy conditions, they would win in the same fashion.

Watching Wysocki play in the rain is like nothing I've ever seen. To an outsider, you'd think you were watching someone carelessly throw a casual round. In his own words, "I play fast in the rain.". And he does. He looks at the line he wants, grabs a disc from his bag, comes out from under his umbrella and then throws his shot without any hesitation. With rain coming down the way it was here this weekend, every second you waste in your stance without an umbrella raises the likelyhood of you losing a good grip on a dry disc. This wasn't a risk he was willing to take.

He birdied 9 out of the first 10 holes on the soaking wet and sloppy W.R. Jackson course to start the round. There was really no looking back after that. He would win the tournament with a convincing 4 stroke victory over 2nd place finisher Nikko Locastro. Nikko went into the final hole down by 6 to Ricky but took an amazing eagle on hole 18 with a blind backhand roller on his 2nd shot that put him hole high and in the circle. One stroke behind Nikko was Dave Feldberg in 3rd, after a nice 3rd round on the Steady Ed Memorial course that bumped him up to the lead card for the final 18 holes.

Sarah Cunningham was all alone on the top of the card with an 11 stroke lead to start her final round, which was also on the W.R. Jackson course. Joining her on the lead card was Des Reading, who finished in second and Elaine King, who finished in 3rd. Des and Elaine battled it our for second place for a while but eventually Des would pull away. Sarah played consistent golf again and would finish 15 strokes ahead of Des Reading to take home the gold.
Des's husband, Jay Reading, would finish in 2nd place in the Open Masters division after a weekend long battle with Jonathan Baldwin left him 4 strokes away from the lead. Baldwin gets his second NT in a row after last weekend's down to the wire victory against Patrick Brown in Santa Cruz. In the Advanced Masters group, John Borelli, husband of the PDGA's Office Manager Marcy Borelli, shot the only 1000+ rated round in the division for the entire weekend on Saturday. On Sunday he fought through the early morning rains to secure his first A-tier win.
Congratulations to all the division winners and a big thank you goes out to anyone who helped make this such a great tournament in highly unfavorable conditions. The next stop on the National Tour ELite Series is the Discraft Great Lakes Open in Ann Arbor, MI starting on May 31st. See you there!