It's Gonna Take More Than Par Plus Four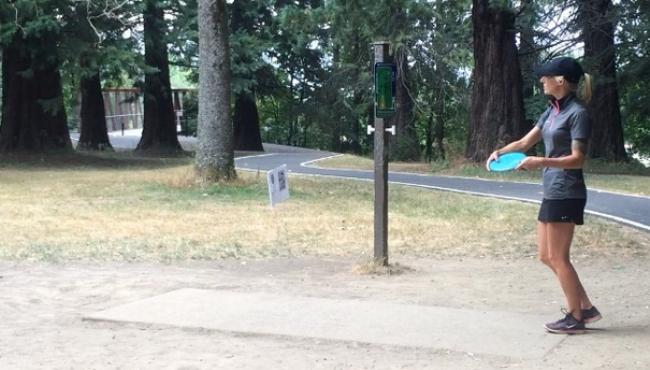 Imagine you're in the lead at the 2014 PDGA Professional Disc Golf World Championships presented by Keen after shooting a 1010 rated round on the first day. Feels good right? Now imagine you lose the lead right off the bat on the first hole of the second day because of a simple mishap that caused you to be late for tee off. And oh yeah, it's your birthday too. What a bummer! For many, starting the day this way would deliver such a heavy blow that recovering from it mentally, not to mention playing well, would be a daunting task.
For many….but not for Catrina Allen #44184. Allen headed out to Pier Park this morning a few minutes too late and was forced to take a par plus four on hole one, taking her from 1st place with a three throw lead down to 4th place, as all three of the women on the lead card with her were tied for 2nd place at the time. As the holes of Pier Park quickly passed by, Allen continuously maintained her composure and played amazing disc golf, carding yet another 1000+ rated round to finish the day. She will tee off tomorrow morning at McCormick Park as the leader once again with Ragna Bygde #8559 right on her heels just a single throw behind.
The Open division faced today one of the most difficult courses at the 2014 Pro Worlds, the treacherous disc-eating course that is Trojan Park. Trojan is an 18-hole beast featuring water on 14 holes, peninsula greens, thick and tall rough, and OB lines aplenty. Think of Fountain Hills Park and then add even more peninsula greens and hundreds of trees.
After Paul Ulibarri #27171 took over as the leader last night with a lights out, bogey-free, 1082 rated round at Milo West yesterday, one could only wonder if he could do the same on a completely different type of course today. The short answer…yep. In fact, Ulibarri never once gave up the lead all day. He tapped in for birdie on the 18th hole to card the hot round of 51, unofficially rated at 1065, which was also shot by David Wiggins Jr. #24437 a few groups back.
Ulibarri will be joined on the lead card tomorrow morning by current National Tour points leader Ricky Wysocki #38008, defending back-to-back World Champion Paul McBeth #27523, and 3x World Champion Nate Doss #11794. It'd be hard to put together a more exciting group to watch back at Milo McIver Park for round four tomorrow morning.
The Open division has now been shuffled, combining the A and B pools into one massive group and then sorting them by total scores in ascending order. We should see some new names and faces in the mix as we get closer and closer to the cut on Friday night.
Tomorrow we'll have more live hole-by-hole scores coming in for multiple divisions on pdgalive.com including Masters, Open Women, and of course, Open. DiscGolfPlanet will be following the Masters division at Blue Lake as well, with live streaming coverage of the battle between the men on the lead card. The group features 13X World Champion Ken Climo #4297 tied for the lead with 3X World Champion Barry Schultz #6840, joined by Patrick Brown #25713 and Jay Reading #15864 looking to make some moves and gain some ground on Schultz and The Champ.
Only three full rounds remain before the cut on Friday night here in beautiful Portland at the 2014 PDGA Professional Disc Golf World Championships presented by Keen. LET'S GOOOOOOOOO!!!!!!!