IDGC Art Collection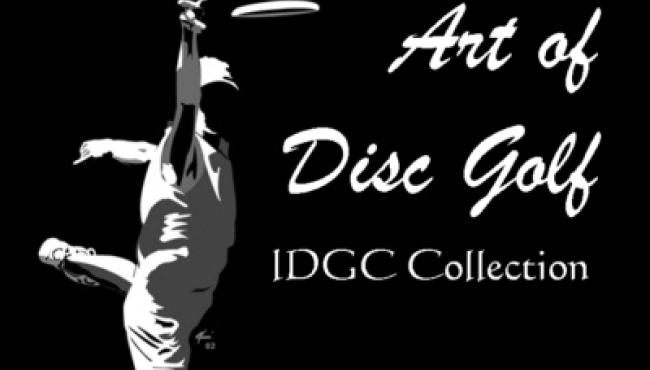 International Disc Golf Center Adds to Disc Golf Art Collection
The Professional Disc Golf Association has recently acquired an original painting by artist Marnie White (PDGA #17269) of Trenton, MI for display at the International Disc Golf Center in Appling, GA. The 32 inch by 47 inch oil on canvas painting depicts a silhouette of 5-time Women's World Champion Juliana Korver (#7438) in her signature putting style.
White chose Korver as her subject because "for me and many other women (Korver) represents status, talent, and grace in disc golf. She has a sense of style and skill in disc golf that every woman can admire and strive for."
White first showed Korver the painting at the 2008 Worlds in Kalamazoo, MI. "There were few words spoken. Just a smile and a hug from Juliana. I suppose the painting speaks for itself," White said.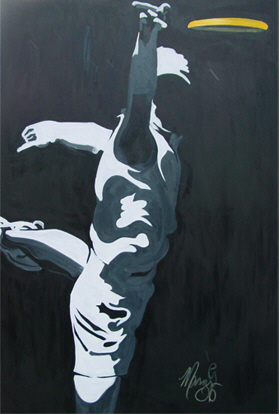 When asked about the painting, Korver said she thought it was inspired by a photo of her that was taken just before the Women's Final 9 at the 2000 Michigan Worlds. "When I look at the photo I can recall the nervous energy, excitement, and anxiety that I was feeling before capturing my third world title. But if I remove my own insight from it, I see strength, confidence, and grace and it gives me joy to be linked with any of these descriptors," she said.
"I'm grateful to Marnie for choosing me as a subject of one of her beautiful silhouettes and I'm humbled and honored by the PDGA's choice to acquire (the painting) for the IDGC."
Marnie White was "discovered" by Discraft owner Jim Kenner in 2001 after he saw a poster she designed for the US Amateur Disc Golf Championships. Kenner offered her a graphic design position shortly afterward. During her time at Discraft, White has designed logos for several tournaments including the Players Cup and the Discraft Great Lakes Open. She also designed the stamp for the Avenger and Challenger.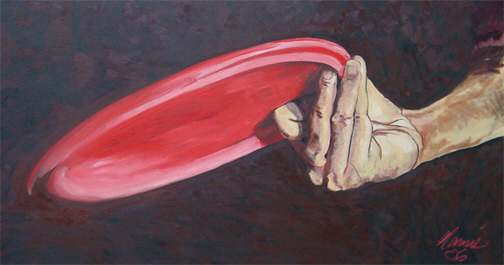 White's other works include several disc golf themed paintings and other natural subjects. She prefers working with oil on canvas because when it begins to dry the paint has sculptural qualities. White holds a Bachelors Degree of Fine Arts from Northern Michigan University with a minor in Graphic Design. Originally from the Upper Peninsula, she has also worked at a marketing firm and a few small newspapers before landing at Discraft.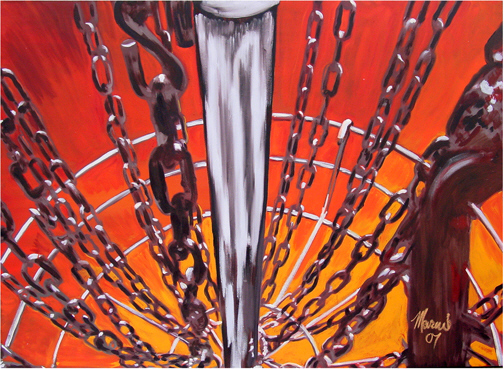 To see more of her work, visit http://marniesartwork.com and look for more news about her latest venture, M5 Graphics. You can also contact Marnie White at [email protected].
Article by John Borelli
IDGC Art Collection
The PDGA International Disc Golf Center is home to quite a collection of disc golf art which is on permanent display in the clubhouse. Just inside the main entrance, a stone and metal sculpture by Steve Brinster called "Take Flight" greets visitors entering the building. This beautiful piece of art was commissioned by former PDGA Board member Jon Lyksett and his wife Marlene and donated to the building to commemorate the grand opening in April 2007.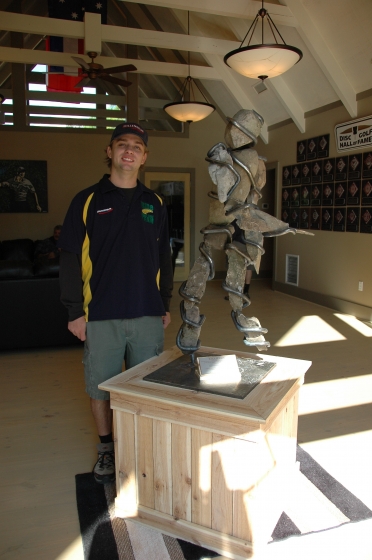 Inside the building, the walls of the clubhouse contain original disc golf themed paintings by artists Cal Lincoln, Jay Jacobs, Charles Kneiblher, Dr. Rick Voakes including the painting below of hole 18 at the Winthrop Gold course during the 2010 United States Disc Golf Championships by former PDGA Amateur Disc Golf World Champion, David French. The building also contains disc golf themed pottery, artistic photographs by Craig Wrenn, and wood carvings by Kathy Hardyman. A collection of golf discs are on display showing some of the more unique and artistic designs used on discs over the years.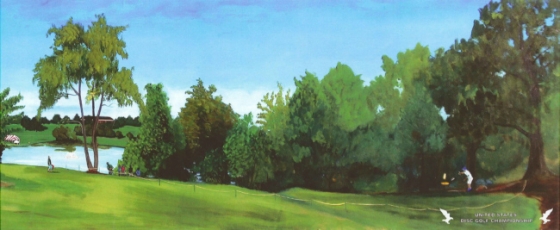 The Headrick Memorial Museum features a life sized bronze bust of the PDGA's founder, "Steady" Ed Headrick. Information on the bust and it's sculptor, Paula Slater, can be found at http://www.paulaslater.com/BronzePortrait.htm.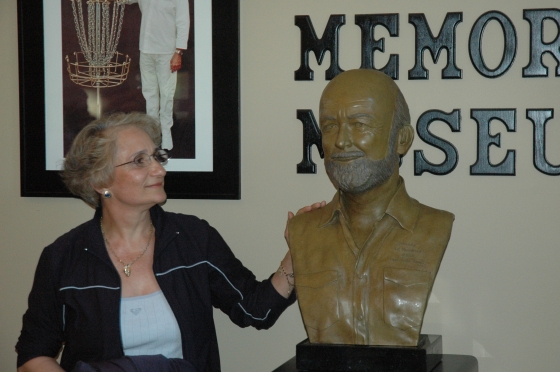 The International Disc Golf Center welcomes donations or loans of original disc golf artwork of all mediums for display in the clubhouse building. For information contact Executive Director, Brian Graham at the PDGA office.