Global Event By You?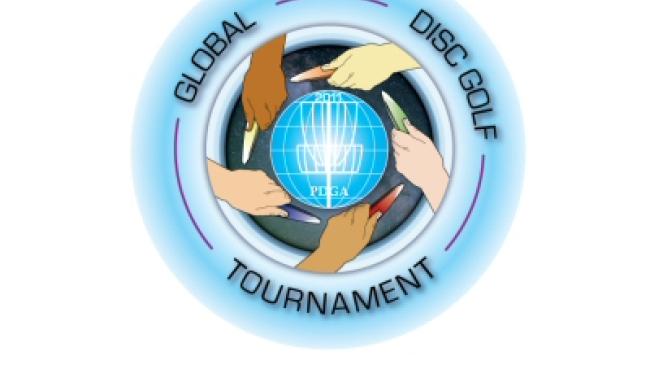 Where do you plan to enter the first ever Global Tournament?
There's still time to get an event sanctioned as part of the Global Tournament coming up weekend of August 20-21. Hey there clubs and TDs! Please don't make players in your area travel many miles to find an event to enter. There are several areas in the U.S. and around the World without an event on the schedule. Check out the maps below to see where events are happening so far. We know there will be burnout on the west coast and the New York region following Worlds. But this new format being tried for the very first time will be something you don't want to miss. Contact Global TD ckennedy at pdga.com if you want to find out how to get your event included.
All players will be competing simultaneously for bigger prizes locally and with bigger fields globally. With full fields expected at the events already participating, some and maybe all divisions will be the largest in history competing in one sanctioned event. Don't overlook one of your last opportunities to qualify for the USDGC with 30 spots up for grabs.
Here are the locations of the events scheduled so far: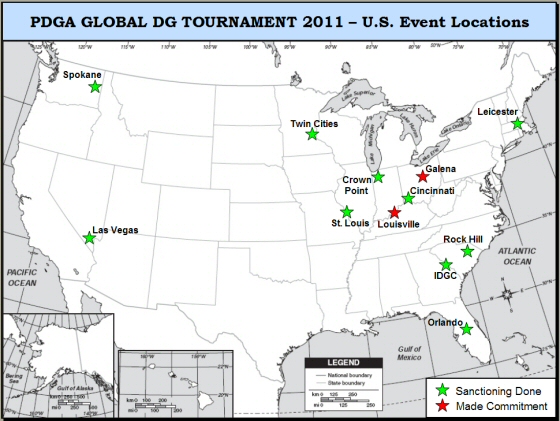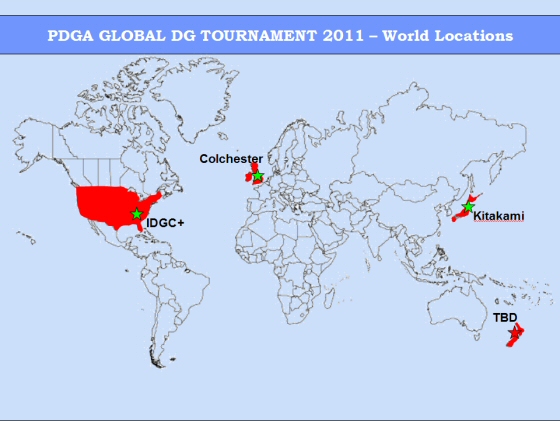 Outside the U.S. we have the British Open A-tier and the 6th Annual Michinoku Open in Japan while waiting on final plans from New Zealand. These will provide a great spread of time zones for results pouring in all weekend. Discplanet.tv will be broadcasting a live newscast update on the Internet every few hours on Saturday and Sunday with video clips from many locations along with updates on the latest event results and standings.
Full color and stamped tournament fundraising discs will soon be available with official logo above. If you can't find them locally, they'll be available in the online PDGA Pro Shop. For amateurs entered in the event, your player pack will contain a specially compiled DVD by Billy Crump including Clash highlights and some primo playing tips recorded from your favorite top players. Plus, there will be two discs, one from Innova and one from either Vibram or DGA, plus whatever goodies your local event TD will include.
So, find an event to enter or twist the arm of your local movers and shakers to run an event in your neighborhood. If that doesn't work, the IDGC global event will have more than enough capacity for lots of players if you want to visit PDGA HQ for the first time and enjoy a disc golf vacation.
For more details on the events, check out the Global website here: PDGA Global Events Don't miss the section at the bottom with information on what players can expect.