Disc Golf Champs team up with Pocket Disc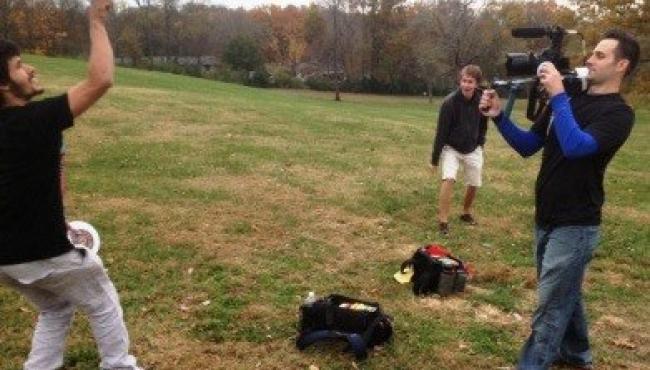 Nikko Locastro and Will Schusterick have joined forces to promote the Pocket Disc to the Disc Golf world. Weighing in at 2.2 ounces and measuring eight inches across the Pocket Disc is capable of flying up to fifty yards. Pocket Discs are more portable than a rigid flying disc as they can be stuffed in your pocket or backpack where they wait ready for impromptu disc games of all sorts both indoors or out.  "They are great for killing time around the teepad when play on the course in front of you is slow," says Schusterick.  Locastro adds, "When its nasty outside, I like throwing the Pocket Disc at targets in the house...It's like indoor disc golf almost."
Pocket Disc has been around for about four years now, but just recently arrived on the disc golf scene.  In September, Pocket Disc sponsored the Southeast Collegiate Open (SECO) in Appling, Georgia, which boasted the largest collegiate field other than the National Championships.  
The following week, Pocket Disc sponsored three time player of the year, Nikko Locastro, in his bid to win the United States Disc Golf Championship (USDGC) in South Carolina.  Shortly after the USDGC, the tourney winner, Will Schusterick, joined Nikko as a Pocket Disc athlete.  Nikko discovered the Pocket Disc at the fly mart at the Worlds in Charlotte this summer and thereafter connected with Pocket Disc on sponsorship and other ideas like his Disc Golf Expansion Project, which Pocket Disc hopes to be a big part of in 2013.  
Pocket Disc has begun a project filming instructional videos with Locastro and Schusterick that are currently in the editing phase.  Patrick Groft, co-founder of the Pocket Disc says, "I have enjoyed working with these guys.  They bring a ton of energy to the company."  Expect to see the videos on You Tube in the coming weeks.
Both Locastro and Schusterick are happy to represent a socially conscious business like the Pocket Disc.  The Pocket Disc makers are proud members of the Fair Trade Federation.  In addition, business headquarters in North Carolina are entirely run by renewable energy, and each Pocket Disc contains minimal packaging.  "We hope to bring our social and environmental conscious, fun products to the Disc Golf world in 2013 with a bang," says co-founder, Chris Larsen.  So far, at the tail end of 2012, it seems like they are right on track.