Wiggins Wins BG Ams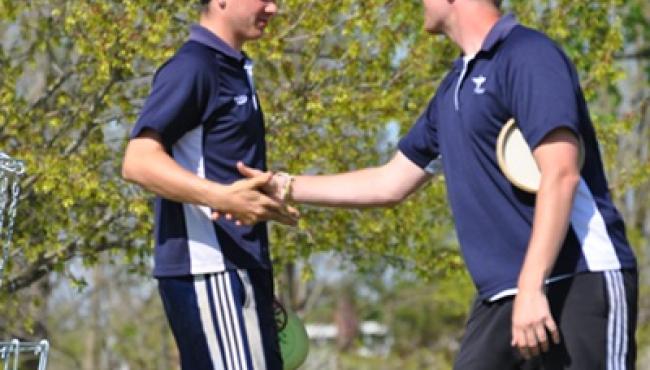 David Wiggins Jr who was the odds on favorite to win the Amateur Championship at Bowling Green was able to keep the momentum moving forward shooting a 1016 rated round at Hobson Grove this morning. Also keeping forward momentum was the B pool's Trey Williams as he qualified for the final four spots. The younger Wiggins also demonstrated his mastery of the long drive during the final nine winning the title by a total of seven throws. Matt Travis from Illinois was the runner up.
The most exciting story of the day is that of Intermediate champion Zac Frame who traveled all the way from Terre Haute, Indiana. At the end of the preliminary rounds Zac was tied for fourth and had to survive a playoff against Matthew Gardner in order to even make it into the finals. After winning the sudden death playoff Zac proceeded to card an amazing 30 in the finals to wins the Intermediate crown by one throw over Eric Ford! The other divisions winners include...
Advanced Women: Amber Senft (Topeka, Kansas)
Advanced Masters: Kevin Peterson (Huntisville, Alabama)
Advanced Grandmasters: Jimmy Finfrock (Dayton, Ohio)
Advanced Senior Grandmasters: Bill Ball (Piedmont, South Carolina)
Intermediate Women: Laurne Yurt (Louisville, Kentucky)
Recreational: Greg Dawson (Nashville, Tennessee)
Recreational Women: Celeste Shearer (Cub Run, Kentucky)
Juniors:  Will Wright (Jackson, Tennessee)
The Bowling Green would like to thank all 458 players who attended this year's event. Plans for the 2011 Amateur Championship at Bowling Green have already begun and the club is continually looking to produce the best possible event. Next year will be even better so please be sure to tell your friends and we will see you next year in Bowling Green!
Links
Amateur Championship at Bowling
Green Leaderboard
Photo Galleries
Official Event Website
DiscGolf365's On the Road Coverage from the Amateur
Championship at Bowling Green