Bowling Green Ams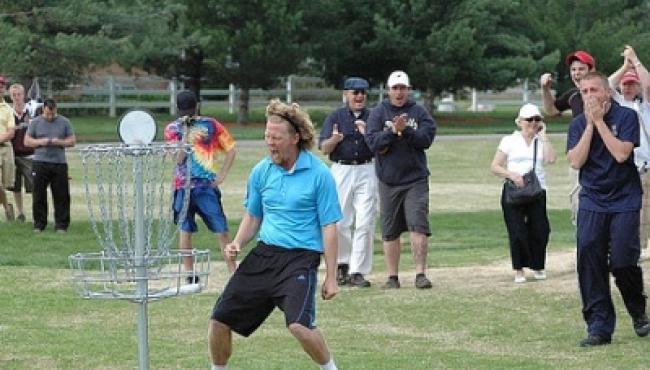 Wiggins and Top Ams Converge on Western Kentucky for the Amateur Championship at Bowling Green
by Dr. John G. Duesler, Jr.
While Augusta is the focal point of the golf world this weekend, the disc golf community will have their eye on a quiet mecca of our sport in Kentucky, as nearly 500 competitors converge on the eight course venue for the 2010 Amateur Championships at Bowling Green.
Long revered as one of the top amateur events in disc golf, the "Bowling Green Ams" have provided a glimpse into the future of our sport, at least in the short-term.  Last year's advanced winner, Blaine Kinkel, followed up his Bowling Green crown with an Amateur Nationals victory in Michigan, as well as a sixth place finish at the World Championships in Kansas City.  Kinkel's top finish in the early spring event last year presaged his outstanding 2009 season.  But after a review of all the past Bowling Green winners, only a few have leveraged their Amateur Championship wins into success on the pro circuit.
One player who most assuredly has a promising professional career awaiting him is North Carolina phenom David Wiggins, Jr.  Though he is the highest rated player in the event, Wiggins knows that ratings can be "over-rated," especially when it comes to bigger events.
"I've got to approach this like any other tournament," Wiggins explained, after winning the distance competition Thursday night, with one of his qualifier throws flying over 700 feet.  "Ratings don't mean anything for one tournament.  A lot of these guys are better than their ratings, so my goal is play above my rating," Wiggins said.  "I've been playing a ton and only took one month off this winter to attend my driver's education class," Wiggins revealed.  Knowing that his distance game is pretty well intact, Wiggins said, "I've got to make sure my putting is on target."
And that may spell doom for most of the advanced field, since Wiggins currently is carrying a 991-rating, which is significantly above his closest competitor.  Despite his incredible accomplishments in the Amateur division, Wiggins is still only 14-years old (he turns 15 at the end of April).  But his young age belies his maturity on the course, as well as his professionalism and composure.
When asked how he feels about being in the spotlight at such a young age, Wiggins's youthful wisdom again came to the fore.  "Being a good Am is way different than being a great pro," Wiggins said, illustrating that he already has the accomplishments of his career in proper perspective.
Though Wiggins is the clear favorite this weekend, a number of very talented throwers from around the country are in the field and are not yet conceding to the 14-year old.  Shawn Aaron, the talented player from Huntsville, Alabama is coming off an impressive 2009 campaign in which he played a majority of his events in the Open division.  Dylan Horst from Pennsylvania will be returning to The Amateur Championships again this year after a respectable 16th place finish last year.  Jack Schramm from Minnesota is also a name to watch, though geography has limited his play for this year, and may leave him rusty.  And while not has highly rated as some of his other competitors, Matt Travis from Illinois already has three PDGA events under his belt this year building on a busy 33 tournament 2009 run.
Be sure to check PDGA.com daily as we bring you highlights and happenings for this year's Amateur Championship at Bowling Green.