Course Record broken by Schultz and McCray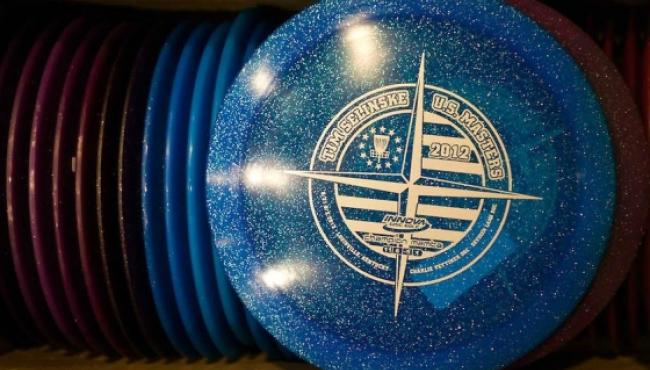 Barry Schultz takes control of the lead going into the second round of the Tim Selinske U.S. Masters Championships. Along with JohnE McCray. Barry broke the course record at Severin Lang DGC by two throws. McCray and Schultz both carded 11 under 50's with only one bogey between the both of them. It was quite a different story for their card-mates Patrick Brown and world champion Ken Climo. Climo started the round tied with Schultz, but both him and Brown couldn't catch a break all day. Couple that with Barry and JohnE's stellar play and it equaled quite the lead change. Climo now sits seven throws out of the lead.
Jay Reading actually broke the record first with a 51, finishing just a few minutes before the lead card. That is rewarded by currently sitting in third and only three off the lead and two throws off of second place. Tomorrow all of the professional divisions head back to Charlie Vettiner DGC, but will only play the permanent 18-hole layout instead of the 27 played on Friday. There will also be a final 9, so the top 4 will all have a chance to make a run.

<Editors Note: Johnny Sias, of Lavalette, West Virginia, also broke the Severin Lang course record with his 51 prior to the lead group coming in with their 50s.  Of particular note is that although Johnny was playing in the Grandmasters division at the time, he is actually Senior Grandmasters age - nice shooting Johnny!>
Elaine King added two throws to her lead and will take a nine throw margin into the third round tomorrow. Des Reading has her work cut out for her, but nobody is counting her out just yet.
Gregg Hosfeld continued his lead of the Grandmasters division even though he gave up a couple of throws to the current GM world champion, Johnny Sias. Hosfeld's great play would have him making the lead card in the masters division. He now has a four throw lead with 18 holes to play.
Dr. Rick Voakes added one more to his five throw lead for a six spot cushion over Alan Beaver in the Senior Grandmasters.
Over on the amateur side, the 27 holes was just a little too much for Mother Nature to hold out for. We had an hour delay for sevreal cards the only had one or two holes left to play. There wasn't a whole lot of complaining though since forecasts were calling for downpours all weekend.
After everything was finished, David Gebhardt took the Advanced Masters lead as the rest of the lead card struggled. He won his card by 9 throws and is five ahead of Patrick Robinson and Gary Suarez. Billy Ray Osborn was just able to hold off the field for the last spot on the Sunday lead card.
Mark Hauser and George Bodiroga tied for the divisional hot round from the lead card, while David Hevia matched them from the second card and will join them and Eric Blum for tomorrow's Advanced Grandmasters honors.
In Advanced Senior Grandmasters, Phil Bryan pulled away from Bill Griffith and Mark Whipple. After tying them on Friday he now has four on Griffith and six on Whipple heading into the third and final round.
There will be live scoring for the MPM (Men's Pro Masters) lead card tomorrow so be sure to steer your browser to PDGA.com tomorrow. Recaps and results will be posted soon after the final day's festivities.
Check out photographs of the tournament, including the picture above, taken by Brian Bohannon at www.brianbohannon.com.