BSFling-Day 1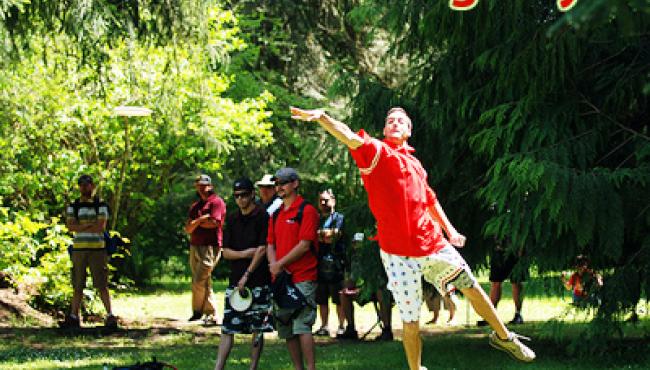 Dietrich Dances Through Rain to Fling Lead, Pierce Plays to Top in Women's Open
The 2010 Beaver State Fling began with the threatening skies making good on its promise of rain, as steady afternoon showers added to the difficulty of the already challenging Milo McIver Riverbend courses along the Clackamas in Estacada near Portland, Oregon. 
Despite the wet weather, Christian Dietrich
duplicated his first round score of 53 during the afternoon session to claim the top spot on the leadercard after Friday's session.  His 1058-rated second round was tops of the day, and it was matched by Josh Anthon who is one throw off the pace with a combined 13-under par. 
First round leader, Nikko Locastro, had trouble finding his putting rhythm during the rainy conditions of the second round, but was able to stay within striking distance of the Fling leader Dietrich, who is three throws ahead of him.  Last week's National Tour runner-up, and emerging disc golf star, Bradley Williams, secured fourth place with his 10-under par combined score for the day. 
Paige Pierce continues her disc golf ascent and leads the women's open division after one round with a three throw cushion over the impressive list of second-placers, Liz Carr, Valarie Jenkins, and Des Reading.  The women will play both an early morning and late afternoon round, which will sandwich the mens open mid-day soiree.  Pierce, a native of Plano, Texas, is enjoying her first year as a full-time professional after placing third as an advanced amateur in last year's PDGA World Championships. 
Defending men's open Beaver State Fling Champion, Ken Climo, carded two 1000-rated rounds, despite playing through an incredible hand injury that had left him unsure of whether he could even compete at all just a few days ago.  Climo now stands in 15th place after the men's open first two rounds. 
Reigning World Champion, Phil Arthur is tied with Patrick Brown for the Fling's top spot in the men's masters division after one round of play. 
Stay tuned to pdga.com for Live Scoring, pictures and Tweeting thoughout the weekend from the bucolic Milo McIver courses here in Estacada, Oregon. 
(Photo: Eric Edgerton)