AM Worlds-Day Three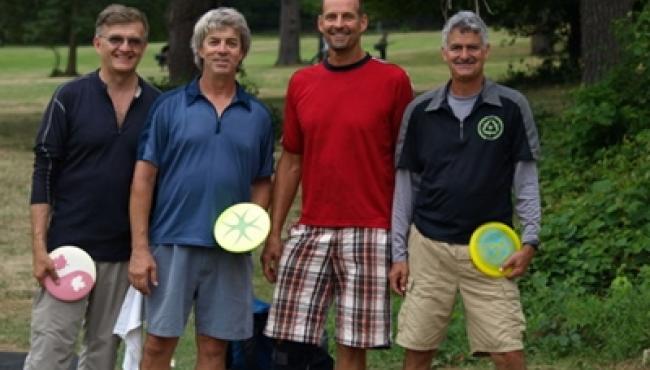 Post-Shuffle Day
The first day after the shuffle can be an interesting one. Some golfers get caught up with worrying about making the cut and instead of playing their usual game, start to take chances, and end up paying dearly for them. Threes become fives, trees grow more branches, and OBs get wider. Other golfers who have a few Worlds under their belts don't let the stress get to them and just play their game and have fun. I met several of these guys at Ellison today as I photographed the Advanced Grandmasters.
Instead of roaming around the course, I decided to stay at one hole and take group shots of each card passing through. I chose hole 4 at Ellison because I could still take action shots of golfers approaching and putting hole 1 as well as hole 3. It turned out to be a good idea because I got to talk to more players and listen in to their conversations. I also saw more rollers thrown than I have ever seen before. These Grandmasters know their stuff!
Here are some of the highlights from Thursday or what I like to call, "Overheard at Hole 4".
One of the first guys to come through told me that he has had several back and shoulder operations over the years but a week of pre-Worlds chiropractic visits has left him feeling great so far.
The hot topic for one card was how to look your best for the group photo. "Suck in your gut," one guy said. His friend answered grabbing his belly with both hands: "Suck it in? Where am I going to suck all this in to?!" More advice was offered: "An easy way to make your chest bigger is to stick out your butt." Someone on another card joked, "Hold on. Let me do some pushups and get pumped."
Not all golfers were as happy as the men on that card. When asked how his round was going, one golfer replied, "Good. But I only say good because I'm still breathing." Another Advanced Grandmaster said reflectively, "I'm realizing today why I'm not on the lead card" while another silver-haired golfer said, "I'm not old, I just dye my hair gray."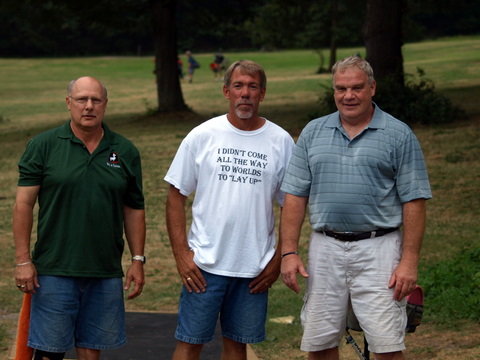 Carl Cubbege (NJ) came through and told me that he aced hole 6 before the round started. Hopefully he did it again during the round.
Over at Chili later in the day, Patrick Harris (VT) showed me the 2011 AM Worlds disc he has been having everyone on each of his cards sign. What a great idea! He also told me that his dog's ashes were mixed in the teepad on hole 15. Sure enough, his dog's name was etched in the cement along the back edge.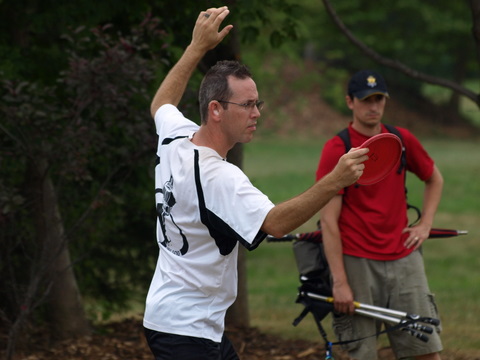 Shortly after that story, we heard a loud clang followed by ka-ching! Someone had banked their putt off of the little silo and in to the basket on hole 17! What a show off!
The best thing I heard throughout the day was several players thanking me, the spotters, and everyone in general for helping make AM Worlds great. You're welcome!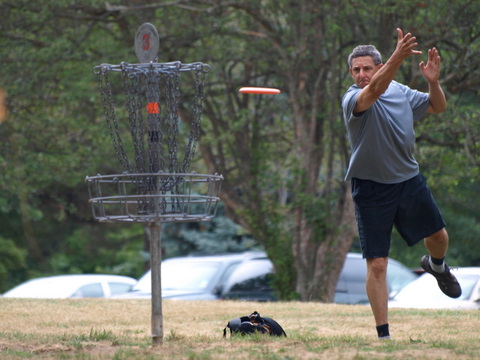 or more 2011 PDGA AM Worlds scores, blogs, stories, and photos, see:
Am Worlds photo galleries at Flickr
John "Killer B" Borelli