Ain't No Tourney Like a WGE Tourney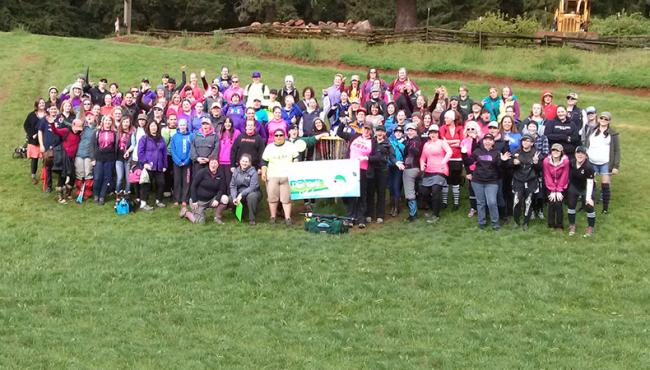 Wow. What a weekend. 1100+ disc golfing women of the world united for the same cause, the same tournament, the same day (or two) of fun. Days later, after receiving the results from a large majority of the tournaments involved, we are happy to unofficially announce the overall winner of the 2014 PDGA Women's Global Event (WGE). Two days of heated battle ensued between Catrina Allen #44184 and Valerie Jenkins #17495, both of which happened to be playing at the Daisy Chains Women's Tournament in Watsonville, CA. 
When it was all said and done, Val emerged as the 2014 Women's Global Event winner in the Open division. Val can now claim the title of World and Global Women's Disc Golf Champion, joining the likes of Paige Pierce #29190, world champion and winner of the 2012 WGE. Paige placed third in the WGE this year, just a few points behind Val and Catrina.
If you're looking at the results of the Daisy Chains Women's Tournament results, you might be a little confused. Yes, it's true, Catrina did actually win the event itself, by six throws. However, because of the way the WGE is set up, winning the event doesn't necessarily mean you will place higher overall in the WGE results. Rankings for the WGE are determined by the average rating of the first two rounds played, and only the first two rounds played. It was set up this way so that all the events could be treated equally, regardless of their tier, number of rounds, number of courses played, etc. Val's first round was unofficially rated off the charts at an incredible 1029. When combined and then averaged with her second round, it was enough to keep her overall average just one half of a point higher than Catrina's. Val's final average was 993.5, with Catrina right on her heels at 993. It really couldn't have been any closer.
One of the many noteworthy events of the 60+ in this year's WGE was The Chick Flick & Women of DGOD Women's Global Event at Horning's Hideout in Northplains, OR. This same tournament was the largest women-only event during the 2012 WGE with 63 competitors. This year, the turnout was huge, breaking the century mark and setting a new standard for women-only disc golf events. 101 registered competitors signed up to play and for the first time ever a second course had to be added to the event to accommodate the players. Congratulations Chick Flick for yet another incredible success story!
Dozens of clubs that host multiple tournaments a year where there aren't even enough women to form a full card for a division had 20, 30, 40, or more, women come out and compete to support the efforts of the 2014 WGE. "It's just so much fun to be out on the course, looking around and seeing nothing but women playing disc golf. Everyone was having a blast, and it made us all play better. Some of us [women] shot rounds rated 100+ points better than our overall ratings", said Val.

She was right, to say the least. In fact, 20 different women had at least one round unofficially rated 100 points better than their overall rating. One amazing example of this came from second place finisher of the WGE Juniors division (13 and under), Lacey Brugler #41758, with an average WGE round rating of 811.5, a whopping 152.5 above her overall rating. With this effort she was able to bring home an impressive win at the Scarlett Open 2014 in Delaware, OH along with her new WGE title. 
What's more impressive than winning the WGE in your division? How about winning it twice? There are now four different women that are back-to-back WGE champions! Congratulations to Sai Ananda #58303 (Juniors <= 19), Sylvia Voakes #3360 (Legends), Leslie Charles #34425 (Adv. Legends), and Denise Gentry #54867 (Adv. Senior Grandmasters) for being the first and only 2X WGE champions!
Last but not least, we'd like to point out that there's a reason this is referred to as a "global" event. Of the 17 divisions played, seven of the winners came from women outside of the United States. Finland took home four titles. Soile Mutikainen #52886 won in Intermediate, Kaisa Korhonen in Novice, Niina Turtiainen #63327 in Advanced, and Eveliina Salonen #64927 in the Juniors (<= 16) division. Japan's Kuniko Yoshioka was the WGE winner for the Advanced Grandmasters division and last but certainly not least, Sandy Castleden from Australia was the overall winner in the Advanced Masters division.

Listed below are the all of the 2014 PDGA Women's Global Event division winners. There are way too many people to thank to even come close to naming them all so be sure to thank your local club, the staff, and the volunteers that helped make it happen for your city. We are honored to have been part of such an amazing disc golf event and we can't wait for the next one!
*Photo Credits: Mike Huebel Sr. #59706, from the Pierce County Disc Golf Players Association; @DiscGolfGirls (Instagram), @Teeebirdy (Twitter), @TheDiscGolfGuy (Instagram), @justmetlc_a (Instagram); @Mandolinmama (Twitter);
Division
Name
PDGA #
Rating
Event
Location
WGE Rating
Open
Valarie Jenkins
17495
966
WGE - Daisy Chains Women's Tournament
Watsonville, CA
993.5
Masters
Michelle Jones
50483
872
Jones Zen 4 Chains Perry Spring Fling + WGE
Perry, GA
936
Grandmasters
Elfriede Eberly
43474
885
Coyote Hills Howler + WGE (All Divisions)
Carlisle, PA
904
Sr. Grandmasters
Toni Hoyman
18823
823
WGE - The Chick Flick & Women of DGOD! Women's Global Event
Northplains, OR
766
Legends
Sylvia Voakes
3360
779
Seviren Lang Memorial +WGE
Georgetown, IN
782.5
Advanced
Vanessa Van Dyken
62325
849
San Diego Aces Monthly +WGE at Emerald Isle
Oceanside, CA
897
Adv. Masters
Sandy Castleden
 
 
WGE - Perth Ladies Global Disc Golf Tournament
Perth, WA, Australia
852
Adv. Grandmasters
Kuniko Yoshioka
 
 
WGE - The Women of Showa Kinen
Tachikawa, Tokyo, Japan
849.5
Adv. Sr. Grandmasters
Denise Gentry
54867
788
Denison Parks & Recreation Open + WGE
Denison, TX
801.5
Adv. Legends
Leslie Charles
34425
748
WGE - Mid Michigan PDGA Women's Global Event (MWS #1)
Grand Ledge, MI
519
Intermediate
Soile Mutikainen
52886
808
WGE - Helsinki PDGA Women's Global Event 2014
Helsinki, Finland
879.5
Recreational
Niina Turtiainen
63327
 
WGE - Helsinki PDGA Women's Global Event 2014
Helsinki, Finland
861
Novice
Kaisa Korhonen
 
 
Ainon päivän kisa + WGE
Oulu, Finland
828.5
Juniors
(<= 19)
Sai Ananda
58303
813
WGE - Lilac Ladies Launch
Spokane, WA
795
Juniors
(<= 16)
Eveliina Salonen
64927
 
WGE - Helsinki PDGA Women's Global Event 2014
Helsinki, Finland
833
Juniors
(<= 13)
Saika Hori
 
 
WGE - The Women of Showa Kinen
Tachikawa, Tokyo, Japan
808.5
Juniors
(<= 10)
Shanna Honeycutt
 
 
WGE - The Ladies of Music City Disc Golf present the 2014 Women's Global Event
Nashville, TN
586