Waiting on Worlds . . .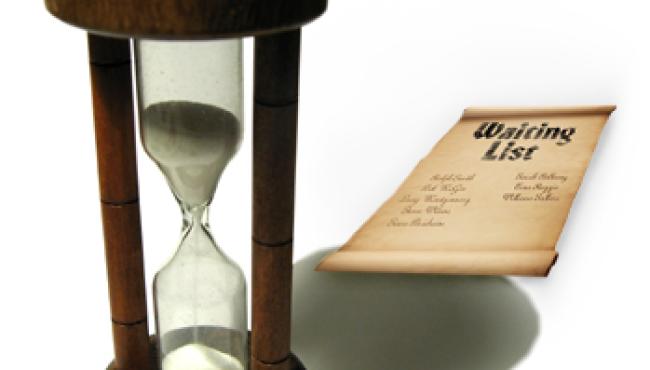 The PDGA office is aware that there are many people anxiously waiting to find out if they made it into 2012 Worlds, and if not, where they are on the waitlist. Processing the registrations takes time, so please be patient. The registration lists are being updated as registrants are confirmed. Once all spots are filled, the complete waitlist will be posted as well.
The staff over at PDGAsignup.com is still wading through the huge amount of registrations that came in leading up to and following registration opening up to non-invitees on May 1st at midnight.  Because we didn't want anyone to think they had gotten in, only to find out that they were on a waitlist, all divisions that were close to filling were setup as "Waitlist Only" for the final push and credit cards were not charged. The work is slow going because each registration needs to be processed very, very carefully.  The process includes checking invite status (for registrations received prior to midnight), current member status, certified official status, eligibility status for division registered for (you'd be surprised how many players sign up for the wrong gender or age division.)  Once a registration meets all the necessary criteria, and if there is an available spot, the registrant is contacted to confirm the registration and then payment.  While all of this is occurring, all new and renewed PDGA memberships, as well as new Certified Officials, need to be checked against those registrants who were initially missing those criteria.
Withdrawals and Waitlist Handling
Any 2012 PDGA Worlds withdrawals must be made to the PDGA office via email at [email protected] or by phone to 706-261-6342.  Once a withdrawal is received, a refund will be processed.  The first person on the waitlist for that particular division will then be contacted by phone for three days.  If after three days there is no response, we will move on to the next person on the wait list.  Once we have a registrant wishing to play, both the registration and wait lists will be updated.
Once the critical work on Worlds singles registrations is completed, the staff at PDGAsignup.com will then export all of the ancillary data concerning Doubles, Field Events, Banquet, etc.  As soon as the PDGA office receives this data the various Doubles competitions will be placed on the PDGA schedule displaying those players as well.  Please note that if you forgot to signup for any of the ancillary items you can use the same registration form to do so, just skip over the singles compettion info.
Thanks for your patience and understanding.