Vibram Open Saturday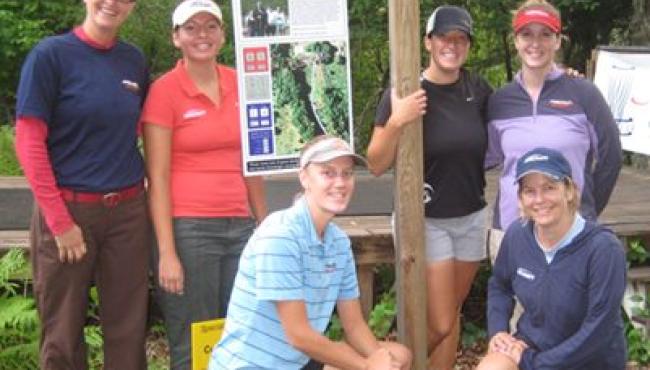 Moving Day
Saturday was moving day at the Vibram Open at Maple Hill. Whether it was to make the cut, rise up in the standings, or make a run at the division lead, most players were looking to make a move.
With the Open cut set for the top 72 players and ties, for the majority of the field, the Saturday round was all about moving. No one struck harder in the early going than local Massachusetts player Brian Harrington, who followed his opening round of 71 (unofficially rated 943 and which had placed him in a tie for 107th place) with a stellar round of 57. It was unofficially rated at 1041, nearly 100 points higher, and would vault him all the way up to a tie for 38th place! As the scores continued to come in, many Open players would hover around scoring central and fidget nervously over where the cut line would eventually rest. Early on, only rough guesses could be made as to where the cut would be but as the scores continued to trickle in and the temps soared on an uncharacteristic warm August day in New England, the cut line rose from 132 to 133 before finally ending on 134 and including a gaggle of golfers who tied for the 72nd spot.
While no 1000-rated players missed the cut, quite a number of new faces filled the top ranks, maybe none more impressive than 972-rated Henry Childres from North Carolina, who backed up his opening round of 56 with another solid round of 59 to move up onto the lead card for the third and final round. Another local Massachusetts player, Jason Johnson, vaulted into the top 10 with a fiery round of 55, only one throw off the hot round of the day of 54, recorded by both Nikko Locastro and Kevin McCoy. These blistering rounds put them on the lead card with Barry Schultz, who after yesterday's heroics and course record of 49, followed with a more conservative round of 57 which was still solid enough to reduce his six throw lead by only a single throw. Heading into Sunday, Barry's 5 throw lead should theoretitically provide a safe margin towards victory in the final NT event of the year. 
Where Barry was the story yesterday, today's fireworks were in the Open Women's division. At the start of the day, Val Jenkins and Elaine King, both multiple PDGA World Championship winners, lead the field with South Carolina pro Sarah Stanhope two strokes back. Like a flash, that margin would be immediately erased, with Sarah Stanhope taking a par four on the treacherous 760' pro par four opening hole#1, while defending Vibram Open champion Val Jenkins got off to a rough start with a double bogey 6. Elaine King would bogey her first two holes to Sarah's pars, and after her deuce on hole#5, (a 300' left-to right huck which carries water almost the entire length of the hole) Sarah never looked back. Other highlights from her round included a deuce on the 335' par 3 eighth hole, which traverses almost 300 feet across a wide pond, and a birdie 3 on the par four 9th hole, an unorthodox hole where a blind drive over a ridge is followed by an approach to a basket location on the other side of a small 25-foot wide pond. On the back nine, Sarah's conservative play netted no birdies, but many a par, with the only hiccup being a 5 recorded on the 17th hole. But when the scores were tallied, Sarah's smoking round of 62 vaulted her into a 3 throw lead over Jenkins, who had shot 67, and squarely over Elaine King, who faded with a round of 72. Sarah's 62 was unofficially rated at 1005, and is a new course record for women playing the Blue tees at Maple Hill. Two course records in two days - that's what some heated tournament competition can bring! 
In Pro Grand Masters, Dean Pfeifer extended his lead by also shooting a 62, and now stands seven throws clear of Canada's Eric Vandenberg. Unless the unthinkable happens, the chances are strong that Dean will hold on for a National Tour win and a cool payout of $750.
After the singles rounds were complete, the players were treated to a free pasta dinner and then the distance & putting finals. In the distance contest, Avery Jenkins was the long bomber, with all of Avery's drives landing inbounds and near center line - one actually hit the tape dead center. His third drive flew past the then-leading throw of 585 ft from Jeremy Koling, landing at 599 ft, and Avery's last drive cruised to 601 ft which sent the crowd into a frenzy!   
In the putting finals, Worlds putting champ Jay "Yeti" Reading put on another impressive clinic by hitting all of his attempts until the last round where he hit just enough putts to capture the title.
With live scoring of several of the top cards, live video feed covering the lead card, commentary by Billy Crump, player interviews, blogging by John Borelli, tabbed viewing of PDGA & NEFA discussion boards, one click access to Twitter and Facebook updates, the Vibram Open media blitz continues tomorrow for the third and final day. Can Sarah stave off Val? Can Barry and Dean hold their respective leads? Be sure to follow along!
Links
Vibram Open Scoreboard & Tee Times at PDGA.com
Vibram Open Media Page
Vibram Open Official Website