USDGC Practice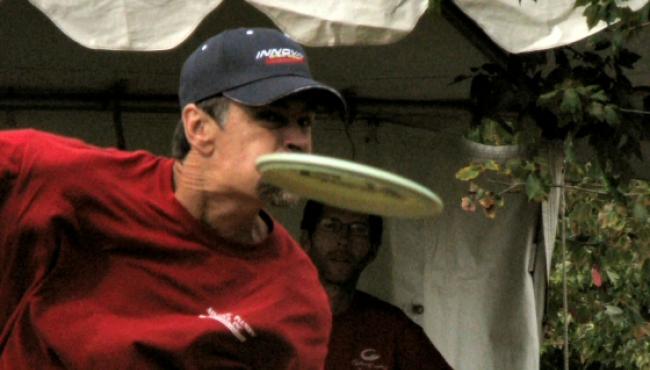 Last chance to practice for the big show starting Wednesday.
How do you win the USDGC? Practice at home. Practice at events. Practice at Winthrop! The course was hopping with last minute fine tuning for most from the top to the bottom rated competitors.
The weather was much better with no rain most of the day. Here are some photos of players you may know and what some of the holes look like this year.
Lefty Joe Mela from Pennsylvania practices his approach on hole 9 from where he plans for his drives to land. The drive routes favor a lefty but the approach is much tougher to land. A large tree prevents a slow fade so they have to either turn it over from over 300 feet or throw a bullet that maybe is stopped by the base of the elevated pin so they don't skip long OB.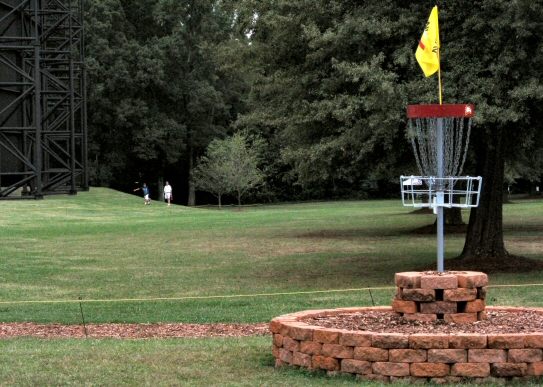 Cam Todd from North Carolina is back in action driving on hole 11 at the USDGC, site of his second place finish in 2004.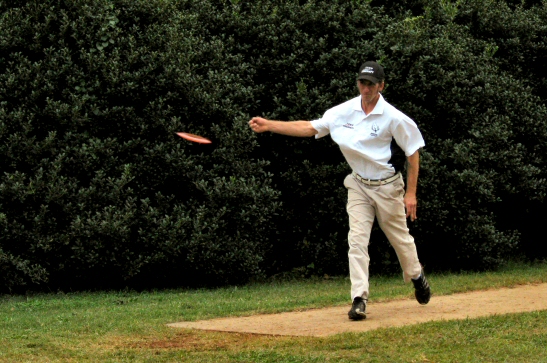 Steve Rico from California practices long range approaches on hole 12 which is an eagleable par 5. If you can drive to land on a relatively narrow hump where he's shown in the picture, the longer arms can take a run at trying to park their approach. It's a relatively small green no more than 10 meters in most directions from this landscaped pin position with the nice brick base filled with white pebbles.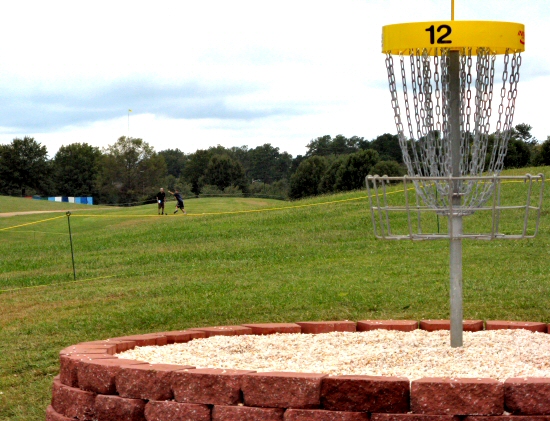 It almost looks like Gregg Hosfeld of Florida is afraid to look where his Innova Roc is headed while practicing the very tough tee shot on hole 13, the dreaded 888 hole. Perhaps just lining up your shot then not peeking is a reasonable strategy here where missing the narrow fairway results in a retee under the buncr rule on this hole and three others.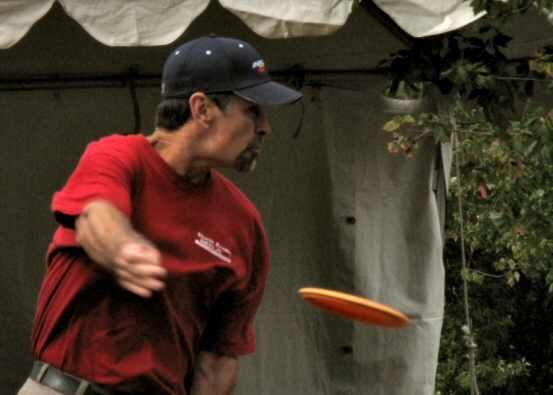 Nikko Locastro from Missouri practices upshots on hole 13 from where he may plan to land on his second throw. It's not a tough throw from there but it's important to park it for a birdie 4 if you plan to be in contention.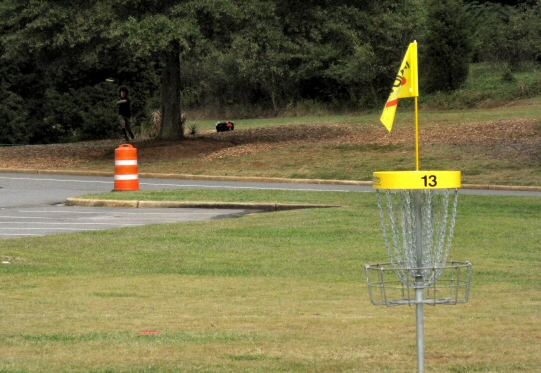 Kim Scott-Wood from Canada launches some practice drives from the Winthrop Coliseum tee pad on hole 14.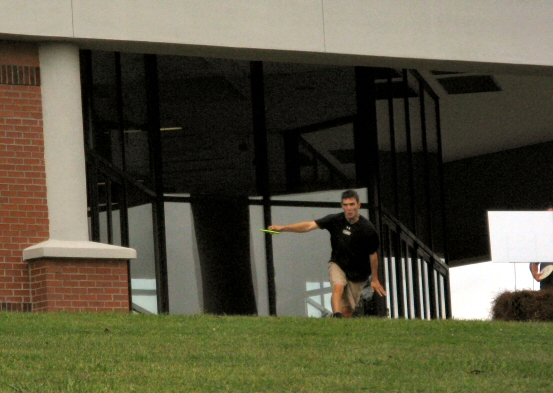 Rock and Pat Searle, former Golden Rake winners, explain some items at the volunteer meeting prior to the Player Banquet. Over 200 volunteers, many from Innova East, sacrifice vacation time to put on one of the best events in the world each year.
From left to right, the four past USDGC Champs and the former Golden Rake winners. This year's Golden Rake winner, James Nichols, Asheville, NC, is at the podium. Nate Doss (striped shirt) also received his gold ring for winning last year. Look close to see the five rings from Ken Climo's (second from left) past Championships on his neck chain.