USA Ultimate College Championships Hole In One Contest
USA Ultimate College Championships Hole In One Contest
Monday, May 26, 2014 - 12:32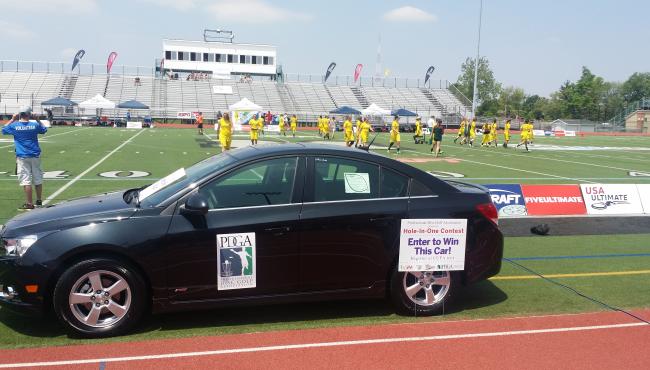 At the USA Ultimate College Championships today, 10 people will have the chance to win a brand new Chevy Cruze thanks to a partnership between USA Ultimate and the PDGA. Spectators can sign up for a chance to get a 100 yard hole in one into a Discraft basket using either a Discraft Comet or an Ultrastar Ultimate disc. Five random people will have a chance to win the 2014 Chevy Cruze during halftime of both the Women's Championship and the Men's Championship. Will someone bang the chains from 300 feet? Follow @PDGA and @USAUltimate on Twitter to find out!
---
UPDATE: Unfortunately, no one was able to get the hole-in-one to win the Chevy Cruze. One throw to a basket 100 yards away is a lot to ask of any ten random people, whether they're touring professional disc golfers or just casual fans of disc sports. The person that finished closest to the basket was Jose Cespedes from Texas A&M, who took home a few prizes after getting a Discraft Comet to settle 60 feet from the basket. 
Congratulations to the Ohio State University Fever for taking home the gold in the women's tournament and to the Colorado University Mamabirds on the men's side. Be sure to follow @USAUltimate on Twitter to keep up with the latest news on all of their events and check out their website as well.