US Masters Wrap Up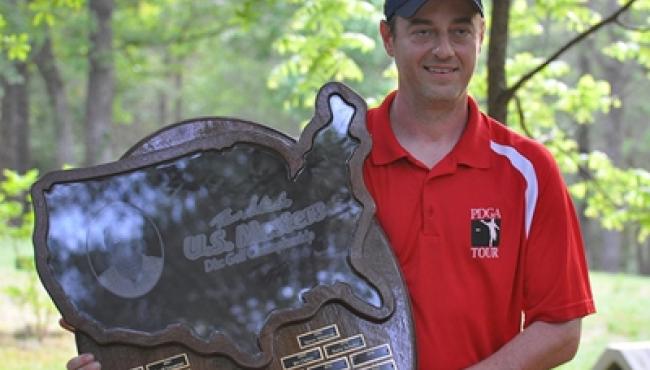 This weekend saw 200 players held hostage to the fortune of the Shawshank DG Course in Huntsville, Texas for the Innova sponsored Tim Selinske US Masters Championships. This annual event, now held in memory of Tim, proved to be one of the toughest tests of player's patience and fortitude, attributes he had in abundance.

Hosted by three generations of the DuFrane family, Shawshank has a normal 23 hole prison themed course. Joining the 600 foot Green Mile and S-bend of Amen Corner came holes that meant "get out of jail free" cards were few and far between for most players. Only a handful made red figures over the weekend – and there were far more in the "6 of Spades" club on the island hole – the last chance to rescue a respectable round and escape the course feeling less persecuted!

But this tournament was not all about the play. It was about older players meeting again, sharing their stories and catching up on life. For the younger, newly "qualified" Masters players it was an entry into a less aggressive but equally competitive world. The clubhouse was a center of reminiscences, futures and promises to meet again next year. The atmosphere of this event is unique to Disc Golf. It has its comparisons with the Masters Overall Championships but the game-specific reason that players attend is to share the pain and glory of playing disc golf together. And there was much pain. A lot of players brought it with them of course – bad knees, hips clicking, elbows and shoulders just not lining up. And that is before all the psychological damage that the course did to players heads!

Parole was provided each evening and players were sprung into the local community – either in town (under strict supervision of PDGA staff) or on the course where local sponsors rewarded appropriate behaviour. So the beer was free, the pizzas never ending and the inmates jigged away to The Shady Rest band from Austin. Yeti sank 14/20 puts to prolong his mythical status and win the putting contest. Vibram showed up at Death Row to provide candy and hope to all who traveled that path. Merskey's provided the venue for the formal opening by the Mayor followed by 250lbs of crawfish – where Dave Nesbitt demonstrated the less than subtle art of eating them to a stunned group of Japanese inmates. The SAAFE House was the chosen charity for the event and benefited doubly when no one sank an ace all weekend and they got half the Ace pot. This level of local support for the event must be recognized as should the major contribution of Innova. They hold the event in memory of one of their founder directors – Tim Selinske – and in so doing also donated a 9-hole disc golf course to the local community in his name.

The glory of playing came in the meetings of minds – in the struggle. Players unknown to each other before Shawshank became firm friends in the face of adversity. There had to be a way round this course and if one player couldn't see it someone usually would. And if it wasn't in your group one day it was there the next. And if not then, all you had to do was go and watch Barry Shultz! As in every division but one the leaders were decided by end of play Saturday. Sunday became an exhibition round for the top professional - with Schultz, Greg Hosfeld and Carrie Berlogar winning their divisions as repeat Champions!

However, Shawshank had a surprise in store for the Amateur Grand Masters. Not content to have them play the forest, hills and lakes in 90° heat and 90% humidity for 75 holes over three days, Mike Anderson and Mark Hauser were tied Sunday afternoon and went to the play off holes. An hour later they were still playing! All eight holes had been tied and it was only at the ninth that Hauser made the crucial move and took the title.

Though positions, trophies and payouts are important to this sport they were not the main focus of the event. Players of all ages – from 40 to 89, from pros to ams, male and female, first time players to the gnarly old men of the sport – all met on the same ground, all helped each other get through to Sunday and finished knowing that whatever their position, whatever their stories, they had done what they do best - survive! To have played at Shawshank and to have escaped with dignity intact was worth being in jail for three days with all who were there. Tim Selinske would have been proud of you.
Editor's note: Special thanks to our guest columnist Charlie Mead (PDGA #1980) from Birmingham, England who was in attendance at the Tim Selinske US Masters. Charlie is also the tournament director for the British Open which will be held on August 20-21 in Colchester. For more informaiton on the British Open please visit the event website at www.bdgaopen.co.uk.
Links
Leaderboard
Photo Galleries
Event Information Page at PDGA.com