US Masters Preview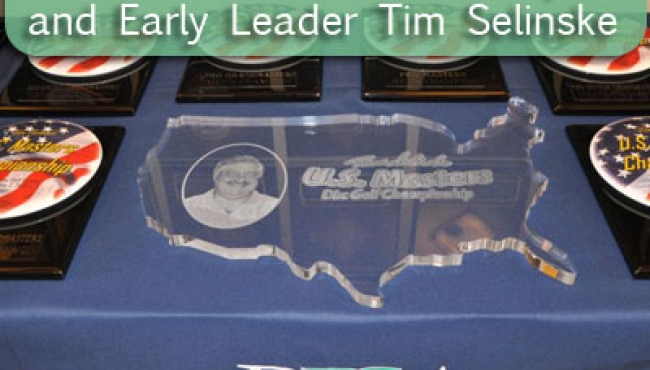 Disc Golf's Texas Swing Makes Its Way to Huntsville at the Tim Selinske United States Masters Championship 

Event Celebrates Many of the Notable Leaders in Our Sport, Living and Dead

Last week the young bucks of disc golf enjoyed the hot Texas spotlight at the 16th Texas States Championships in Hitchcock outside of Houston, but this week it will be the Masters level divisions that will take over to show they still have plenty of game left at the Tim Selinske United States Masters Championship in Huntsville. 

This PDGA Major is dedicated to the memory of Hall-of-Famer, Tim Selinske, whose contributions to the sport date back to the earliest days of disc golf and whose impact is immeasurable.  Until last year's Lemon Lake World Champions, Selinske was one of only two disc golfers who had participated in every single PDGA World Championship.  (The other being David Greenwell.)  Selinske's ebullient smile, creative marketing skills, and his ability to garner early support for disc golf helped fast-track the growth of the sport throughout the nation, but most notably on the West Coast.  Selinske was one of the early founders of Innova Champion Discs, where his special talents helped create an atmosphere of camaraderie, but at the same time, high achievement and quality. 

The United States Masters has achieved the terrific mix of a friendly, but fierce, competition.  But, since most of the over 190 disc golfers have had some dealings with Selinske throughout their careers, Tim's lingering presence will be a fertile backdrop against which guests at Steve Dufrane's ShawShank disc golf complex can swap stories, reflect on how far our sport has come, and enjoy the summer-like temperatures in the mid-80s.  It will be a living history of disc golf. 

Defending Champion Barry Schultz was on the course earlier this Wednesday readying to defend his 2010 title.  He will face stiff competition from the likes of Patrick Brown, who continues to improve as he plays more-and-more in the Masters division, George Smith, who captured the Memorial Championship Masters crown last month in Arizona, Vinnie Miller, who will be playing on his home Texas turf, and Jay Reading, who edged out a Masters division win last week at Texas States. 

Carrie Berlogar will be defending her 2010 United States Masters title against a small, but highly skilled field, including the most decorated female in disc golf history, Juliana Korver, the world-class Peggy Berry, the always competitive Sheila Kirkham, and Houston's sleeper entry, De'Atra Vaughn. 

An impressive collection of Grandmasters may indeed be where the most story-telling about Selinske will occur.  Joining the well-known David Greenwell in MGP division will be an entire list of the most accomplished throwers in disc golf history: Jim Oates, Alan Beaver, Kazuo Shirai, Gregg Hosfeld, Joel Kelly, and Neil Dambra, to name but a few. 

Course owner, Steve Dufrane, has long sought to bring the disc golf community to his Huntsville gem, and he will realize his wish this weekend.  His hard work, along with the Texas disc golf leadership, has afforded the Lone Star State the spotlight over the last few weeks, as the Texas Swing continues.  And while it took the loss of one of disc golf's most important figures to emphasize the importance of this PDGA Major tournament, most would believe that Selinske will be smiling down upon many of his friends this weekend, as they celebrate the life and legend he brought to the sport.  Long live your memory Tim.  You are still influencing disc golf.