U of I Qualifies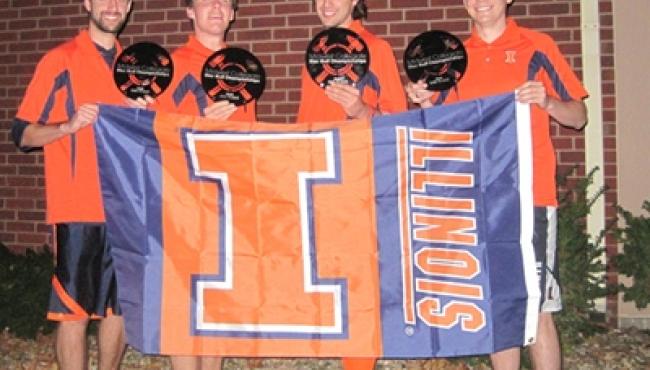 What started out as a dream for one University of Illinois junior in 2010, and spread to three of his teammates, has turned into reality for 4 current seniors on campus…

The Illini Disc Golf Club was founded in 2010 by Daniel Krisik as the only disc golf club on campus became an instant hit.  Over 300 people signed up for the club on Illinois' Quad Day. Initially, the plan was for recreational players to have fun.  However, in Spring 2011, member Nathan Nelson approached Krisik with a major opportunity. Nelson created a Facebook event entitled, "The National Collegiate Disc Golf Championships".  The date of the event, "Spring 2012"; the who, "University of Illinois".  Krisik loved the idea and decided it would be the goal of the Illini Disc Golf Club in Fall 2011 to qualify for the championships.

Main Photo: Members of the University of Illinois Disc Golf Team from left to right are Sayer Jackson, Nate Nelson, Case Jackson, Daniel Krisik
The Midwest Collegiate Disc Golf Championships, hosted by Purdue University, awarded the top team a chance to compete in the National Collegiate Disc Golf Championships in North Augusta, South Carolina.  This would be the first competitive event a team from the Illini Disc Golf Club ever played.

Narrative of Saturday's Midwest Disc Golf Championships from the perspective of Sayer Jackson.

"We [The Illini Disc Golf Team] set out at 5:30am on the morning of October 15th ready for the big day ahead.  It was still dark out when we left and talk of qualifying for Nationals in South Carolina filled most of the conversation as we chomped on our sausage burritos from McDonald's.  We arrived in West Lafayette earlier than expected and had the chance to play the permanent 9 holes on Purdue's campus after checking in.  Immediately we could tell it was going to be a tough day battling the wind.

The first round started around 9:30am and unknown to me, we had been paired with the Purdue A team; a team that had placed 8th at nationals the year before.  The first round went rather smoothly.  Case, my Illini teammate and twin brother, and I both felt like we left some strokes on the course and there was a lot of room for improvement.  The temporary 9 holes that Purdue had set up were quite the beast.  Long distances, island greens, and brutal elevated baskets with hills sloping towards OB were the norm.  Our Purdue group mates commented that the setup was very much like Hippodrome.  On a typical day, holes like this would excite me because they offer a challenge that our 9 hole pitch and putt back in Urbana does not.  However, by this time, the wind was pretty strong.  If I had to guess at speeds, I would guess between 10 and 20 mph with gusts well over 20 mph.  This forced us to play a bit conservative, such as laying up on 10-20 foot putts which are normally automatic. Nonetheless, I felt as though we still had a good chance to qualify.


The first round scores came in and there was a 6 way tie for the lead including myself at 59.  Our Illini team captain, Nate Nelson, shot a 59, Case shot a 63, and Daniel Krisik shot a 76.  The tournament took the top 3 scores toward our team score.  This put us in 2nd place as a team, 6 strokes ahead of Western Illinois and only 2 strokes back of Purdue.  I am going to be honest and say that Purdue was not really a concern for us.  Our main goal was to qualify for Nationals, and taking 2nd place to Purdue would still earn us the bid to nationals.

The second round I started on the lead card.  The first hole I banged a 15 foot deuce putt off the basket and so began the toughest mental round of my life.  In my opinion, the wind had picked up considerably since the last round and playing smart was at an even bigger premium. 
Playing for a team brought a new mindset to the game that I was not prepared for.  Every stroke mattered to me, not because I had a chance at personally winning, but rather because I wanted to give my teammates and I the best possible chance to earn that bid. Working towards a cooperative goal really does add a unique perspective to the game.  I loved the new perspective; it brings you closer to your teammates unlike any other team sport I have ever played.  It's not like football where you work as a team to score or play defense.  Rather, you play as an individual striving to get your best individual score to help the overall team.  I definitely did not expect to ever experience that sort of team bond and unity playing disc golf.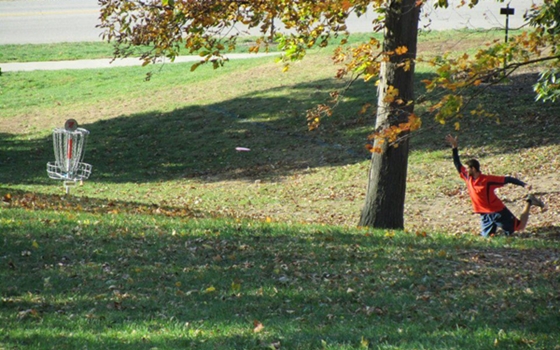 Sayer Jackson Putting on Hole #7 (Photo: Tom Nielsen)
  
The second round did not go well for me at all.  Missed putts, bad rolls and overall a lower quality of play than the first round.  Even when I tried to play smart for the team, my layups would catch a wind bump and fly out of bounds, or stand up and roll away from the basket.  The difficulty of the temporary 9 holes coupled with the wind and playing for the team was mentally draining and my scores showed it.  I felt like I was on a slippery slope doing everything I could to just hang on and get 3's and not let the team down.  Looking back, this was the exact part I was not prepared for; the thought of letting the team down and letting my play be affected by that thought. Despite my struggles during the second round, I managed to score a 68.  It was certainly not the best score, nor was it the worst, but I was frustrated because I knew I took a lot of strokes that were unnecessary.  Nate turned in a solid 64 for round 2, while Case shot worse than I did at 70.  We were pretty uptight at this point because we had only a 6 stroke lead on Western Illinois and we were already more than 20 strokes over our team score from the previous round.  However, our fourth Illini team member, Dan, had shaved a huge 8 strokes off his first round score and put up a 67.  This allowed us to drop Case's score of 70 and use 64, 67, and 68 for our final line. At this point we still have no idea if it would be enough to clinch the national bid.  We were all worried that we had blown our 6 stroke lead.  It was extremely intense not knowing the outcome and furthermore knowing that I could have played better.
 
Tournament organizer, Joshua Lowe, then announced the finalist of the distance driving competition which was about to take place.  Case had launched his Champion Ape 442 feet in the distance qualifying round and that had qualified him for the finals.  The three of us accompanied Case to the distance driving competition where he took 4th overall.  We still had no idea about the outcome of the team scores and we were still very anxious to find out.  After we got back to tournament central, the team scores had been posted.  1st – Purdue (358), 2nd – University of Illinois (380), 3rd – Western Illinois (384).  I can't even describe the happiness that swept over me after reading the final results.  It didn't seem real.  Joshua Lowe then congratulated us for winning the National Championship bid.  We all congratulated each other with high fives, and huge smiles.  Purdue had clobbered us by 22 strokes, gaining 20 strokes on us in the second round alone, but that didn't matter to us, we had accomplished our goal.  A goal that had seemed unreachable a couple months back, but was now completed, we were going to nationals.

Overall, I think the tournament was a huge success. Most importantly, a big thanks goes out to Purdue and all of its local volunteers for showing us all how a great event should be run.  The tournament was efficient and the temporary 9 holes were well designed to promote a high level of play.  The atmosphere was also fantastic as tournament central was centered around the Slayter performing arts venue at Purdue's campus.  My congratulations go out to the Purdue team for earning the Midwest team championship and Alex Shimmelphinnig from Southern Illinois University for winning the individual championship.  After participating in Saturday's event, I cannot wait for Nationals.  Bring on the Hippo!"