The Poppy Continues to Bloom...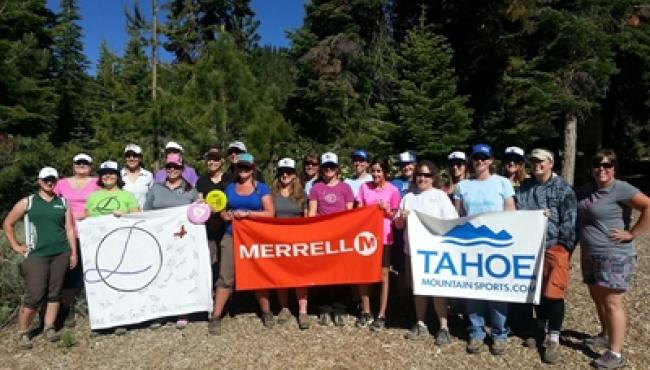 Lady of the Lake - Poppy Series Event #3  by Valarie Jenkins
While most people venture to Lake Tahoe for popular activities like skiing and gambling, 21 ladies showed up this past Saturday for the area's great disc golf! Ladies came from all over California and Nevada to compete in the first Lady of the Lake tournament and the third event in the Poppy Series. Gayle Baker, Tournament Director, is one of the masterminds behind the Poppy Series, a point series that includes 5 women's events in Northern California and Nevada. Gayle remarks that hosting this women's event has brought a new light to her 15 years of disc golfing experience. In this event, she enjoyed catering to the ladies by offering player's packs and prizes geared toward women's taste, size, and color. The event also offered scorekeepers for each group, provided lunch, a $100 ace hole (no one hit, but "it was fun to give it a run!"), and a CTP of Merrill shoes. 
For 21 female competitors to show up at this event's first year is a big step in the right direction for Tahoe's disc golf scene. Baker simply describes "competing against a real group and not just yourself really brings out the competitor in all of us" and makes playing in tournaments more fun. 
While, Leah Feltenstein #33119 was the only Open Woman to play, she respectively shot her rating while earning points toward her Poppy Series standings. 
Mindy Carbajal #48501 of Kings Beach, CA, moved up to Advanced at this event after her victorious Intermediate win at the Daisy Chains Women's Tournament in April. She solidified her decision as she took home the title, with just three strokes separating her and four other ladies in this division of seven.
Over in the Advanced Masters division Tammy Koelling #10243 placed together two solid rounds to win the Advanced Masters division by three strokes over Tournament Director, Gayle Baker who finished tied for second with Cathy Curran. 
Colleen Wood #47441 competing in the Advanced Grandmasters division won her division by six strokes and could have brought home the title of Advanced Masters Champion as well with her total score beating Tammy out by one stroke. 
Another close race was in the Intermediate division. After the two rounds, Kourtni Walker #54071, Gessica Ambris, and Maci were all tied at 31 over par. After the playoff, Gessica was crowned the Intermediate champion.
Aside from the lake oar tournament trophies, they also gave out "The Betty White Award" to the woman with the best attitude and had the most fun. This award was given to Tammy Stidham's 83-year-old grandmother who came out to caddy. She is proof that Disc Golf is enjoyed at all ages. 
"Disc golf is my life, my family, and my sport all in one," Gayle concludes. "The friendships I have made will be with me for a lifetime."
Be sure to stay tuned for Poppy Series Event # 4, Hot Mamas on July 6th in Lava Creek, CA!