Super Class Update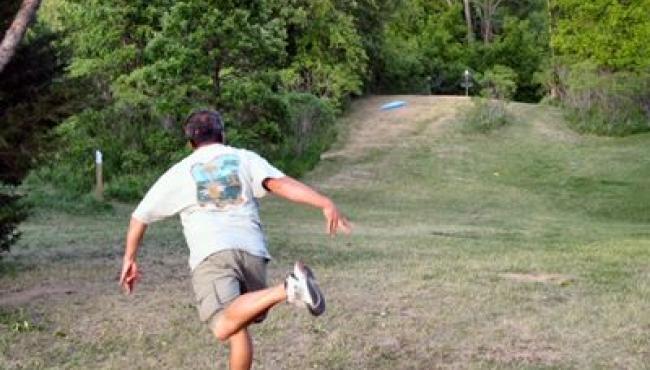 The Super Class Nationals is coming soon on Aug 29-30 at Lemon Lake in Indiana, home of the 2010 Pro Worlds. Come check it out if you'd like to see the four courses to be played next year. Online registration is available now. http://www.pdga.com/event?TournID=9309
This is SuperTour event with $1500 added to the Open Men & Women divisions. TD, Brian Cummings, is seeing a lot of excitement locally with players practicing their new White course with Zephyrs, Ultra-Stars, Super Heroes and Fastbacks. I know there are "old school" players out there who could dust off their old discs and skills to take on the new players discovering the fun of throwing the heavier frisbee-like discs in Super Class.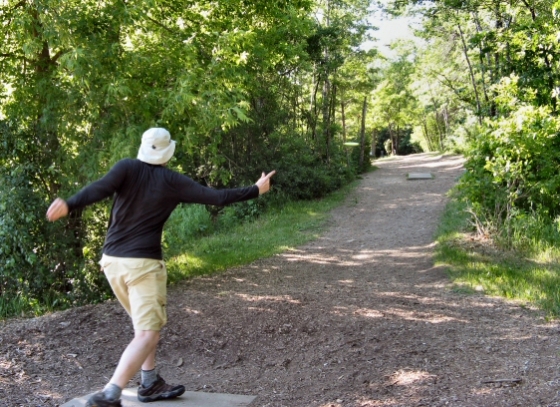 DiscGolfer editor, Joe Feidt, shows his lefty old school form with a Zephyr on Hole 2 North Valley, MN
We have been building a group of avid Super Class players in Minnesota who are practicing to win some of these new titles at the end of the month. We have been running leagues and events about every month this summer. Turnouts haven't been as high as we'd like, but it's still new. It's hard to get players to Super Class events during Minnesota summers, and the Twin Cities in particular, which has one of the most happening scenes for events and leagues in the world. There are events for regular golf discs every day since April, not just weekends, and often more than one within two hours.
One experiment we are trying to attract more players to a sanctioned SC event is offering a non-sanctioned am division where they could use regular golf discs. I offered a bounty to any am using regular golf discs who beat the best pro score using SC discs on the same layout. In our first event of this type, just one am beat the best pro score. Of course the bounty was a free Super Class disc of their choice! Several ams bought or used their prize certificates to get Super Class discs once they could see how well they fly on a course suited for them. Several players around town now have an SC disc in their regular golf bag which they use for certain shots.
Bill Newman thinking maybe a Super Class disc might work on hole 8 Rosedale Down Under
Just for fun, I threw the Rosedale Down Under course with Super Class discs the day before Worlds started and shot 49. No hole is over 300 and it's great for Super Class. It's very important to stay in the fairway down there and not risk dropping off the steep hills on the sides. The one thing we hear from ams throwing Super Class the first time is how straight they fly. As all of us have experienced, throwing straight can be one of the tougher skills to learn with golf discs. I suspect some of those who played it might want a "do-over" using some Super Class discs next time Down Under since only four Ams and Juniors beat that 49 all week using golf discs.
It's going to take a while to build a Super Class following. A primary goal still remains to provide an opportunity for ultimate players to cross train by playing in Super Class events. However, we'll need to build a base of players and regularly scheduled SC events around the country so when we promote this option for cross training to the ultimate players, there's already some activity and events in their area to try it out. Some areas other than Minnesota have hosted Super Class events so far in Georgia, Kentucky and Virginia. Hopefully, the Super Class Nationals will light the fires for other places to give it a try. It's fun but you won't know until you actually try it.
Scott Snyder FL throws hole 14 on the Steady Ed at the IDGC Best of Class event in May.